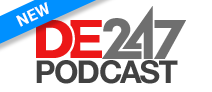 Latest Podcast Episode
Enabling Simulation-Driven Design
In our latest podcast, Digital Engineering talks to COMSOL's Phil Kinnane about democratization of simulation.
Glossary Spotlight
IoT
The Internet of Things (IoT) is a network comprised of physical objects capable of gathering and sharing electronic information through the Internet.
View IoT term
Glossary
A
B
C
D
E
F
G
H
I
J
L
M
N
O
P
Q
R
S
T
V
Digital Engineering
Featured DE Contributors
Subscribe to Digital Engineering Free E-mail Newsletters
Stay up-to-date, don't miss a single news story or product review, subscribe today.
Latest Posts
Design
Artec 3D Unveils Artec Studio 15 with New Scan-to-CAD Features
Scan, create a 3D model and perform scan-to-CAD operations all in one software.
Design
DE Video News Roundup: Update on CoVent 19 Ventilator Design Challenge, 3D Print and Scan in Medieval Church Restoration, More
In Video News Roundup for May 29, 2020, the Covent-19 ventilator design challenge enters phase II, 3D printing and scanning firm Prototek...
Promoted Post
Meeting the Challenge of Product Complexity for Global Manufacturers
Using this five step blueprint to create your Digital Thread will help you manage the design, manufacture and sustainment of complex products.
Learn more.
Design
IronCAD 2020 Updates Revealed
First updates for latest release improve productivity throughout the design cycle.
Design
VISI 2021 Improves Productivity for CAD/CAM Users
CAD, mold, progress, CAM, simulation and wire functions enhanced in latest release.
Simulate
COMSOL North American Conference Will Be Held Online
October event will be virtual for the first time; company announces call for submissions.
Sponsored Content
Enabling Simulation-Driven Design
In our latest podcast, Digital Engineering talks to COMSOL's Phil Kinnane about democratization of simulation.
Sponsored Content
Data Science Finds New Role in the Fight Against COVID-19
GPU-accelerated data visualization and analysis could lead to a better understanding of the virus.
Prototype/Manufacture
GA-ASI Completes Its First Test Flight With Metal 3D-printed Part
General Atomics Aeronautical Systems marks a technology milestone as its first metal additively manufactured part takes to the skies on...
Prototype/Manufacture
Element Signs Contract With Morf3D
The work for Morf3D will include a full range of materials testing: powder characterization, chemistry, metallurgical, mechanical and fatigue...
Sponsored Content
Configure the Right Workstation for SOLIDWORKS 2020
Experts weigh in on the best hardware and SOLIDWORKS settings.
Engineering Computing
Microway Delivers NVIDIA DGX A100 to a U.S. Educational Institution 
HPC & AI solution provider to deliver advanced AI system to the University of Florida.
Simulate
NAFEMS Continues to Churn out Free Webinar Content
Upcoming sessions to tackle topology optimization, simulation-informed decision making and more.
Prototype/Manufacture
Nexa3D Partners with 3DZ to Enter the Southern European 3D Printing Market 
Stereolithography 3D printer continues to expand its global reseller network throughout Europe.
All posts
All topics