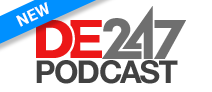 Latest Podcast Episode
Enabling Simulation-Driven Design
In our latest podcast, Digital Engineering talks to COMSOL's Phil Kinnane about democratization of simulation.
Glossary Spotlight
IoT
The Internet of Things (IoT) is a network comprised of physical objects capable of gathering and sharing electronic information through the Internet.
View IoT term
Glossary
A
B
C
D
E
F
G
H
I
J
L
M
N
O
P
Q
R
S
T
V
Digital Engineering
Featured DE Contributors
Subscribe to Digital Engineering Free E-mail Newsletters
Stay up-to-date, don't miss a single news story or product review, subscribe today.
Latest Posts
Prototype/Manufacture
DP Technology Announces Support for Additive DED Manufacturing
The DP Technology teams announce the first commercial version of ESPRIT that includes additive direct energy deposition (DED) cycles.
Prototype/Manufacture
AMCM Begins Serial Production of Its AMCM M 4K Industrial Metal 3D Printer
The customized, high-performance Direct Metal Laser Solidification (DMLS) printers now in production at AMCM's newly expanded facility.
Promoted Post
Meeting the Challenge of Product Complexity for Global Manufacturers
Using this five step blueprint to create your Digital Thread will help you manage the design, manufacture and sustainment of complex products.
Learn more.
Simulate
Ford and the Future of Simulation
At the CAASE20 virtual event, the automaker will discuss its use of leading-edge simulation and additive manufacturing technologies. 
Engineering Computing
Dell Updates Precision 7000 Workstation Family
Smaller, lighter mobile workstations offer Quadro RTX 5000 graphics.
TAKE OUR POLL: Are You Ready to Go Back to the Office?
Take our short poll and share your own experiences.
Prototype/Manufacture
SynDaver Launches U.S.-made 3D Printer
Printer includes extensive feature set, 3-year warranty.
Design
Mastercam Offers Free Training and Remote Educational Opportunities
Registrants can sharpen CAD/CAM skills while at home.
Simulate
More NAFEMS E-learning Opportunities Open Up
Sign up for FEA and CFD online learning from wherever you may be working.
Design
Lantek Launches its 2020 Version
The collision prevention function can reportedly prevent over 80% of production downtime.
Design
ODA Adds Shadow Support to Visualize SDK 
Visualize SDK offers more realistic scene rendering for engineering applications.
Simulate
AWE Online: Unity Unveils MARS, HP Showcases Reverb G2, Scent-integrated VR, more
The AR, VR, and MR conference AWE attracts vendors with new products, panelists discuss how the COVID-19 shutdowns accelerate AR,...
Engineering Computing
EUROCOM's Nightsky ARX15 Superlaptop Offers Balance of Performance and Mobility
The new Nightsky ARX15 is Eurocom's first Superlaptop to feature the AMD Ryzen 9 series desktop processors in a thin...
Editor's Picks: May 21-May 27, 2020
One of the picks will be chosen as DE's Editor's Pick of the Week.
All posts
All topics