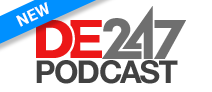 Glossary Spotlight
IoT
The Internet of Things (IoT) is a network comprised of physical objects capable of gathering and sharing electronic information through the Internet.
View IoT term
Glossary
A
B
C
D
E
F
G
H
I
J
L
M
N
O
P
Q
R
S
T
V
Digital Engineering
Featured DE Contributors
Subscribe to Digital Engineering Free E-mail Newsletters
Stay up-to-date, don't miss a single news story or product review, subscribe today.
Latest Posts
Design
Embry-Riddle EcoCAR Team Thrive Despite Shutdown
Embry-Riddle EcoCAR engineering team adapts to remote collaboration, wins Best Final Technical Report award
Prototype/Manufacture
Dyndrite Developer Council Adds New Additive Manufacturing Vendors
The council was formed to help evolve the Dyndrite platform and industry standards.
Promoted Post
Meeting the Challenge of Product Complexity for Global Manufacturers
Using this five step blueprint to create your Digital Thread will help you manage the design, manufacture and sustainment of complex products.
Learn more.
Design
PTC Offers Enterprise Version of Onshape Education Suite for Free
The cloud-based, Enterprise plan is designed for wide-scale implementation across global K-12 schools and universities to aid remote learning.
Prototype/Manufacture
BEAMIT, ZARE Announce Merger
Italian additive manufacturing specialists combine metal printing, service bureau operations.
Prototype/Manufacture
RIZE Debuts RIZIUM Glass Fiber Material
High-dimensional stability, and durable composite material suitable for full-color applications and complex geometries.
Design
Cortona3D releases RapidAuthor 13.0
Release includes support for S1000D publication module, new 2D editing features and further possibilities of integration with Teamcenter Active...
Internet of Things
SME and Plataine Industrial IoT Study Finds 3x Increase in Industry 4.0 Adoption
Joint survey reveals manufacturers embracing digital manufacturing even before COVID.
Prototype/Manufacture
NCDMM Undergoes Restructuring
New holding organization & subsidiary company created to support growth strategy.
Prototype/Manufacture
NCDMM Named a Multi-Award Winner of NAM Leadership Awards
Manufacturing Leadership Awards Program honors 2020 top industry innovators.
Internet of Things
IoT World Virtual: COVID Cements the Need for Connectivity, Digitization
Annual IOT conference examines how COVID rehapes digitlization projects, data analytics, and digital twin adoption
Editor's Picks: August 5-11, 2020
One of the picks will be chosen as DE's Editor's Pick of the Week.
Editors Pick of the Week
Editor's Pick: Gain task-specific access to the systems model
MapleMBSE uses a Microsoft Excel-based workflow to enable optimized, task-specific views for editing the systems model.
Simulate
Keysight, IPG Automotive, Nordsys Team to Validate Advanced Driver Systems
Companies have created new test platform to accelerate development of ADAS solutions.
All posts
All topics