Top Story
USC Prints Self-Healing Rubber
Objects printed using the new process can heal tears or punctures in as little as two hours.
Engineering services and new innovation center can accelerate materials development.
Resources
Making the Case for Building an AM Team
There's no question that metal AM technology has arrived at the point where it's a viable production alternative for companies of all sizes, across many industries. Manufacturers just need to do the proper due…
Featured Companies
SABIC Launches Breakaway Support Filament
March 21, 2019
Support filament aimed to enhance productivity for part manufacturers.
Titan Robotics Collaborates with Materials Suppliers for Printing of Materials at AMUG 2019
March 18, 2019
To demonstrate printing of production parts using materials on the Atlas 3D printer platform, Titan is partnering with three chemical companies serving the additive manufacturing industry: Arkema Inc., DuPont and NatureWorks. 
Matereality Adds Lab Information Management to its Material Data Management Software
March 14, 2019
Release Is accompanied by a new bolt-on for companies to manage and run their test labs.
AddiFab Receives EU Grant to Mature Metal and Ceramic Injection Molding Technology
March 11, 2019
AddiFab has received an EU grant of mEUR 1.6 to boost commercial readiness of Freeform Injection Molding for ceramic and metal injection molding.
X-Rite Partners with Dassault Systèmes for Appearance Exchange Format 
March 7, 2019
Product innovation teams using Dassault Systèmes solutions can create virtual materials to share across workflow process from design through production and quality control.
FiberForce Italy Offers Pantone Filaments
February 26, 2019
The company will initially offer 15 Pantone colors, resulting in more consistent color printing.
USC Prints Self-Healing Rubber
February 22, 2019
Objects printed using the new process can heal tears or punctures in as little as two hours.
Essentium, eSUN and Polymaker join Ultimaker Material Alliance Program
February 21, 2019
The Ultimaker Material Alliance Program is designed to further expand the choice of materials and applications for FFF 3D printing in a wide variety of industries.
Desktop Metal Launches 316L Stainless Steel for Various Environments
February 15, 2019
316L joins Desktop Metal's expanding metal 3D printing materials library for the Studio System.
Jabil Offers Comprehensive Materials Services for 3D Printing
February 12, 2019
Engineering services and new innovation center can accelerate materials development.
EOS Acquires Vulcan Labs
February 12, 2019
With acquisition, EOS aims to enhance its additive manufacturing talent pool, to continue to deliver custom solutions, augment R&D and drive commercialization of EOS 3D printing platforms.
Rize Receives Frost & Sullivan Award for Best Practices in Technology Innovation for Zero-Emissions Polymer Additive Manufacturing
February 11, 2019
Award given to Rize for technology innovation best practices for zero-emissions polymer additive manufacturing.
America Makes Announces Qualified Database of Material Properties for FDM Additive Manufacturing of Resin
February 8, 2019
Database released to the Institute and its members to enable use of ULTEM 9085 Resin for aerospace interiors.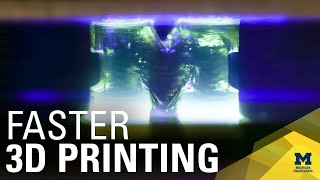 University of Michigan Researchers Tout High-Speed 3D Printing Approach
February 6, 2019
The process employs dual light sources in place of an oxygen membrane to print at 100 times the print speed of conventional offerings.
Solvay Expands Polymers Offering for 3D Printing Simulation
February 1, 2019
Solvay adds two new materials to e-Xstream engineering's latest release of additive manufacturing software.