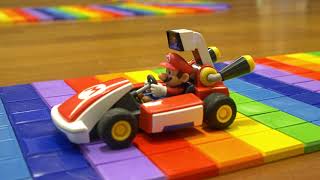 BCN3D 3D Printed the Rainbow Road to Honor Super Mario Bros' 35th Anniversary
November 23, 2020
BCN3D developed and fabricated a 3D printed Rainbow Road for the new Mario Kart Live: Home Circuit (SNES), composed of over 4,400 colorful bricks.
SynDaver Offers 3D Printing Holiday Discount
November 23, 2020
Take more than $1,000 off SynDaver Axi 3D printer for Black Friday, Cyber Monday.
America Makes Awards $2.3M in Funding
November 19, 2020
Ten project teams selected to help accelerate the adoption of additive manufacturing and meet needs of the supply chain.
CoreTechnologie Debuts New Additive Manufacturing Software
November 19, 2020
With the new 4D_Additive 3D-Printing software, CAD data is prepared as intelligent, exact B-Rep geometry for 3D printing processes and can be saved in common 3D printing formats as well as STEP.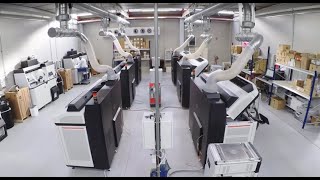 Weerg Doubles Its 3D Printing Department
November 19, 2020
Company reports its largest EMEA installation of HP Jet Fusion 5210 in Gardigiano with the new HP Automatic Unpacking Station.
3D Systems Receives FDA Clearance for Vantage Ankle PSI
November 17, 2020
This is a jointly developed end-to-end solution through collaboration with Exactech, which makes joint replacement implants, instruments, and technologies.
Additive Manufactured Eyewear Industry to Grow
November 17, 2020
In the new report, titled, "Markets for 3D Printing Eyewear 2021," the firm analyzes the current market landscape and forecasts the next decade of business opportunities.
Additive Industries Unveils Flagship 3D Metal Printer
November 13, 2020
It is developed on a platform that allows even further expansion of the build volume and productivity in the future.
Markforged Launches AI-based Additive Platform
November 11, 2020
Cloud-based Digital Forge solution allows customers to make production-grade parts on demand.
ExOne Joins Additive Manufacturing Standards Effort
November 11, 2020
Company joints consortium focused on 3D printing quality standards for oil & gas sector.
Materialise Introduces Build Processor Support for Desktop Metals Systems
November 10, 2020
This strategic partnership will help reduce the complexity for companies looking to scale their 3D printing operations, companies say.
Smart3D Launches New Industrial 3D Printer for Materials
November 6, 2020
The Smart3D Macro HT reportedly prints high-performance materials featuring a 200°C chamber.
HP Improves 3D Print Management, Automation
November 5, 2020
New solutions increase control and quality of additive manufacturing processes.
Optomec Delivers 3D Electronics Printer for Medical Device Production
November 3, 2020
New Aerosol Jet system is optimized for industrial manufacturing.
FREE WEBINAR: Can You Make the Leap From Analog and Mechanical to Digital and Automated?
November 3, 2020
The Cloud is Changing the Way Products are Designed
Latest News
Theorem Solutions Debuts V23.3 CATIA V5 TO CREO Release
The CADverter product translates assembly structure, geometry, attributes and where available 3D Product Manufacturing Information (PMI) and Metadata between CATIA...
BCN3D 3D Printed the Rainbow Road to Honor Super Mario Bros' 35th Anniversary
BCN3D developed and fabricated a 3D printed Rainbow Road for the new Mario Kart Live: Home Circuit (SNES), composed...
Corel Offers Black Friday Deals on CorelDRAW
Company extends holiday savings on products that enhance your productivity, design, photo and video editing.
Hexagon Brings Product-as-a-Service Model to Metrology
New offering delivers access to metrology equipment, maintenance, and certifications, eliminating the need for huge capital investments.
All posts