Top Story
Hackrod: Build a Car from the Bedroom
January 20, 2019
Custom car company Hackrod applies gamification to vehicle design using online collaboration, VR, and 3D printing.
Sponsored Content
Re-evaluating Computer-aided Optimization
February 21, 2019
What do we lose or gain in the era of generative design?
Aras Teams up with VCollab to Boost Management of Simulation Results 
February 12, 2019
Aras will use the VCollab technology in Simulation Process & Data Management (SPDM) processes across the lifecycle. 
Altair Issues Global Call for Submissions for 2019 Altair Enlighten Award
February 8, 2019
Automotive industry's award is dedicated to vehicle lightweighting in four categories; Full Vehicle, Module, Enabling Technology and The Future of Lightweighting.
Engineering Productivity to Drive Generative Design to More Than 16 million Users by 2030
February 1, 2019
The automotive industry represents the largest opportunity globally with US$18.5 billion in generative design software revenues forecasted for 2030, but the largest industry differs from country to country.
Siemens Updates Simcenter 3D
January 29, 2019
Siemens' latest Digital Innovation Platform features faster modeling and more accurate simulations.
Biomimicry Inspires Lightweight Lattice Design
January 1, 2019
The combination of nature and new topology optimization and simulation tools serves up a powerful approach to achieving lightweighting design goals.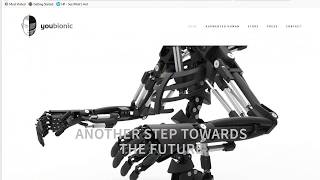 DE News Roundup: December 3, 2018
December 5, 2018
PTC acquires generative design software maker Frustum, TechSoft adds AR-VR support to HOOPS SDK, HP partners with Autodesk for 3D printing workflow, hybrid Centaur-like robot from Bostondynamics and Youbionic
Sponsored Content
Break through Barriers with Generative Design
December 1, 2018
Innovation vs productivity. Design vs manufacturing. Increased competition. Can emerging technology save the day?
Artificial Intelligence Beyond the Hype
December 1, 2018
Advancements in computing and research are making AI applications much more feasible.
Formnext 2018 Pinpoints Anticipated Disruptions to Additive Manufacturing
November 27, 2018
Additive manufacturing hardware vendors shift from optimization for quality to optimization for speed and face competition from open-system material manufacturers.
Renishaw Extends Paramatters Collaboration
November 26, 2018
The joint partnership is focused on optimized lightweighting and automation of metal additive manufacturing.
HP Boosts 3D Printing Mass Production
November 26, 2018
HP announces new customers RecTech 3D and GE Transportation; new applications by BMW, Volkswagen, and others; first HP Jet Fusion 3D 300 / 500 Series customers; collaborates with Autodesk on design-for-3D to lead in digital manufacturing.
Frustum Acquisition to Add Generative Design Muscle to PTC Creo
November 20, 2018
Slated to debut in future versions of the PTC Creo CAD tool, Frustum's AI-based generative design capabilities will make it easier for engineers to innovate product breakthroughs.
Technology Focus: Designing for Optimization & Simulation
November 15, 2018
Simulation is pervasive, with people from different departments and backgrounds discovering new ways to put it to use, in all of its varied forms.
Generative Design Challenges Old Paradigms from the Parametric Era
November 12, 2018
The genesis of generative design can be traced back to simulation software, with topology optimization as the intermediary evolutionary step. Generative design software uses time-tested structural, fluid and thermal simulation technologies; however, instead of asking the user to provide the...
Latest News
Exploring Digital Transformation as an Evolutionary Journey
SolidWorks World 2019 presentation advises to forget about specific products and work on themes that...
Dassault Systèmes to Acquire Trace Software's elecworks Product Line
Elecworks is at the core of SolidWorks Electrical applications used for smart product development...
UL Opens Catalog of Safety Standards
A library of more than 1,400 standards is now available to all.
AMD Radeon Pro Software for Enterprise 19.Q1 Features SolidWorks Performance Improvements
Radeon Pro Software for Enterprise 19.Q1 updates product design workflows with features aimed at...
All posts