Top Story
3D Scan in Full Color
September 19, 2018
Portable integrated arm and laser probe provide color laser scanning.
3D Scanning Helps Vision Impaired Experience Sculptures 
October 10, 2019
Scanning data was used to 3D-print to-scale replicas of sculptures for a tactile educational experience for the blind and visually impaired. 
Taylor Attachments Modernizes With a 3D Design Workflow
October 2, 2019
Farm equipment manufacturer trades time-consuming manual processes for a streamlined workflow that incorporates 3D scanning and CAD modeling.
Creaform adds Academia 50 3D Scanner to its Educational Solution Suite 
September 19, 2019
ACADEMIA 50 uses structured white light technology to scan objects made of any material, surface type or color, according to the company.
Elysium Enhances Functionality to Model Piping from Point Clouds into Autodesk Revit
September 17, 2019
New capability for modeling directly from laser scans to Autodesk Revit available in InfiPoints version 6.0.
Exact Metrology Offers the Artec Micro 3D Scanner
August 13, 2019
New scanner is Artec 3D's most accurate 3D scanner to date, company says.
Volume Graphics Releases New Generation of CT Software Solutions
July 12, 2019
Updates in 3.3 include multi-material dimensioning, native Q-DAS support, OCR-based automation, and high-quality volume meshing.
Artec 3D Releases Artec Studio 14 with Functionality for Quality Inspection
June 4, 2019
New features include integration with metrology-grade desktop 3D scanner Artec Micro, target-free registration for 3D laser scanner Artec Ray, and Direct Export for CAD/CAM, Automatic Glare Removal.
Artec 3D Launches Artec Micro Industrial Desktop 3D Scanner
May 21, 2019
Scanner promises quality control of small objects, reverse engineering design and more.
Hexagon Shows Off New Metrology Grade 3D Scanning Laser Tracker at RAPID + TCT 2019
May 20, 2019
Hexagon's Joel Martin, product manager of the Laser Tracker product line, will also present "Laser Scanning from Macro to Micro: What to Use, Where and Why" on May 22, at 2 p.m. in the AM Technical Insights Forum track.
NSI Technical Day June 6 Offers Demos of Latest Digital Industrial X-ray Scanning and Inspection Equipment
May 10, 2019
Joining NSI will be experts from Volume Graphics, a CT data analysis software company that will provide insight into the role of CT in digital product lifecycle management.
Artec 3D Launches Artec Micro Professional Industrial Desktop 3D Scanner
May 7, 2019
Scanner offers quality control of small objects, reverse engineering design and more, a solution for the metrology market, company says.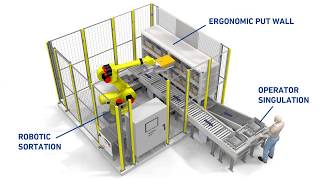 Digital Twins and Cyberphysical Security at AeroDef
May 3, 2019
DE Video News May 3, 2019: Digital twins and cyberphysical security discussions at AeroDef Conf, ANSYS acuires EDA firm
Polyga Expands HDI Compact 3D Scanner Series
April 11, 2019
Polyga adds two more models, the HDI Compact L6 and the C504, to the 3D scanner line.
BigRep Showcases BigRep PRO 3D Printer at Hannover Messe 2019
April 2, 2019
New BigRep 3D printer is automated and 5G connected; showcase marks next step in development partnership between BigRep and Bosch Rexroth.
Hexagon Launches new Laser Tracker Line
March 7, 2019
The ATS600 Metrology-Grade Scanning Laser Tracker provides 3D scanning functionality.
Latest News
Varjo Releases VR2, Flyingshapes Launches CAD for VR, More
xRS Week Conference by Greenlight Insights kicks off, Varjo releases VR-2 Regular and Pro hardware, flyingshapes launches CAD modeling app...
A Strong Black Thermoplastic Enters the Digital Factory
PRO-BLK 10 allows fast printing on the Figure 4, with simplified post-processing that includes a single curing cycle and single solvent cleaning. 
Sponsored Content
Editor's Pick: Additive Manufacturing Thermoplastic Masters Long Production Runs 
3D Systems Figure 4 PRO-BLK 10 3D printing material is ideal for a wide variety of manufacturing use cases.
Moffitt Streamlines Custom Vent Designs With Discovery Live
With ANSYS real-time simulation, customers can visualize natural ventilation solutions quickly, shortening design cycles and accelerating sales.
All posts