Top Story
Get Cracking with ANSYS Workbench 19.2
Walk through a fracture analysis using ANSYS Separating Morphing Adaptive Remeshing Technology.
Creo Simulation Live embeds ANSYS simulation capabilities directly into the CAD tool interface.
Resources
Increasing Passive Safety Performance Using an Automatic CAE Methodology
Development of an integrated tool able to optimize the geometric features of a door trim and the restraint system setup.
FEATool Multiphysics MATLAB FEA Toolbox 1.10 Available
May 14, 2019
New update features an updated and fully integrated graphical user interface with built-in and interactive step-by-step multiphysics simulation examples.
DLR Advances Crack Prediction in Ceramic Matrix Composites Using MultiMech
May 14, 2019
Research designed to reduce development time of novel CMC materials.
PROSTEP Sponsors the Formula Student DART Racing Team
May 3, 2019
The team is developing an electric racing car for the international Formula Student university design competition.
Simulation Transition: Meshing Nuts and Bolts
May 1, 2019
It's essential to understand the fundamentals of how to adjust a mesh to obtain accurate and reliable results.
Get Cracking with ANSYS Workbench 19.2
May 1, 2019
Walk through a fracture analysis using ANSYS Separating Morphing Adaptive Remeshing Technology.
Sponsored Content
Editor's Pick: Faster Composites Simulation Improves Predicting Carbon Fiber Performance
May 1, 2019
MultiMechanics MultiMech 19.0 composite simulation software specializes in finite element analysis of carbon fiber and other composites.
COMSOL Debuts COMSOL Client for Android
April 26, 2019
New release enables engineers and students to run simulation applications from an Android device.
Aras Expands Partnership with MSC Software Corporation
April 23, 2019
Collaboration focuses on enhanced simulation process and data management.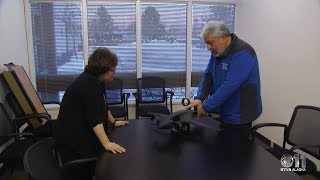 Autonomous Cargo Drone Does Heavy Lifting
March 27, 2019
Sabrewing has designed two hybrid-electric aircraft that can autonomously deliver hundreds of pounds of cargo to remote locations.
EnginSoft USA Joins PTC Partner Network for Creo and Creo Simulation Live 
March 21, 2019
EnginSoft USA provides customized solutions for complex simulations.
Parametric Design Optimization with CORTIME
March 1, 2019
Walk through a linear buckling optimization using CORTIME.
Humanetics Innovative Solutions Partners With SATT Conectus Alsace
February 21, 2019
Partnership built around distributing Strasbourg University Finite Element Head Model - Head Injury Prediction Tool, developed by the University of Strasbourg.
NAFEMS World Congress 2019 Preview
February 20, 2019
The international association for the engineering modeling, analysis and simulation community, hosts the NAFEMS World Congress June 17-20 in Quebec, Canada.
NAFEMS Names Speakers for NAFEMS World Congress 2019
February 12, 2019
The international association for the engineering analysis community launches extensive roster of keynotes for its biennial world congress in Quebec.
Transition to Simulation: Spectrum of FEA Analysis, Part 2
February 1, 2019
This month, we continue exploring the spectrum of FEA to include even more available tools. If you enjoy designing mechanical systems, you'll naturally want to take every opportunity to develop the most robust and well-tested products.
Latest News
RAPID+TCT 2019 Drives Additive Manufacturing to Next Level in Motor City
Thousands of attendees delve into 3D printing, the future of manufacturing, digital twins, data management and so much more.
Jabil Inks Additive Manufacturing Agreement to Supply Parts to Renault F1 Team
On-demand delivery of racecar parts for Renault F1 Team driven by expansion at certified Jabil 3D printing facilities worldwide.
ExOne Announces Kennametal as Inaugural Beta Customer for New X1 25PRO Production Machine
ExOne also announced a new material partnership program, as well as more collaboration with Sandvik Additive Manufacturing.
Behind the Scenes at Materialise in the Midwest
Factory tour at Michigan-based 3D printing production facility provides a peek at the company's innovations in the medical sector.
All posts