Resources
Achieving Top Quality and Speed, in Simulation for Crash Test Dummies
Designing occupant friendly interiors that meet requirements in both safety and style, necessitates the extensive comprehension of models' behavior in crash.
Featured Companies
HP Improves 3D Print Management, Automation
November 5, 2020
New solutions increase control and quality of additive manufacturing processes.
Designing with AM in Mind
November 1, 2019
Designers and fabricators must support one another to avoid print failure.
Wohlers Associates Identifies Design as Significant Factor in AM Economics and Adoption
June 25, 2019
Companies with metal and polymer AM services reported that more than 26% of a part's cost is from post-processing.
RAPID+TCT 2019 Drives Additive Manufacturing to Next Level in Motor City
May 24, 2019
Thousands of attendees delve into 3D printing, the future of manufacturing, digital twins, data management and so much more.
AMT on the Importance of Automated Post-Processing for Additive Manufacturing
May 21, 2019
Company to highlight how its BLAST process intersects material science, hardware engineering and process automation at RAPID + TCT 2019; introduce the PostPro3DColor and PostPro3DMini systems.
AMT to Debut Post-Processing Technologies at RAPID 2019
May 3, 2019
The PostPro3D hardware system is an automated post-processing solution that can achieve a surface quality at least equal to injection molding on parts printed using various techniques.
B9Creations Automates 3D Print Post-Processing
February 25, 2019
Parts and models can be transferred automatically to an alcohol wash after printing.
Sponsored Content
Achieving Top Quality and Speed, in Simulation for Crash Test Dummies
December 12, 2018
Designing occupant friendly interiors that meet requirements in both safety and style, necessitates the extensive comprehension of models' behavior in crash.
AMFG to Showcase New Post-Production Management Solutions at Formnext 2018
November 6, 2018
Workflow automation software provider gives a deeper look into its post-processing scheduling and digital QA management solutions.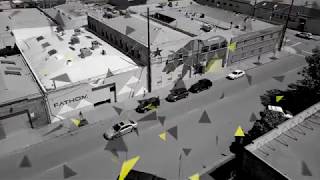 FATHOM
October 16, 2018
The FATHOM team is driven by advanced technologies that enhance and accelerate today's product development and production processes—we're changing the way products are being designed and manufactured by helping designers and engineers make the unmakeable.
Markforged Metal X 3D Printer – Making its Mark
August 8, 2018
Markforged is working on roll-out of a range of metals and alloys; H13 tool steel, known for its strength and resistance to thermal shock, will soon be available. Other materials already in beta stage include Inconel, two aluminum alloys, titanium...
PostProcess Adds Automation and Intelligence to Post-Processing Plastic and Metal AM Parts
May 17, 2018
PostProcess has combined information captured in the digital thread during the design and printing stages with the necessary tasks of AM part support-removal and final surface-finishing, improving the entire process.
Sponsored Content
Check it Out: Making the Case for Building an AM Team
November 5, 2017
Take a holistic approach to implementing metal additive manufacturing by partnering with experts.
Dissolvable Metal Supports for 3D Printing - for Real!
April 19, 2017
The solution to dissolvable metal supports causes certain areas of a metal additive manufactured part to react chemically when immersed in a corrosive solution.
Latest News
Three Ways Generative Design is Transforming Business
Generative design is an exploration tool that uses artificial intelligence and machine learning to simultaneously generate multiple solutions based on...
Generative Design Helps Create New Wheels that are 35% Lighter
By using generative design technology, Briggs Automotive Company (BAC) was able to shed an additional 4.8 kilograms (10.5 lbs) for the latest...
Hyundai is Driving Mobility Innovation with Generative Design
Hyundai Motor Group is pushing the boundaries of vehicle development and reimagining how vehicles might traverse the world. In a...
How to Get Started with Generative Design
Generative design allows you to simultaneously generate multiple CAD-ready options based on real-world manufacturing constraints and product performance requirements. Try...
All posts