Top Story
Weaving Materials into the Design Workflow
January 1, 2019
Advances in materials science offer promises of part quality improvement at the microstructure level.
AMFG Advances End-to-End AM Workflow
January 14, 2019
AMFG is partnering with LEO Lane to create automated, secure workflows for production-grade additive manufacturing.
Konecranes Adopts IoT technology Using Siemens' Digital Innovation Platform
January 11, 2019
The company has increased collaboration between simulation, test and engineering organizations to reduce the use of physical prototypes by leveraging a digital twin through Siemens' IoT integrated with PLM technology.
Siemens Releases Teamcenter 12.1 and 11.6, and Active Workspace 4.1
January 11, 2019
Enhancements target the areas of BOM management, systems engineering and virtual reality with this release.
Boothroyd Dewhurst Releases DFMA 2019 Software
January 11, 2019
DFMA software uses an intuitive question-and-answer interface that identifies opportunities for cost reduction in a product.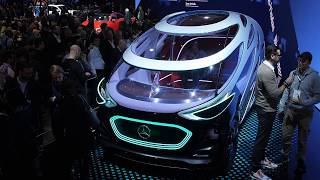 DE Video News Roundup, January 11, 2019
January 10, 2019
Video highlights news from CES on autonomous cars, SaaS simulation with GPU acceleration, and Autodesk's 3D printer and Chromebook giveaway.
Hexagon Aims to Strengthen Smart Factory Position with Acquisition of Etalon
January 8, 2019
Etalon's solutions continuously monitor and initiate compensation of machine tools, measuring machines, robots and structures to ensure the dimensional accuracy of manufactured parts. 
Zigbee Alliance and Thread Group Release Dotdot over Thread Specification
January 8, 2019
Dotdot over Thread reportedly gives product developers low-power IP connectivity and the interoperability of a widely adopted IoT language.
Tektronix' Initial State Launches new Data Streaming and Visualization Service
January 3, 2019
Cloud-based data service offers real-time streaming from devices and applications. 
Granta MI Version 12 Now on Shelves
January 3, 2019
Software contains new features for additive manufacturing, compliance, product lifecycle management support and more.
Giving Machines the Sense of Touch
January 1, 2019
It's important to remember that the sensor is still in the early stages of development, yet the technology represents a step closer to giving robots, prosthetics and electronic devices the sense of touch.
Weaving Materials into the Design Workflow
January 1, 2019
Advances in materials science offer promises of part quality improvement at the microstructure level.
Sponsored Content
Simulation and Test Solutions for the Holistic Digital Twin
January 1, 2019
Engineer your innovations with SimcenterTM.
Hack Your New Year's Resolution
January 1, 2019
Small successes can lead to setting loftier goals, but the trick is to build on each success to get there, rather than trying to achieve too much too soon.
Collaboration Platform Fuels Innovative Race Car Design
December 27, 2018
Nicolas Perrin's autonomous, electric Le Mans Prototype race car Project 424 relies on open access design and new communications platform.
Bridgestone EMEA Selects Dassault Systèmes to Boost their Smart Factory Program
December 19, 2018
Tire manufacturer will use Dassault Systèmes' QUINTIQ and DELMIA Apriso applications powered by the 3DEXPERIENCE platform for production planning and execution across Europe.
Latest News
Editor's Pick: Machine Learning Boosts Modeling Methods
Automating your simulation workflows can help speed optimal design discovery.
Process Integration and Design Optimization Platform Updated
Optimus Rev. 2018.1 introduces modeling methods augmented with machine learning
Hensoldt Purchases Nano Dimension DragonFly Pro System
Early DragonFly Adopter Hensoldt uses Nano Dimension's precision additive manufacturing platform for printed...
Soler & Palau selects CORTIME for Design Exploration in SolidWorks
Soler & Palau is immersed in the development of efficient ventilation products and systems into...
All posts