Artec 3D Unveils Artec Studio 15 with New Scan-to-CAD Features
May 28, 2020
Scan, create a 3D model and perform scan-to-CAD operations all in one software.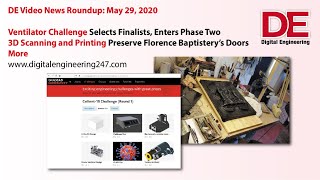 DE Video News Roundup: Update on CoVent 19 Ventilator Design Challenge, 3D Print and Scan in Medieval Church Restoration, More
May 27, 2020
In Video News Roundup for May 29, 2020, the Covent-19 ventilator design challenge enters phase II, 3D printing and scanning firm Prototek helps restore Florence Baptistery cathedral door, Autodesk Fusion 360 adds 3D printing tools, 3D Heals virtual conference set for June
3D Systems Unveils Enhancements to Reverse Engineering Software
May 19, 2020
Unroll/reroll function in Geomagic Design X enables a new modeling workflow for complex revolved parts resulting in a 94% efficiency improvement, company says.
Introducing ATOS Q 3D Scanning
May 8, 2020
It features interchangeable measuring lenses for flexibility and a modern design for portability.
NexTech's 3D AR Capture App "ARitize 360" Now Available for Early-Access Signup
March 6, 2020
The company's new CaptureAR App to facilitate the mass adoption of augmented reality.
Fast 3D White Light Scanning Comes to Hexagon's Absolute Arm
February 28, 2020
Structured light scanning technology comes to portable measuring arms with the new RS-SQUARED Area Scanner.
IDC Forecasts Strong Growth for the 3D Scanner Market
February 3, 2020
An important factor contributing to this growth is the continued migration of professional-level features into more affordable scanners.
nPower Software Partners with Thor3D
January 24, 2020
Partnership opens opportunity for companies to bundle the Cyborg3D MeshToCAD software with the Thor3D hand scanner.
PolyWorks Software Joins the SMARTTECH3D Offer
January 2, 2020
It is a universal metrology software platform that is designed for processing and analyzing three-dimensional data.
NVision Scans Rare Prehistoric Fossils for Texas Museum  
December 6, 2019
The detailed scan data will enable the paleontology museum to 3D-print exact replicas of the fossil for further study and education.  
Creaform Launches Handyscan Aeropack for Aerospace Industry
November 14, 2019
Solution suite designed for needs of aircraft manufacturers and maintenance, repair and operations companies.
3D Scanning Helps Vision Impaired Experience Sculptures 
October 10, 2019
Scanning data was used to 3D-print to-scale replicas of sculptures for a tactile educational experience for the blind and visually impaired. 
Taylor Attachments Modernizes With a 3D Design Workflow
October 2, 2019
Farm equipment manufacturer trades time-consuming manual processes for a streamlined workflow that incorporates 3D scanning and CAD modeling.
Creaform adds Academia 50 3D Scanner to its Educational Solution Suite 
September 19, 2019
ACADEMIA 50 uses structured white light technology to scan objects made of any material, surface type or color, according to the company.
Elysium Enhances Functionality to Model Piping from Point Clouds into Autodesk Revit
September 17, 2019
New capability for modeling directly from laser scans to Autodesk Revit available in InfiPoints version 6.0.
Latest News
AU2021: May the Forge be with You
Autodesk brings its focus back on the Forge development platform, hints at more access to Forge via APIs, announces two...
Hexagon Unveils Image-Recognition AI for CAE
ODYSSEE A-Eye offers access to digital twins through AI applications that require less input data and can read images to...
America Makes Has New Directed Project Call Worth $1M
Project aims to advance domestic ability to make AM components for Aerospace and Defense High Mach Applications 
Shapeways Introduces Otto Software-as-a-Service
This gives manufacturers free access to 3D printing manufacturing services.
All posts