Top Story
FREE WEBINAR: Highly Virtual Prototyping for Electronic Performance in Connected Devices
October 19, 2020
Discover how to speed up the design process for electromagnetic products.
Unified Modeling and Simulation for Structure Development of Heavy Machinery and Equipment
November 17, 2022
The 3DEXPERIENCE Platform can help heavy mobile machine manufacturers innovate in a collaborative environment and overcome challenges, such as safety, that drive the market.
Accelerating Vehicle Product Development Cycles with Modeling and Simulation
November 16, 2022
Using modeling and simulation (MODSIM) tools, OEM engineers can successfully create and validate products in a unique, integrated and digitally connected environment.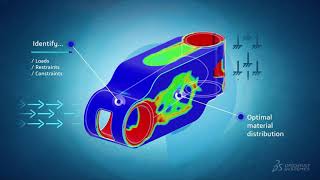 Generative Design in Support of Science-based Modeling and Simulation
November 16, 2022
In today's increasingly competitive market, it is no longer sustainable to approach design slowly and methodically. Designers are challenged with faster design cycles and more demanding design requirements.
Introduction to MODSIM and Its Implementation Journey
November 15, 2022
Consumers demands are challenging new product development. To effectively meet these new challenges in delivering new products and features to market quickly, efficiently, and safely, the product development and manufacturing cycles must be tuned in a manner that provide the...
3DEXPERIENCE® Platform to Virtually Test Sustainable Packaging Solution
November 14, 2022
PepsiCo turned to Dassault Systemes for sustainable packaging solutions, while ensuring that these solutions were resistant to both shipping, and shelf damage.
3DEXPERIENCE SIMULATION. The Next Level of Designer-Focused Simulation.
June 1, 2022
Imagine having realistic and complete performance prediction of your product designs, but without needing FEA specialist skills, expensive supercomputer setups, or lengthy iterative cycles. 3DEXPERIENCE SIMULATION is how you achieve that.
Unified Modeling and Simulation in a Single Platform
May 15, 2022
MODSIM and the 3DEXPERIENCE Cloud platform enable faster creation and collaboration, leading to more competitive products.
Science-based Modeling and Simulation
May 15, 2022
Reduce the distance between virtual and real to zero.
3DEXPERIENCE Modeling and Simulation Community
May 13, 2022
Become part of our MODSIM Community and learn how how digital modeling and simulation can help them overcome the barriers of traditional CAD and CAE software.
3DEXPERIENCE Platform Supports XVL 3D File Format
October 27, 2021
Native XVL on 3DEXPERIENCE platform for Japan now available after development with Toyota.
3DEXPERIENCE World 2021: Holding on to the Old; Paving the Way to the New
February 15, 2021
Dassault Systemes promotes cloud-centric 3DEXPERIENCE Works, promises to keep desktop SOLIDWORKS
FREE WEBINAR: Highly Virtual Prototyping for Electronic Performance in Connected Devices
October 19, 2020
Discover how to speed up the design process for electromagnetic products.
Driving Sustainability Through Engineering
April 1, 2020
A conversation with Dassault Systèmes Chief Sustainability Officer Alice Steenland
Dassault Debuts Integrated 3DExperience Works Platform at Conference
March 4, 2020
The re-branded 3DExperience World show emphasized web-based, platform approach to design.
TECHNIA Signs SolidWorks Distribution Agreement With Dassault Systèmes
February 11, 2020
TECHNIA currently distributes Dassault Systèmes' 3DEXPERIENCE platform and various applications such as CATIA, BIOVIA, DELMIA, ENOVIA, SIMULIA and more.
Latest News
Blending Automation and Human Wisdom in CAM
How software and the veteran machinist complement each other.
Leadership Profile: Matt Sederberg of Coreform Discusses how Isogeometric Analysis can Improve Workflows
Coreform IGA allows users to perform simulations directly on CAD models.
How to Increase Supply Chain Transparency and Control
Digitally modeling the supply chain can improve visibility and performance.
Editor's Pick: Understanding Complex Engineering Data
BETA CAE Systems starts year with new product announcements.
All posts