Top Story
FREE WEBINAR: Highly Virtual Prototyping for Electronic Performance in Connected Devices
October 19, 2020
Discover how to speed up the design process for electromagnetic products.
FREE WEBINAR: Highly Virtual Prototyping for Electronic Performance in Connected Devices
October 19, 2020
Discover how to speed up the design process for electromagnetic products.
Driving Sustainability Through Engineering
April 1, 2020
A conversation with Dassault Systèmes Chief Sustainability Officer Alice Steenland
Dassault Debuts Integrated 3DExperience Works Platform at Conference
March 4, 2020
The re-branded 3DExperience World show emphasized web-based, platform approach to design.
TECHNIA Signs SolidWorks Distribution Agreement With Dassault Systèmes
February 11, 2020
TECHNIA currently distributes Dassault Systèmes' 3DEXPERIENCE platform and various applications such as CATIA, BIOVIA, DELMIA, ENOVIA, SIMULIA and more.
BigRep 3D PARTLAB Launches
February 11, 2020
This launch expands printing services for large-format industrial additive manufacturing in North America.
Consumers Are Hungry for Personalized Products
January 22, 2020
Dassault survey uncovers an increasing appetite for product personalization, raising the stakes for engineers.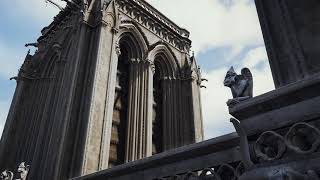 DE News Roundup April 19, 2019: Technology to help rebuild the Notre-Dame, AU calls for papers, more
April 19, 2019
Design software maker and game publisher pledge to help rebuild the Notre-Dame, Siemens release new robotic simulation software, AU calls for paper
Dassault Systemes, Ubisoft Pledge to Help Rebuild Notre-Dame
April 17, 2019
3DEXPERIENCE software maker and game publisher Ubisoft offer resources, technology for reconstruction
Dassault Systèmes Releases SIMULIA 2019
December 19, 2018
Dassault Systemes Looks Beyond Digitalization
June 21, 2018
Company says digital transformation is driven by how society and industry use technology, not the technology itself.
3DEXPERIENCE Forum North America to Showcase Strategies for Industry Renaissance
June 12, 2018
Bernard Charles to present his vision on industry renaissance; former Amazon Executive John Rossman to keynote on digital disruption; GE Current, MG McGrath, Arrivo and Bell among customers to present.
SWW18: SolidWorks Carves Out its Role as the Amazon of Manufacturing
February 9, 2018
Dassault Systèmes' Living Heart Project Achieves New Milestones in Patient Care
October 18, 2017
Simulated digital 3D heart model, according to Dassault Systèmes, now on the cloud offers new perspectives for medical research
Dassault Systemes Looks Forward to a New Design Renaissance
April 9, 2017
Dassault Systemes' Design in the Age of Experience conference in Milan, Italy, showcased innovative designers using the 3DEXPERIENCE platform to disrupt workflows.
Dassault Systèmes, HTC Expand Partnership
January 6, 2017
The HTC Vive Business Edition is now compatible with 3DEXPERIENCE.
Latest News
Editor's Pick: Real-time quality assurance for advanced metal additive printing
The new module is Data Analyzer, software for quality assurance and data analysis.
OPEN MIND Debuts hyperMILL 2021.1 CAD/CAM Software Suite 
Innovations and enhancements optimize machining tools and molds and more.
Nexa3D and Keystone Industries Team Up for 3D Printing Solutions
Under this agreement, both companies will combine their extensive dental, photopolymer and 3D printing capabilities to deliver 3D printing solutions...
Purdue University Turbulence Model May Aid in Design of Aircraft
Engineers enable simulation of complete 'dance' of colliding vortices at reduced computational time.
All posts