Sponsored Content
Enabling the Digital Thread through Simulation Process Data Management (SPDM)
November 15, 2021
The webinars in our Ansys software tools and Systems Tool Kit (STK) series uses examples directly from our digital engineering lab to show you how to integrate Ansys and AGI software in ways that enhance the quality of your digital...
Sponsored Content
Space Debris: An Environmental Crisis
November 12, 2021
In August of 2021, the Intergovernmental Panel on Climate Change (IPCC) released its most significant report to date, identifying accumulating evidence of the climate crisis. There are currently 5.25 trillion macro and micro pieces of plastic in the ocean with 8 million more...
Sponsored Content
Detailed Thermodynamic Evaluation of Satellite Components
November 12, 2021
In this webinar, Noah Ingwersen highlights STK's ability to link satellite environments to the thermal analysis capabilities of Ansys Mechanical.
Sponsored Content
Using CFD to Understand the Effects on Vehicle Reentry Landing Zones
November 12, 2021
In this webinar, Andrew Arnold demonstrates how you can connect mission outcomes to detailed engineering simulations using STK, Ansys Fluent, and AMC.
Sponsored Content
Integration Series Videos
November 11, 2021
Recently, AGI hosted a series of webinars in which our engineers demonstrated some of the many ways that Ansys software tools, including Mechanical, Fluent, HFSS, and Minerva, work with Systems Tool Kit (STK) to support model-based systems engineering (MBSE).
Sponsored Content
Digital Mission Engineering at Thales Alenia Space
May 11, 2021
Understand what digital mission engineering is, how it is being applied and the benefits of the approach.
Sponsored Content
Digital Engineering Forum 2020
October 28, 2020
Digital engineering is necessary, but not enough. A persistent mission model is essential to recognizing the full value of the digital engineering enterprise. And a physics-based, multi-domain software environment is essential for building true digital twins at both the platform...
Ansys and Analytical Graphics Ink Acquisition Agreement
October 26, 2020
Acquisition will empower users to simulate from the component level to customers' entire mission.
Sponsored Content
AGI - Test and Evaluation Tool Kit (TETK)
August 27, 2020
Improve the efficiency and effectiveness of test and evaluation activities.
Sponsored Content
AGI - Orbit Determination Tool Kit (ODTK)
August 27, 2020
Process tracking data and generate orbit ephemeris with realistic covariance.
Sponsored Content
STK Professional
August 27, 2020
The unrivaled digital mission engineering and digital mission operations platform.
Sponsored Content
Digital Mission Engineering (DME) Implementation Guide
August 27, 2020
This guide provides expert recommendations for implementing DME in your organization.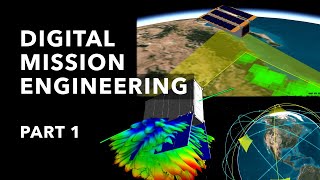 AGI
August 27, 2020
Mission-level software from AGI, an Ansys company, helps engineers, operators, and analysts working on complex land, sea, air, and space systems. Our modeling, analysis, and visualization tools, coupled with legendary customer support, help those in aerospace and defense organizations make...
Latest News
SME Announces 2023 Award of Merit Honorees
SME's Award of Merit has, since 1958, recognized accomplishments from its members.
Xometry Instant Quoting Engine Adds Features
The quoting engine adds Support for more than three dozen materials and finishes, including galvanized steel, stainless Steel and sheet-metal...
Volume Graphics 2023.1 Software Supports Battery Inspection
Software also uses enhanced artificial intelligence/machine learning in new, easier interface.
Love the Problem
While new solutions are emerging all the time, many of the problems engineers face can be dishearteningly consistent.
All posts