Pixar, Adobe, Apple, Autodesk, and NVIDIA Form Alliance
August 4, 2023
Collaboration is for for OpenUSD to drive open standards for 3D content.
Logitech Releases MX Mouse for Mac
July 8, 2020
Popular CAD mouse now available for Mac, iPad users.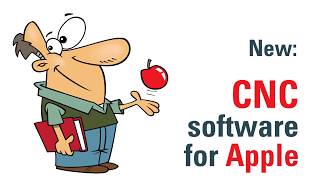 DeskProto Releases CAM Software for Mac
July 2, 2020
Projects will be interchangeable between Mac and Windows.
Newest Apple MacBook Pro Features AMD Mobile GPUs
November 14, 2019
AMD Radeon Pro 5000M Series mobile GPUs bring high-performance AMD RDNA architecture to Apple's new 16-in. MacBook Pro
Autonomous Acceptance
September 1, 2018
The potential benefits of autonomous vehicles are too important to be ignored. On the flip side, there are some valid concerns about self-driving cars that have yet to be addressed.
The Smart Home's Pursuit of Interoperability
July 1, 2018
Given the diverse set of devices developed for home automation, is interoperability achievable?
Apple
January 1, 2018
Apple is an American multinational technology company headquartered in Cupertino, California, that designs, develops, and sells consumer electronics, computer software, and online services.
Apple Continues to Dabble with 3D Printing
December 10, 2015
Apple files an additional patent related to 3D printing.
Latest News
Carbon Shares Platform Improvements
Company introduces new EPU 46 resin with color options.
COMSOL Announces Program for COMSOL Day: Aerospace & Defense
The event will explore multiphysics simulation applications and modeling topics supporting innovation and design in the aerospace and defense industry.
Keysight Highlights EDA 2024 Integrated Software Tools
This integrated EDA software is designed to increase productivity for engineers developing high-speed products in multiple applications, the company reports.
3D Systems Partners with Klarity
Klarity Prints, powered by 3D Systems, is a service-based line of 3D-printed radiotherapy accessories.
Altair Takes Home Awards from Fortune, Newsweek
Altair has been named to two lists that recognize companies that put employees first, Altair reports.
US DoD Deploys SPEE3D Printers to Ukraine
SPEE3D supplies 3D printers and training for Ukrainian soldiers and engineers to manufacture and repair military equipment in the...
All posts