Logitech Releases MX Mouse for Mac
July 8, 2020
Popular CAD mouse now available for Mac, iPad users.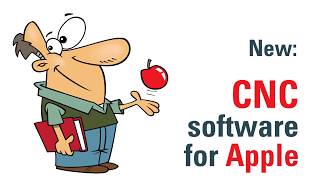 DeskProto Releases CAM Software for Mac
July 2, 2020
Projects will be interchangeable between Mac and Windows.
Newest Apple MacBook Pro Features AMD Mobile GPUs
November 14, 2019
AMD Radeon Pro 5000M Series mobile GPUs bring high-performance AMD RDNA architecture to Apple's new 16-in. MacBook Pro
Autonomous Acceptance
September 1, 2018
The potential benefits of autonomous vehicles are too important to be ignored. On the flip side, there are some valid concerns about self-driving cars that have yet to be addressed.
The Smart Home's Pursuit of Interoperability
July 1, 2018
Given the diverse set of devices developed for home automation, is interoperability achievable?
Apple
January 1, 2018
Apple is an American multinational technology company headquartered in Cupertino, California, that designs, develops, and sells consumer electronics, computer software, and online services.
Apple Continues to Dabble with 3D Printing
December 10, 2015
Apple files an additional patent related to 3D printing.
Latest News
Civan and Smart Move Partner on Welding and Additive Manufacturing
Controlling a dynamic beam laser with galvo scanner opens up new welding and laser powder bed fusion capabilities, companies report.
MakerBot LABS Adds Materials to METHOD Platform
This brings the number of METHOD materials up to 30, giving a greater selection of manufacturing-grade materials, according to the company.
Noesis Solutions Names New CEO
David Franke, former global sales director of Noesis Solutions, is its new CEO. 
Visionaize Buys INOVX Software
The INOVX Software V-Suite will be integrated into Visionaize Digital Twin, the companies say.
All posts