Top Story
Lighter by Design
November 1, 2020
Generative design can help engineers meet new lightweighting requirements.
BCN3D Launches Cloud Platform for Scalable 3D Printer Fleet Management
October 11, 2021
New integrations available for EOS, Stratasys Origin, Mimaki and other OEMs.
Teton Simulation Tackles 3D Printed Part Performance
September 16, 2021
Via a new partnership with BCN3D, Teton Simulation is embedding its SmartSlice software as a plug-in to virtually simulate as-printed parts.
Teton Simulation Releases SmartSlice for BCN3D Stratos
September 10, 2021
SmartSlice for BCN3D Stratos features print parameter optimization to eliminate print-test-redesign cycles and ensure printed parts perform as expected, company says.
BCN3D Buys 3D Printing Cloud Platform AstroPrint
September 7, 2021
BCN3D obtains a key technology as well as expertise for the development of its cloud solutions, remaining dedicated to improving user experience, company says.
BCN3D Smart Cabinet Debuts to Store 3D Printing Filaments at Optimum Humidity Levels
May 27, 2021
BCN3D aims to provide a reliable 3D printing solution, no matter the external factors like power stability or ambient humidity.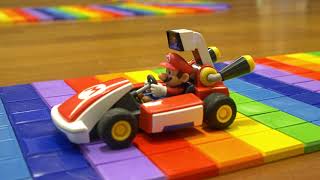 BCN3D 3D Printed the Rainbow Road to Honor Super Mario Bros' 35th Anniversary
November 23, 2020
BCN3D developed and fabricated a 3D printed Rainbow Road for the new Mario Kart Live: Home Circuit (SNES), composed of over 4,400 colorful bricks.
Lighter by Design
November 1, 2020
Generative design can help engineers meet new lightweighting requirements.
Editor's Picks: Sept. 17-23, 2020
September 24, 2020
One of the picks will be chosen as DE's Editor's Pick of the Week.
BCN3D Reengineers 3D Printer Line Touting Productivity Focus
September 17, 2020
Revamped product family includes integrated desktop and workbench models featuring proprietary dual extruder technology.
BCN3D Debuts Next Generations in Epsilon and Sigma 3D Printer Series
September 17, 2020
With the new Epsilon Series, BCN3D provides industrial power for the daily operation of applications such as low-volume production, functional end-use parts and manufacturing aids.
TensaBelt: Iteration Advances Thanks to 3D Printing
March 11, 2020
This technology has enabled them to create many iterations of each part at a low cost, ensuring the ability to achieve the desired result when developing its queue management systems.
BCN3D Technologies Unveils BCN3D Sigmax
October 18, 2017
The BCN3D Sigmax is a new professional fused filament fabrication desktop 3D printer. 
Editor's Picks for September 21-27, 2017
September 28, 2017
One of the picks will be chosen as DE's Editor's Pick of the Week.
Latest News
Podcast: Revolution in Simulation
DE chats with Malcolm Panthaki, co-founder of Revolution in Simulation, about their mission to expand the reach of simulation technology.
Partnership Accelerates Additive Manufacturing Material Qualification
Dyndrite, MIMO Technik and ASTRO Mechanical Testing team to qualify 3D print materials for aerospace and defense.
MATLAB Test Enables Test Management at Scale
MATLAB and Simulink Release 2023a Includes new and updated blocksets and toolboxes that simplify model-based design for the aerospace and...
Additive Manufacturing Industry Grew 23 Percent in 2022
SmarTech estimates AM market reached $13.5 billion in 2022, and will grow to $25 billion in 2025.
All posts