Top Story
Autodesk Fusion 360: Getting Better All the Time
September 1, 2019
Autodesk consolidates Fusion 360 into a single, more powerful package.
Xometry and ProvenCut Announce Strategic Partnership 
October 7, 2019
Xometry and ProvenCut join forces to offer machining resources and supplies.
NIMS Launches CAM Credentials 
October 1, 2019
The new credentials are based on standards developed in partnership with and sponsored by Autodesk.
New IMCO Tool Libraries Available for Mastercam
September 12, 2019
This now provides import of IMCO into toolpath operations.
Autodesk Fusion 360: Getting Better All the Time
September 1, 2019
Autodesk consolidates Fusion 360 into a single, more powerful package.
Hurco Introduces the VMXDi Series of CNC Machines
August 6, 2019
With the new direct drive spindle, the VMXDi series has a better surface finish, quieter spindle and less head growth, the company adds.
Milltronics USA Introduces the VM8434XP Performance Vertical Machining Center
August 6, 2019
The Milltronics XP Series CNC machines are #50 taper vertical machining centers designed for applications that need extra cutting power.
New hyperMILL 2019.2 CAD/CAM Suite Offers Smoother Surfaces, Increased CAD-to-CAM Integration
July 22, 2019
The latest hyperMILL software has a range of new features including high-precision 3D finishing and 5-axis tangent machining.
NCG CAM Solutions Celebrates 10 Years with Record Sales Growth
July 2, 2019
End-of-year sales figures have shown a leap in sales, with growth of 41% compared with last year, according to the company. 
NCDMM Opens New Huntsville, Ala., Office to Support U.S. Army
June 17, 2019
NCDMM welcomes Mike Docherty as director of Manufacturing Technology to lead Huntsville office.
America Makes TRX+ @NIAR Technical Review and Exchange Event Headed to Kansas
June 14, 2019
Speakers at the two-day event include Cindy Ashforth of the Federal Aviation Administration, Chris Holshouser of NIAR, and Doug Hall of Battelle.
ZWSOFT Launches ZW3D 2019 SP CAD/CAM Solution
May 30, 2019
It introduces features and enhancements that respond to users' requests, delivering a more user-friendly CAD/CAM solution.
Hexagon's Manufacturing Intelligence Division Breaks Ground on New Center in Detroit Area
May 7, 2019
Hexagon's Manufacturing Intelligence division is constructing a new expansion project on a site in Novi, MI, slated for completion in the fall of 2019.
OPEN MIND/ hyperMILL Announce Joint 5-Axis Machining Technology Seminar with GROB Systems
April 26, 2019
During the seminar, experts from GROB Systems and OPEN MIND will demonstrate ways for manufacturers to make their production facility more efficient.
Hexagon Releases Latest Update of EDGECAM
April 25, 2019
New release supports fast 5-axis machining tools; software features barrel cutter support and new gun drilling cycle.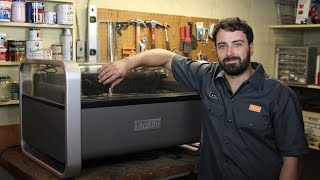 WAZER Offers Desktop Take on Traditional Water Jet
March 19, 2019
WAZER offers sophisticated cutting and material processing capabilities at a price point and with the accessibility of desktop office printers.
Latest News
Varjo Releases VR2, Flyingshapes Launches CAD for VR, More
xRS Week Conference by Greenlight Insights kicks off, Varjo releases VR-2 Regular and Pro hardware, flyingshapes launches CAD modeling app...
A Strong Black Thermoplastic Enters the Digital Factory
PRO-BLK 10 allows fast printing on the Figure 4, with simplified post-processing that includes a single curing cycle and single solvent cleaning. 
Sponsored Content
Editor's Pick: Additive Manufacturing Thermoplastic Masters Long Production Runs 
3D Systems Figure 4 PRO-BLK 10 3D printing material is ideal for a wide variety of manufacturing use cases.
Moffitt Streamlines Custom Vent Designs With Discovery Live
With ANSYS real-time simulation, customers can visualize natural ventilation solutions quickly, shortening design cycles and accelerating sales.
All posts