Top Story
CES 2020 Highlights: Toyota showcases humanoid robot, Siemens incorporates ARM into PAVE360, HP releases laptop made from ocean-bound plastic
January 9, 2020
Toyota showcases humanoid robot, Siemens incorporates ARM into PAVE360, HP releases laptop made from ocean-bound plastic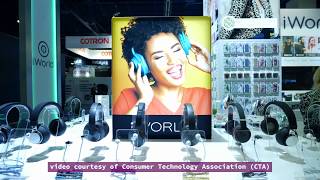 CES 2020 Highlights: Toyota showcases humanoid robot, Siemens incorporates ARM into PAVE360, HP releases laptop made from ocean-bound plastic
January 9, 2020
Toyota showcases humanoid robot, Siemens incorporates ARM into PAVE360, HP releases laptop made from ocean-bound plastic
Keysight Technologies' V2X Test Solution Earns OmniAir Certification
April 18, 2019
Certification ensures vehicular communication devices and associated software pass global industry requirements for interoperability and compliance.
Digitalization: If Every 'Thing' is Connected, Who Owns the Data?
July 1, 2018
In a changing digitalization landscape, intellectual property ownership is a top consideration.
NEXCOM Expands IoT Service Offerings
March 20, 2015
The company is continuing development for applications such as robotics, connected cars and security.
Connected Cars Raise Interest, Privacy Concerns
December 4, 2001
Latest News
Restoring Vintage Cars with 3D Printing
ABCar Oldtimers uses Zortrax 3D printers to make car parts no longer available
Volume Graphics CT Software Includes Scan-to-CAD Reverse Engineering Capabilities
New capabilities support digital twin creation and simulation validation.
dSPACE Strengthens Product Portfolio for Autonomous Driving and Data Management
Full integration of software tools from Intempora completes solutions for data-driven development.
Take Our Poll: A Return to In-Person Events
Share your feedback on whether you're up for in-person events to resume.
All posts