Industrial IOT Consortium Publishes Security Maturity Model for Digital Twins, Map Out Responsibilities
August 24, 2022
The Industrial IOT Consortium publishes IoT Security Maturity Model 62443 Mappings for Asset Owners, Product Suppliers and Service Providers
New igus Sensor for Predictive Maintenance
June 2, 2022
igus has developed a sensor for its smart plastics software that calculates the remaining service life of energy chains, cables, linear guides and plain bearings during operation.
How Smart Plastics Decrease Plant Downtime while Ensuring Process Conformity Through Industrial IoT
June 1, 2022
igus creates "built-in" sensor technology with the development of "smart plastics" which bring intelligent monitoring to plastic products.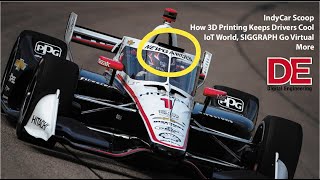 IndyCar Scoop on How to Keep Drivers Cool, IoT World and Siggraph Go Virtual, More
August 20, 2020
In August 20 Episode of DE News Roundup, 3D printed device keeps cockpit cool at IndyCar, IoT World and Siggraph go virtual, SimulationHub uses CFD design airborn contagion isolation rooms
IoT World Virtual: COVID Cements the Need for Connectivity, Digitization
August 12, 2020
Annual IOT conference examines how COVID rehapes digitlization projects, data analytics, and digital twin adoption
Latest News
Epic Games Teams Up with Autodesk
Their joint goal is to accelerate real-time, immersive design capabilities across industries.
Tech Soft 3D Launches CAE-Based CEETRON Toolkits
The CEETRON solutions enables software engineers to accelerate CAE application development at every stage of the process.
Quickparts Acquires Xcentric Mold & Engineering
Acquisition expands Quickparts' digital manufacturing offerings.
Simulation's Answer to Connected Car Complexity
The path to adopting advanced multiphysics design practices is complicated and multifaceted.
All posts