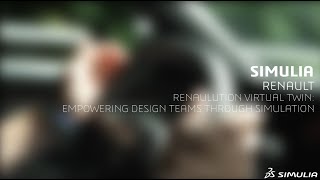 Pascal Remusan - MODSIM Pioneer
September 14, 2023
Pascal Remusan of Renault Group, talks about his presentation at the 3DEXPERIENCE Modeling & Simulation (MODSIM) Conference 2022.
MODSIM – Unified Modeling and Simulation
July 24, 2023
MODSIM unifies modeling and simulation on a common data model within a single user experience on the 3DEXPERIENCE platform.
3DEXPERIENCE Modeling & Simulation Conference
July 24, 2023
This year's virtual event will focus on game-changing technology from CATIA, SOLIDWORKS, and SIMULIA, inspiring managers and leaders to design and innovate the next generation of products on one business platform.
NextGen Design | Webinar Series
July 24, 2023
In this ongoing series, learn how to accelerate your product development with unified Modeling and Simulation (MODSIM).
Unified Modeling And Simulation (MODSIM) For Sustainable Product Development
July 20, 2023
Companies in all sectors must address the need for greater sustainability to meet customer demands. The development of new products necessitates rigorous testing and evaluation, while efforts must be made to decrease emissions and operate in a more economical fashion.
Accelerating Electric Vehicle Development with Multidisciplinary Simulation and High-Performance Computing
May 18, 2023
In this new Making the Case guide, learn how a unified approach to design and multidisciplinary simulation from Dassault Systèmes, combined with high-performance computing powered by AMD EPYC™ processors, can accelerate EV design.
Latest News
Almost Perfect: Lenovo ThinkStation P360 Ultra
Lenovo delivers an ultrasmall workstation that's big on performance.
Carbon Shares Platform Improvements
Company introduces new EPU 46 resin with color options.
COMSOL Announces Program for COMSOL Day: Aerospace & Defense
The event will explore multiphysics simulation applications and modeling topics supporting innovation and design in the aerospace and defense industry.
Keysight Highlights EDA 2024 Integrated Software Tools
This integrated EDA software is designed to increase productivity for engineers developing high-speed products in multiple applications, the company reports.
3D Systems Partners with Klarity
Klarity Prints, powered by 3D Systems, is a service-based line of 3D-printed radiotherapy accessories.
Altair Takes Home Awards from Fortune, Newsweek
Altair has been named to two lists that recognize companies that put employees first, Altair reports.
All posts