DE Editors' Chat: Rapid + TCT Conference, Ansys Indy Autonomous Challenge, 3D-Printed Bridge, More
August 9, 2021
DE Editors discuss traveling to Rapid + TCT Conference, virtual car race hosted by Ansys, use of simulation in the Olympics, a 3D-printed bridge made by 3X3D, more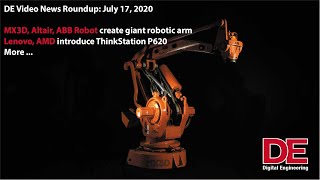 MX3D Makes 3D-Printed Robotic Arm, Lenovo and AMD Partner for New Workstation, Autodesk Releases Generative Design Extension, More
July 15, 2020
MX3D Makes 3D-Printed Robotic Arm, Lenovo and AMD Partner for New Workstation, Autodesk Releases Generative Design Extension, More
3D-Printed Bridge Nears Completion
April 19, 2018
MX3D essentially printed the structure in mid-air using a technique that involved extruding metal droplets that were fused to form solid lines.
Future Shock: 3D Printed Bridge Meets Smart Sensors
October 24, 2017
Driven by the startup MX3D and backed by the Amsterdam City Council, the proposed 12-meter-long stainless steel bridge will use a smart sensor network from Autodesk and partners.
World's First 3D-Printed Bridge Paves Way to a New Era of Construction
April 20, 2016
The first fully functional 3D-printed bridge is the brainchild of MX3D, a Dutch technology startup.
Printing Steel in Mid-Air
February 13, 2016
MX3D welding-based print technology has been used to print a bicycle frame, and will help create a single-piece bridge in Amsterdam.
Latest News
Additive Manufacturing Users in Focus
The AMUG 2023 Conference continues to build on end user participation to move the industry forward.
UltiMaker Launches the S7 Flagship S-Series 3D Printer
The UltiMaker S7 builds on the S-Series printers, with new features including an integrated Air Manager and a flexible build...
3DEO Launches 316l Stainless Steel
Material is made for medical, aerospace, and industrial markets, company says.
Spring TRX Event Agenda, Venue Announced 
Attendees will get updates on the America Makes projects portfolio to advance additive manufacturing.
All posts