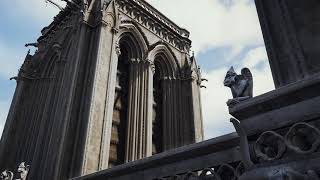 DE News Roundup April 19, 2019: Technology to help rebuild the Notre-Dame, AU calls for papers, more
April 19, 2019
Design software maker and game publisher pledge to help rebuild the Notre-Dame, Siemens release new robotic simulation software, AU calls for paper
Dassault Systemes, Ubisoft Pledge to Help Rebuild Notre-Dame
April 17, 2019
3DEXPERIENCE software maker and game publisher Ubisoft offer resources, technology for reconstruction
Latest News
Weber State Installs Impossible Objects CBAM 3D Printer
The Composite-Based Additive Manufacturing (CBAM) system is installed at Weber State University's MARS Center at Hill Air Force Base, UT.
What's New in Simcenter Mechanical Simulation
Simcenter Mechanical tools let users model the complexity of products.
Asking the Right Questions About HPC for Simulation
The answers to those questions may shed light on what services are most needed.
Matterport to Provide Digital Twin Platform for John Deere Operations
John Deere will use Matterport's digital twin platform to streamline facilities and operations management to boost responsivity and productivity,...
All posts