Top Story
Solving Real-World Engineering Problems
May 15, 2020
Student Design Competition Profile: Penn State Capstone Design Program
Engineer Building Beyond-This-World Solutions for COVID-19 Challenges
August 24, 2020
Xin Ning, assistant professor of aerospace engineering, was awarded a National Science Foundation grant to translate foldable space tools into medical equipment on Earth
Solving Real-World Engineering Problems
May 15, 2020
Student Design Competition Profile: Penn State Capstone Design Program
Teaching Additive Manufacturing Under Lockdown
April 13, 2020
Penn State University Professor, Dr. Guha Manogharan, uses virtual machines and simulation software to continue advanced additive manufacturing instruction. Guha teaches a graduate lab course on metal additive manufacturing and design.
Can You Teach Additive Manufacturing Under Lockdown?
April 13, 2020
Penn State University Professor uses virtual machines, simulation software to continue advanced AM instruction.
CVD MesoScribe Receives ARPA-E Grant in Collaboration with Penn State University
October 1, 2019
This award will be used to develop and demonstrate the integration of printed sensors into additively manufactured gas turbine components.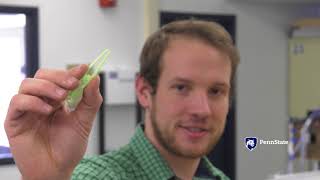 Kijenzi Brings Medical Printing to Kenya
February 24, 2019
Penn State start-ip provides CAD files, 3D printing capabilities to remote Kenyan hospitals.
Striving for Zero
February 1, 2019
Reducing, or even eliminating, the use of physical prototypes can yield tremendous benefits. The question is: How do you proceed?
Penn State Offers New Additive Manufacturing Certificate
November 28, 2018
Penn State University hopes to help address the need for more additive manufacturing education through a new graduate certificate in additive manufacturing and design (AMD) available through Penn State World Campus.
Researchers Take Aim at Design and Manufacturing Costs
April 25, 2017
A team of researchers at Penn State, industry and other universities is developing an advanced framework that will allow engineers to share engineering data and leverage design and manufacturing-related knowledge throughout the entire product lifecycle.
Latest News
AU2021: May the Forge be with You
Autodesk brings its focus back on the Forge development platform, hints at more access to Forge via APIs, announces two...
Hexagon Unveils Image-Recognition AI for CAE
ODYSSEE A-Eye offers access to digital twins through AI applications that require less input data and can read images to...
America Makes Has New Directed Project Call Worth $1M
Project aims to advance domestic ability to make AM components for Aerospace and Defense High Mach Applications 
Shapeways Introduces Otto Software-as-a-Service
This gives manufacturers free access to 3D printing manufacturing services.
All posts