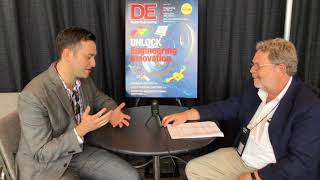 Synopsys Simpleware Product Group
September 18, 2018
The Simpleware™ Product Group at Synopsys develops software for the conversion of 3D scan data (MRI, CT, micro-CT...) into high quality design, simulation and 3D printing models. Simpleware Software is used in fields such as Life Sciences, Materials Science, Industrial...
Editor's Picks: March 8-14, 2018
March 16, 2018
One of the picks will be chosen as DE's Editor's Pick of the Week.
Combine CT Scanning with Additive Manufacturing
January 2, 2018
CT scanning allows manufacturers to look inside parts made with additive manufacturing to measure complex internal designs.
Optimizing Medical Devices with Simulation
August 1, 2015
Soterix Medical uses Simpleware and COMSOL Multiphysics to perfect transcranial direct current simulation technology.
Latest News
Altair Signs Reseller Agreement with NEC for PBS Professional
Altair will include socket-based PBS Professional licenses with its x86/Linux systems.
ISC 2019 Kicks Off with Spotlight on High-Performance Computing
The organizers have lined up a program covering high-performance computing topics, encompassing servers, networking, storage, software tools and applications.
KISTERS Debuts 3DViewStation Fast WebViewer for Catia, NX, Creo and more  
3DViewStation WebViewer gives the ability to instantly load native CAD data from various sources like: Catia, NX, Creo, Inventor, Solidworks,...
NCDMM Opens New Huntsville, Ala., Office to Support U.S. Army
NCDMM welcomes Mike Docherty as director of Manufacturing Technology to lead Huntsville office.
All posts