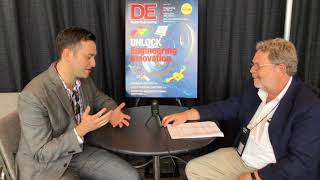 Synopsys Simpleware Product Group
September 18, 2018
The Simpleware™ Product Group at Synopsys develops software for the conversion of 3D scan data (MRI, CT, micro-CT...) into high quality design, simulation and 3D printing models. Simpleware Software is used in fields such as Life Sciences, Materials Science, Industrial...
Editor's Picks: March 8-14, 2018
March 16, 2018
One of the picks will be chosen as DE's Editor's Pick of the Week.
Combine CT Scanning with Additive Manufacturing
January 2, 2018
CT scanning allows manufacturers to look inside parts made with additive manufacturing to measure complex internal designs.
Optimizing Medical Devices with Simulation
August 1, 2015
Soterix Medical uses Simpleware and COMSOL Multiphysics to perfect transcranial direct current simulation technology.
Latest News
ZVerse and Shapeways Form Integration Partnership to Deliver 3D Design Solutions at Scale
The new strategic partnership provides Shapeways customers with access to ZVerse's artificial intelligence-driven design platform as well as its network...
Onshape Teams Up With Sandvik for Cloud CAD/CAM Integration
Companies' strategic partnership designed to reshape how manufacturers go from 3D product models to finished parts, according to companies.
SOLIDWORKS 2020 launches, CM Labs releases Vortex Studio 2019b, xRS Week set for October
SOLIDWORKS 2020 with improved assembly performance and flexible parts, CM Labs releases Vortex Studio 2019b with deformable terrain, xRS Week set...
Creaform adds Academia 50 3D Scanner to its Educational Solution Suite 
ACADEMIA 50 uses structured white light technology to scan objects made of any material, surface type or color, according to the...
All posts