Top Story
3DEXPERIENCE World 2022 Virtual: New CEO Signals New Era
February 8, 2022
SolidWorks picks long-time R&D veteran to lead the CAD tradition
3DEXPERIENCE World 2022 Virtual: New CEO Signals New Era
February 8, 2022
SolidWorks picks long-time R&D veteran to lead the CAD tradition
Dassault Debuts Integrated 3DExperience Works Platform at Conference
March 4, 2020
The re-branded 3DExperience World show emphasized web-based, platform approach to design.
Exploring Digital Transformation as an Evolutionary Journey
February 22, 2019
SolidWorks World 2019 presentation advises to forget about specific products and work on themes that match your digital transformation agenda.
BobCAM V7 for SolidWorks Now Available
February 20, 2019
SolidWorks CAM plug-in has 86 upgrades and enhancements, including a new NC editor.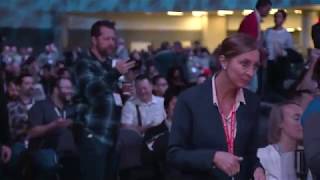 SolidWorks World 2019: Debut of 3DEXPERIENCE.Works, Launch of xShape, Event Name Change, and More
February 19, 2019
SOLIDWORKS World to be rebranded 3DEXPERIENCE World, event marks the launch of 3DEXPERIENCE.Works, company offers updates on xDesign and reveals xShape.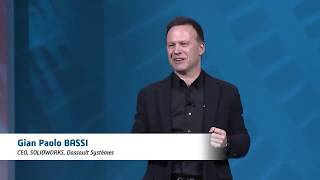 DE News Roundup: SolidWorks World 2019 Recap
February 15, 2019
Kenneth Wong narrates the top video news from this week at SolidWorks World 2019.
3D Systems Accelerates Product Design Cycle for SolidWorks Users 
February 14, 2019
Geomagic for SolidWorks 2019 expedites the scan-to-SolidWorks process, according to 3D Systems.
3Dconnexion Devices Now Compatible with SolidWorks xDesign
February 12, 2019
The update will take effect after SolidWorks World conference.
Rize Partners with Instadesign Group
February 11, 2019
With this announcement, RIZE has introduced its additive manufacturing solutions to the Quebec, Canada, market.
BOXX Demos Fast Intel-based SolidWorks Workstation at SolidWorks World 
February 11, 2019
Product showcases also include an AMD Ryzen Threadripper desktop workstation, new laptops and a server.
CORTIME Integrated Solution to Debut at SolidWorks World 2019
December 11, 2018
CORTIME is a design exploration tool leveraging advanced parametric optimization, sensitivity analysis and visualization tools.
Open Mind to Display CAM Software and Integration with Solidworks 3D CAD at Solidworks World 2019
December 10, 2018
OPEN MIND is a SolidWorks Gold Certified Partner, offering hyperMILL CAM software that is directly integrated in SolidWorks 3D CAD software, for design and manufacturing in a wide range of applications and industries.
SWW17: From "Design and Validate" to "Optimize and Manufacture"
February 13, 2017
SolidWorks World 2016: Remaking the Company in the Image of IoT
February 5, 2016
Latest News
Weber State Installs Impossible Objects CBAM 3D Printer
The Composite-Based Additive Manufacturing (CBAM) system is installed at Weber State University's MARS Center at Hill Air Force Base, UT.
What's New in Simcenter Mechanical Simulation
Simcenter Mechanical tools let users model the complexity of products.
Asking the Right Questions About HPC for Simulation
The answers to those questions may shed light on what services are most needed.
Matterport to Provide Digital Twin Platform for John Deere Operations
John Deere will use Matterport's digital twin platform to streamline facilities and operations management to boost responsivity and productivity,...
All posts