Top Story
SolidWorks World 2019: Debut of 3DEXPERIENCE.Works, Launch of xShape, Event Name Change, and More
February 19, 2019
SOLIDWORKS World to be rebranded 3DEXPERIENCE World, event marks the launch of 3DEXPERIENCE.Works, company offers updates on xDesign and reveals xShape.
Exploring Digital Transformation as an Evolutionary Journey
February 22, 2019
SolidWorks World 2019 presentation advises to forget about specific products and work on themes that match your digital transformation agenda.
BobCAM V7 for SolidWorks Now Available
February 20, 2019
SolidWorks CAM plug-in has 86 upgrades and enhancements, including a new NC editor.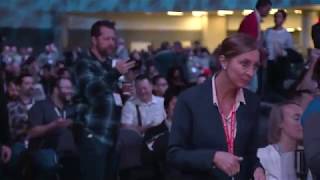 SolidWorks World 2019: Debut of 3DEXPERIENCE.Works, Launch of xShape, Event Name Change, and More
February 19, 2019
SOLIDWORKS World to be rebranded 3DEXPERIENCE World, event marks the launch of 3DEXPERIENCE.Works, company offers updates on xDesign and reveals xShape.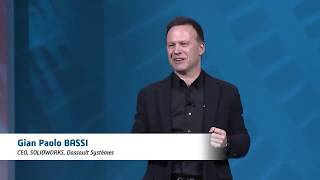 DE News Roundup: SolidWorks World 2019 Recap
February 15, 2019
Kenneth Wong narrates the top video news from this week at SolidWorks World 2019.
3D Systems Accelerates Product Design Cycle for SolidWorks Users 
February 14, 2019
Geomagic for SolidWorks 2019 expedites the scan-to-SolidWorks process, according to 3D Systems.
3Dconnexion Devices Now Compatible with SolidWorks xDesign
February 12, 2019
The update will take effect after SolidWorks World conference.
Rize Partners with Instadesign Group
February 11, 2019
With this announcement, RIZE has introduced its additive manufacturing solutions to the Quebec, Canada, market.
BOXX Demos Fast Intel-based SolidWorks Workstation at SolidWorks World 
February 11, 2019
Product showcases also include an AMD Ryzen Threadripper desktop workstation, new laptops and a server.
CORTIME Integrated Solution to Debut at SolidWorks World 2019
December 11, 2018
CORTIME is a design exploration tool leveraging advanced parametric optimization, sensitivity analysis and visualization tools.
Open Mind to Display CAM Software and Integration with Solidworks 3D CAD at Solidworks World 2019
December 10, 2018
OPEN MIND is a SolidWorks Gold Certified Partner, offering hyperMILL CAM software that is directly integrated in SolidWorks 3D CAD software, for design and manufacturing in a wide range of applications and industries.
SWW17: From "Design and Validate" to "Optimize and Manufacture"
February 13, 2017
SolidWorks World 2016: Remaking the Company in the Image of IoT
February 5, 2016
Latest News
ZVerse and Shapeways Form Integration Partnership to Deliver 3D Design Solutions at Scale
The new strategic partnership provides Shapeways customers with access to ZVerse's artificial intelligence-driven design platform as well as its network...
Onshape Teams Up With Sandvik for Cloud CAD/CAM Integration
Companies' strategic partnership designed to reshape how manufacturers go from 3D product models to finished parts, according to companies.
SOLIDWORKS 2020 launches, CM Labs releases Vortex Studio 2019b, xRS Week set for October
SOLIDWORKS 2020 with improved assembly performance and flexible parts, CM Labs releases Vortex Studio 2019b with deformable terrain, xRS Week set...
Creaform adds Academia 50 3D Scanner to its Educational Solution Suite 
ACADEMIA 50 uses structured white light technology to scan objects made of any material, surface type or color, according to the...
All posts