NVIDIA Announces Financial Results for 4Q
March 1, 2021
Company full-year revenue of $16.68 billion, up 53%.
Fraunhofer IGD Develops Automated Robotic Arm
February 26, 2021
The mobile scanner CultArm3D delivers 3D models of exhibits of various sizes at the push of a button, according to Fraunhofer.
KISTERS 3DViewStation Offers Visualization for Teamcenter Engineering and ActiveWorkspace
February 16, 2021
Features include fast file load, measurement, section, comparison up to clash, clearance, wall thickness, draft angle, undercut analysis for NX, JT, Catia, Creo and more, company says.
Digital Twins Coming Into Focus
January 4, 2021
Augmented and virtual reality can help users better understand complex digital twin data.
VRSquare Licenses Datakit Technology for 3D CAD Data Import
December 28, 2020
Providing interoperability between optimization for AR/VR applications and CATIA V5 3D data
Materialise Introduces VR Capabilities for Medical Planning in Mimics Viewer
December 7, 2020
Interactive VR models complement 3D printing as a faster solution for remote planning and collaboration.
Luxion Releases KeyShot 10
November 23, 2020
KeyShot 10 adds new ​Keyframe Animation and other animation capabilities, new ​Smart Export options for output to full-color 3D prints, AR/Web interaction and more.
HOOPS Toolkits Bring 3D Capabilities to Manufacturing Hub
October 26, 2020
Eurostep brings 3D data access and visualization to its flagship solution, with aim to simplify global manufacturing processes.
SIGGRAPH 2020: Intel Launches oneAPI Rendering Tool Kit
August 24, 2020
CPU leader Intel eases into the GPU-dominated rendering market with with new offering oneAPI Tool Kit
Perfecting Productivity With Proper Workstation Peripherals
June 15, 2020
Engineering power isn't just in the workstation; the right monitor and mouse also make the difference.
Epic Games to Hold Unreal Fest
June 12, 2020
Game Engine users to gather in virtual conference amid COVID 19
ODA Adds Shadow Support to Visualize SDK 
May 29, 2020
Visualize SDK offers more realistic scene rendering for engineering applications.
Sponsored Content
Data Science Finds New Role in the Fight Against COVID-19
May 26, 2020
GPU-accelerated data visualization and analysis could lead to a better understanding of the virus.
GPU-Driven Engineering
May 1, 2020
Mainstream engineering technology embraces shift to GPU-based real-time rendering.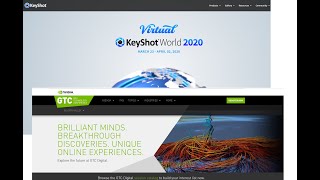 NVIDIA GTC and KeyShot World Go Virtual, 3D Printing Rushes to Produce PPE, More
March 26, 2020
Tech conferences switch to virtual events under lockdown, additive manufacturers spring into action to fight virusoutbreak
Latest News
Digital Twin's Evolving Footprint
Keep an eye on key technologies and on the tighter linkage of the physical and digital worlds.
SME, Women in Manufacturing Partnership Designed to Enhance Labor Force
Virtual career fairs latest collaboration between manufacturing nonprofits.
Coreform Cubit 2022.11 Now Available
Product release features enhancements to core workflows, including meshing, geometry modification and import/export.
Data Conversion from the Mechanical CAD System to BIM
Bridging two different CAD systems, CAD-to-BIM Translator transfers models and their properties from one format to another.
All posts