Top Story
Advanced CFD at the Helm in Competitive Sailing
March 1, 2021
New rules in America's Cup encourage virtual testing.
3D Systems and Alpine F1 Team Advance Wind Tunnel Productivity
June 11, 2021
New Accura Composite PIV material enables more efficient part production, more accurate and higher resolution Particle Image Velocimetry (PIV) testing data, companies say.
AirShaper Launches Aerodynamic Shape Optimization Software
April 22, 2021
New software uses algorithms to automatically optimize your design, helping you achieve aerodynamic performance goals.
Advanced CFD at the Helm in Competitive Sailing
March 1, 2021
New rules in America's Cup encourage virtual testing.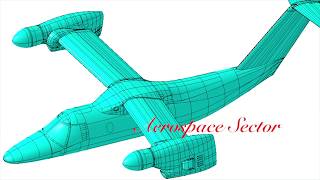 Partner Content
AW609 TiltRotor Wind Tunnel Testing via Composite 3D Printing
January 28, 2019
CRP Technology's Windform XT 2.0 carbon-composite material was used to create the wind tunnel testing model via selective laser sintering in just four days.
Winds of Change Hit Aerodynamics Testing
July 1, 2018
Despite more expansive use of computational fluid dynamics, carmakers are getting the best aerodynamics results by tuning engineering workflows to integrate both simulation and wind tunnel testing.
Sauber Motorsport Adds 5 3D Systems 3D Printers to its Mix via Partnership
June 20, 2018
New SLA 3D printers join Alfa Romeo Sauber F1 Team's arsenal of 3D Systems SLS and SLA solutions.
Aerospace Engineers Collaborate on the Dream Chaser Spacecraft
December 1, 2014
Sierra Nevada Corp.'s Dream Team works together on an international effort to bring back a shuttle-like spacecraft.
Latest News
Interoperability Issues Fade as Cloud-Hosted Collaboration Shines
Formats and conversions become irrelevant in the new workflow.
Essentium Launches On-Demand AM Service Offering
Essentium Parts On Demand (EPOD) gives access to innovative additive manufacturing technologies to boost speed, scale and cost-efficiency for parts...
ARRIS Unveils Structural Flax Fiber Composites
Flax has
Redwire Wins NASA Contract to Advance In-Space Manufacturing Capability
Money designated for completion of the design of FabLab, a new in-space manufacturing system.
All posts