What's Old is New
June 12, 2019
CAD and PLM are playing a starring role in PTC's vision for the digitally-connected industrial enterprise.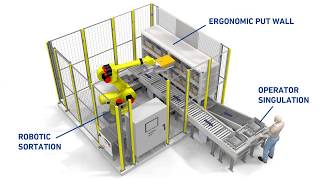 Digital Twins and Cyberphysical Security at AeroDef
May 3, 2019
DE Video News May 3, 2019: Digital twins and cyberphysical security discussions at AeroDef Conf, ANSYS acuires EDA firm
Dassault Systemes, Ubisoft Pledge to Help Rebuild Notre-Dame
April 17, 2019
3DEXPERIENCE software maker and game publisher Ubisoft offer resources, technology for reconstruction
COFES 2019 Comes to the Silicon Valley
March 8, 2019
Long running Congress on Future of Engineering Software comes to the Silicon Valley as a nonprofit organization's debut
ANSYS, SAP Spin Digital Thread Between Engineering and Industrial Operations
July 2, 2018
SAP's Predictive Engineering Insights Enabled by ANSYS platform transforms information from physical sensors and physics-based ANSYS simulation models to create 3D visualizations for operations optimization.
LIVE from CAASE18: AI is Easier Than You Think
June 6, 2018
Why AI may be easier to implement than you think, and how it can benefit industry 4.0 and digital twin projects, from data scientist Jerry Overton's keynote at CAASE 18.
LIVE Online Panel Discussion: Defining Digital Twins
November 3, 2017
LIVE Roundtable: Breathing Life into Digital Twins
March 2, 2017
Latest News
Chaos Group previews Project Lavina, SimScale releases radiation simulator, Onshape recognized by World Economic Forum
In this episode of DE News Roundup, Chaos Group previews Project Lavina for real time ray tracing, SimScale releases radiation...
AMD Radeon Pro Software for Enterprise 19.Q3 Is Optimized for Professional Applications
The latest driver also continues to prove the value of updating professional drivers, with Day Zero certifications to help ensure...
Moldex3D Partners with Wittmann Battenfeld on LSR Injection Molding and Smart Manufacturing
The memorandum of understanding is aimed at bringing together both parties' extensive knowledge and technical expertise to advance the role...
Siemens Debuts More Tire Modeling Capabilities in Real-Time Environments
The Simcenter Tyre team releases MF-Tyre/MF-Swift 2019.1 with more possibilities to test with MSC ADAMS.
All posts