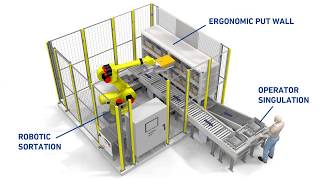 Digital Twins and Cyberphysical Security at AeroDef
May 3, 2019
DE Video News May 3, 2019: Digital twins and cyberphysical security discussions at AeroDef Conf, ANSYS acuires EDA firm
Dassault Systemes, Ubisoft Pledge to Help Rebuild Notre-Dame
April 17, 2019
3DEXPERIENCE software maker and game publisher Ubisoft offer resources, technology for reconstruction
COFES 2019 Comes to the Silicon Valley
March 8, 2019
Long running Congress on Future of Engineering Software comes to the Silicon Valley as a nonprofit organization's debut
ANSYS, SAP Spin Digital Thread Between Engineering and Industrial Operations
July 2, 2018
SAP's Predictive Engineering Insights Enabled by ANSYS platform transforms information from physical sensors and physics-based ANSYS simulation models to create 3D visualizations for operations optimization.
LIVE from CAASE18: AI is Easier Than You Think
June 6, 2018
Why AI may be easier to implement than you think, and how it can benefit industry 4.0 and digital twin projects, from data scientist Jerry Overton's keynote at CAASE 18.
LIVE Online Panel Discussion: Defining Digital Twins
November 3, 2017
LIVE Roundtable: Breathing Life into Digital Twins
March 2, 2017
Latest News
Editor's Picks: June 6-12, 2019
One of the picks will be chosen as DE's Editor's Pick of the Week.
New SURFCAM Release Now Supports Fast 5-Axis Machining Tool
Software features barrel cutter support, performance improvements and new gun drilling cycle.
America Makes TRX+ @NIAR Technical Review and Exchange Event Headed to Kansas
Speakers at the two-day event include Cindy Ashforth of the Federal Aviation Administration, Chris Holshouser of NIAR, and Doug Hall...
Materialise Receives FDA Clearance for Cardiovascular Planning Software Suite
Introductory Workflow, Mimics Enlight Mitral provides support for transcatheter mitral valve replacements
All posts