Digital Twins: Two of a Kind
July 1, 2019
Exploring how digital twins are shaping our digital fabric and engineering future.
VOLTA and modeFRONTIER Release 2019 Summer Now Available
June 28, 2019
Enjoy VOLTA simulation process and data management, design exploration and optimization from your own application.
Aras to Demonstrate Simulation Capabilities at NAFEMS World Congress 2019
June 4, 2019
Aras executives, partners and customers to discuss how vendor-agnostic, unified systems enhance enterprise simulation and SPDM.
Engineering Automation: Going on Autopilot
May 1, 2019
From flying taxis to cargo drones, efforts are underway to automate in the air.
Arena Solutions Offers Arena PLM for AWS GovCloud
April 26, 2019
New software release extends PLM and quality assurance.
Aras Expands Partnership with MSC Software Corporation
April 23, 2019
Collaboration focuses on enhanced simulation process and data management.
Keysight Technologies' V2X Test Solution Earns OmniAir Certification
April 18, 2019
Certification ensures vehicular communication devices and associated software pass global industry requirements for interoperability and compliance.
Onshape Product Platform Adds Four Releases
April 4, 2019
New releases include assembly configurations and various enterprise workflow data management and CAD enhancements.
CONTACT Software's Elements for IoT Earns Software Award
April 2, 2019
The Research and Application Center Industry 4.0 named Elements for IoT the winner 2019 in the category "Internet of Things."
Additive Manufacturing is Leaving the Island
April 1, 2019
With 3D printing growing increasingly mainstream, manufacturing execution systems are a tool against equipment downtime and production floor chaos.
Digimat 2019.0 Democratizes Light-weighting Crash Simulation
March 28, 2019
Support for new material systems, part performances, lifetime predictions and addition of a strong interface to MaterialCenter in this release.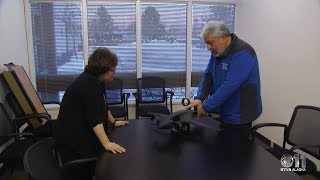 Autonomous Cargo Drone Does Heavy Lifting
March 27, 2019
Sabrewing has designed two hybrid-electric aircraft that can autonomously deliver hundreds of pounds of cargo to remote locations.
Meeting Design and Regulatory Challenges of Autonomous Air Taxis
March 25, 2019
Frankfurt Airport manager Fraport is working with Volcopter to potentially use electric, vertical take-off multicopter (eVTOLs) to carry passengers through an urban transport network.
3Degrees Launches TRACE for Best Practices in 3D Printing
March 15, 2019
Software offers an intuitive, flexible tool to tackle requirements in quality management, company says.
Matereality Adds Lab Information Management to its Material Data Management Software
March 14, 2019
Release Is accompanied by a new bolt-on for companies to manage and run their test labs.
Latest News
Ford and Ansys Accelerate Development of Next-Generation Predictive Headlight Technology
Ford engineers use optical simulation solutions from Ansys for development of predictive smart headlights.
Aras Announces Roque Martin as New Chief Executive Officer
Peter Schroer transitions to Aras Board of Directors.
Desktop Metal Qualifies 420 Stainless Steel
Desktop Metal single-pass jetting technology enables mass production of end-use parts in 420 stainless steel for applications across medical, defense, aerospace,...
Materialise and Proponent Enhance Aerospace Aftermarket Supply Chains
Materialise and Proponent are partnering with aerospace OEMs and suppliers to offer airlines and maintenance, repair and overhauls a one-stop-shop ...
All posts