Top Story
NAFEMS World Congress 2019 Preview
The international association for the engineering modeling, analysis and simulation community, hosts the NAFEMS World Congress June 17-20 in Quebec, Canada.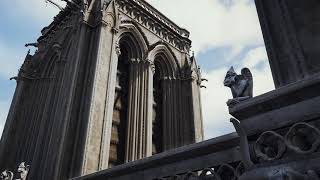 DE News Roundup April 19, 2019: Technology to help rebuild the Notre-Dame, AU calls for papers, more
April 19, 2019
Design software maker and game publisher pledge to help rebuild the Notre-Dame, Siemens release new robotic simulation software, AU calls for paper
BOXX Debuts Next-Gen Workstations
November 26, 2018
APEXX Enigma S3 features Autodesk Maya and Arnold, but the workstation also offers professional grade performance for all 3D CAD, animation, motion media and rendering applications including Autodesk 3ds Max, Revit, AutoCAD and Navisworks.
AU 2018: Fusing Generative Design with Manufacturing Constraints
November 20, 2018
At company's annual user conference, Autodesk executives reveals efforts to bring manufacturing awareness to the AI-like generative design software.
International TechneGroup Offers GoToINVENTOR Solution for Autodesk Customers
November 12, 2018
New CAD conversion software to be featured at Autodesk University in Las Vegas.
ASCENT Presents Classes and Showcases Learning Solutions at Autodesk University 2018
October 25, 2018
At this year's Autodesk University (AU) 2018, attendees can attend classes taught by three of ASCENT's Learning Content Developers.  
Additive Manufacturing Invades IMTS
October 1, 2018
There is no doubt that additive manufacturing has moved beyond the incredible benefits it adds to prototyping and tooling, and into production. However, significant challenges remain before it can earn the mass production moniker.
Optomec's LENS Hybrid System Put to Work for Medical Applications
September 14, 2018
Optomec Lens innovation said to potentially cut the need for second surgeries reducing risks, costs and patient suffering.
3D Systems Extends Software Platform
September 11, 2018
3D Systems' updated software solutions are said to streamline and scale production workflows, improving productivity and ease-of-use while delivering compelling return on investment (ROI).
Stratasys Deepens Collaboration with Team Penske; Demos New 3D Printers
September 10, 2018
Racing team Penske taps 3D printing, reveals streamlined prototype and final part production at IMTS 2018 via partnership with Stratasys.
EOS Unveils Its M 300 Series for Digital Industrial AM Production
September 10, 2018
EOS M 300-4 is part of a new series in the additive manufacturing arena; it's debuting at IMTS in Chicago with features such as configurable, scalable equipment architecture.
3D Systems to Demonstrate Prototyping Solutions at IMTS 2018
September 7, 2018
At IMTS 2018, 3D Systems will highlight its array of 3d printing offerings.
Identify3D to Show Off Digital Supply Chain Solution at IMTS 2018
September 6, 2018
Identify3D to showcase its flagship Digital Supply Chain Solution for manufacturers at IMTS 2018.
3D-Hybrid Debuts Automatic Tool Change Solution for Hybrid Manufacturing
September 4, 2018
The tool makes its debut at IMTS with Takumi USA's H12 double-column machining center.
Sponsored Content
Editor's Pick: BOXX Unveils New Flagship Workstation
December 6, 2017
APEXX S3 debuts with next-generation chassis and 8th-generation Intel Core i7 processor.
AU2016: Software Should be Less Like Spock, More Like Captain Kirk
November 23, 2016
Latest News
WIN Enterprises Announces the MB-65040 Mini-ITX with Intel Scalable Skylake Processor
MB-65040 supports the Intel Skylake-S CPU and Intel H110 chipset.
Auburn University Deploys $1.5 Million Digital X-Ray CT System for Additive Manufacturing Purposes
Customized system enables layer-by-layer quality assessment in real time.
CONTACT Software Issues CONTACT Elements Release with Software Modules
Users can benefit from comprehensive functional enhancements and the integration of agile processes.
Mobile Analysis 3D and 2D CAD Viewer "to Go" Now on Market
The CoreTechnologie 3D_Analyzer Viewer is now available through a mobile license-lending feature.
All posts