OECHSLER Expands Production Capacity for Polymer-based Additive Series
July 15, 2022
OECHSLER extends its partnership with Carbon in the field of additive manufacturing.
Partnership Forged Between America Makes and Ultimaker
July 14, 2022
As part of partnership, Ultimaker plans to donate 3D printers for use in middle and high schools to advance additive manufacturing.
Cadence to Buy Future Facilities
July 12, 2022
Future Facilities is known for its data center digital twins.
Bricsys Teams Up With VREX to Accelerate Virtual Reality Workflow
July 12, 2022
Companies on a mission to boost to VR workflow.
Altair, LG Electronics Team Up to Boost Digital Transformation
July 12, 2022
Partnership involves artificial intelligence-based simulation for product development.
Siemens launches Siemens Xcelerator
July 1, 2022
The open digital business platform is made to accelerate digital transformation.
MxD Names Berardino Baratta as New CEO
July 1, 2022
Current VP of Projects and Engineering transitions into leadership role.
Siemens and NVIDIA to Build Industrial Metaverse
June 29, 2022
Manufacturing software maker Siemens and GPU maker NVIDIA announcement partnership to build industrial metaverse
Harvesting the Benefits of the Digital Twin
June 28, 2022
Creating a sustainable future requires diverse investment in today's technologies.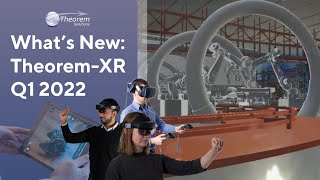 Theorem Solutions
June 24, 2022
Theorem Solutions enables engineering and manufacturing companies to extend the use of their 3D design data in the latest innovative and emerging technologies. Providing specialist tools for CAD Translation, Interactive Documentation and Full Scale Immersive XR Visualization and Collaboration (Augmented,...
Autonomous Trucking Pioneer Inceptio Technology Partners With Ambarella
June 23, 2022
Purpose is to deliver Level 3 automated driving, including surround camera and front ADAS perception with AI compute.
Razorleaf Partners with iBASEt to Drive Manufacturing Transformation
June 23, 2022
The partnership brings together two established leaders in manufacturing transformation to offer strategic consulting, deployment and technical services, the companies report.
Predictive Maintenance Market Worth $15.9 Billion By 2026
June 19, 2022
Factors such as increased spending on marketing activities, changing landscape of customer intelligence, and proliferation of customer channels are expected to drive adoption of predictive maintenance
Corel Acquires Secure Remote Access Tech Provider Awingu
June 19, 2022
Goal is to accelerate Corel's secure remote workspace offering.
Hexagon Awards Manufacturing's Best Start-ups
June 15, 2022
Two winners are selected from Hexagon's first Sixth Sense cohort of tech start-ups.
Latest News
LIVE from SIGGRAPH: Watch NVIDIA's SIGGRAPH 2022 Announcement Here
NVIDIA makes special announcement at SIGGRAPH 2022
Altair Announces 10th Annual Enlighten Award Winners
Ford, Shiloh Industries, General Motors, Toyota, BASF, Nemak and McMaster University among winners.
3D Printing Metal Market Size Shooting for USD $3.61 Billion by 2030
The global 3D printing metal market was valued at USD$475 million in 2021.
VERICUT Composite Simulation, Programming v9.3 On Market
VERICUT Composites Programming (VCP) and VERICUT Composites Simulation (VCS) both feature enhancements.
All posts