Top Story
Robotics Engineering Takes to the Seas
The International Robotic Sailing Regatta (SailBot) is a robotic sailing competition held in North America.
The American Institute of Chemical Engineers' annual competition helps chemical engineering students apply their knowledge and bring automotive designs to life.
Competition's UAV Focus Connects U.S. Army With Next-Gen Talent
November 1, 2019
Student Design Competition Profile: The FirePoint C3 Challenge
NASA Selects First Mode and ASU to Develop Marathon Moon Rover, Intrepid
October 28, 2019
Company brings expertise in rover systems, surface mobility, and more to lunar mission study.
The Real World Design Challenge is Helping to Build the U.S. Stem Workforce
July 1, 2019
Student Design Competition Profile: The Real-World Design Challenge
Base 11 Awards Initial Prizes in $1M+ Student Rocketry Contest
June 28, 2019
Former astronaut Leland Melvin encourages students to persevere as they continue to build and test their rockets.
Robots with a Soft Touch
May 19, 2019
3D printed soft robots could could help address the shortage of healthcare workers.
America Makes Announces Awardees of Project on Advanced Tools for Rapid Qualification
May 17, 2019
Awarded project teams to develop and deploy innovative, cost-effective, and energy-efficient AM technologies for defense and commercial needs.
University of Waterloo Research Team Uses Maple, MapleSim to Support Autonomous Vehicle Development
May 17, 2019
The Motion Research Group at the University of Waterloo's Centre for Automotive Research (WatCAR) has been contributing to the body of research around autonomous vehicles by working on a project related to self-driving vehicles.
Saint Thomas Academy's Experimental Vehicle Team Earns Four Awards in NASA Competition
April 18, 2019
The EV team places first among U.S. high schools; team beat all but two university teams before falling in tiebreaker to European Space Consortium for high school students.
Building Student Teamwork Via Robotics
April 1, 2019
Next-Gen Engineers Student Design Competition Profile: VEX IQ Challenge Next Level
Pushing the Printed Electronics Envelope
April 1, 2019
The prospects are real, but we may have to wait a bit before we can experience the full benefit of additive manufacturing in electronics.
America Makes Announces Its Second Satellite Center to be Located at Texas A&M University
March 23, 2019
The objective of the America Makes Satellite Center model is to extend the reach of the existing America Makes mission by expanding its current regional, industrial, and technological footprint.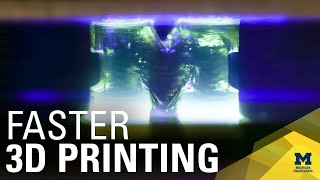 University of Michigan Researchers Tout High-Speed 3D Printing Approach
February 6, 2019
The process employs dual light sources in place of an oxygen membrane to print at 100 times the print speed of conventional offerings.
Biomimicry Inspires Lightweight Lattice Design
January 1, 2019
The combination of nature and new topology optimization and simulation tools serves up a powerful approach to achieving lightweighting design goals.
Designing for Environmental Sustainability
January 1, 2019
The Biomimicry Institute's Global Design Challenge
Mcity Adds Augmented Reality to Driverless Car Testing Roadmap
December 27, 2018
Researchers make the case for a hybrid autonomous vehicle test process that combines simulated vehicles and traffic scenarios with real-world test drives.
Latest News
Sigma Labs Receives Phase 2 RTE Contract by Global Energy Technology Company
Global energy technology provider starts last phase of rapid test and evaluation program.
Editor's Picks: Nov. 7-13, 2019
One of the picks will be chosen as DE's Editor's Pick of the Week.
A Computational Modeling Platform for Building High-Performance Parts Faster 
nTopology nTop Platform 2.0 is software made for advanced manufacturing design. 
Sponsored Content
Editor's Pick: Automate New Design Space Workflows
nTop Platform 2.0 designed to help engineers design high-performance parts faster.
All posts