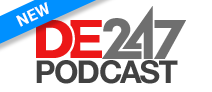 Listen in to
DE's new podcast channel.
Find us on
Apple Podcasts
,
Google Play Music
or Subscribe
via RSS
. Subscribe
via iTunes here
.
Check out our latest episode
.
DE Podcast: Reexamining the Role of Digital Twins in the Era of Social Distancing
June 3, 2020
Ansys discusses the use of digital twins in engineering projects while following social distancing rules
Sponsored Content
Enabling Simulation-Driven Design
May 26, 2020
In our latest podcast, Digital Engineering talks to COMSOL's Phil Kinnane about democratization of simulation.
Expanding Role of Tolerance Analysis
May 21, 2020
In our latest podcast, Digital Engineering talks to Ed Walsh, VP of Global Sales at Sigmetrix, about the expanding importance of tolerance analysis.
Harvey Mudd College Professor on Teaching Robotics, Circuit Design in Lockdown
May 11, 2020
Harvey Mudd College Professor continues teaching circuit design and robotics lab courses under lockdown using take-home Arduino kits
COVID-19 Impact on AR/VR a Mixed Bag: Interview with Lenovo
May 7, 2020
Lenovo Commercial ARVR Lead Discusses Coronarivus Impact on Business, training and remote assistance emerges as solid deployment reasons
Sponsored Content
Siemens Keeps Engineers Connected During Pandemic
April 29, 2020
Digital Engineering talks to Siemens' Brenda Discher about the company's efforts to support customers during the COVID-19 pandemic.
Teaching Additive Manufacturing Under Lockdown
April 13, 2020
Penn State University Professor, Dr. Guha Manogharan, uses virtual machines and simulation software to continue advanced additive manufacturing instruction. Guha teaches a graduate lab course on metal additive manufacturing and design.
Car Makers Answer the Call for Ventilator Production
March 25, 2020
As automakers consider how to address the shortage of ventilators in the Coronavirus outbreak, industry veterans share their thoughts on the struggles and challenges. Join us for this podcast with CIMdata's Keith Meintjes and industry consultant Joe Barkai.
Are Desktop 3D Printers Safe to Use?
December 13, 2018
Georgia Tech and UL Chemical Safety publish two-year study on 3D printers, raises concerns for potentially hazardous levels of ultrafine particles, and numerous volatile organic compounds associated with machine operation.
Latest News
Zuken Launches AI-Powered PCB Routing Tool, as First Step in Long-Term AI Strategy
Zuken Launches AI-Powered PCB Routing Tool, outlines AI roadmap at PCB West.
pSeven User Conference Highlights Hybrid Digital Twins
DATADVANCE user conference focuses on predictive modeling and design space exploration products.
Air Force Awards $10.8 Million Contract for Metal 3D Printing
3D Systems to spearhead large-format metal 3D printing technology demonstrator.
Hexagon Launches Mould and Die Suite
Aim is to empower teams to simplify the work of complex manufacturing.
Notilus Marine Plugins Expanding
Design plugins made for the maritime industry.
FEA In the Age of Cloud
Specialized infrastructure providers fill a need in HPC-powered simulation.
All posts