Top Story
The Hunt for Invisible Damage
A peek inside the fatigue analysis discipline of the Federal Aviation Administration.
CoVent-19 Ventilator Challenge Winner Announced
July 1, 2020
Three finalists selected from more than 200 entries
California Manufacturers & Technology Association (CMTA) Launches Marketplace for PPE
June 29, 2020
Autodesk, Intel Join Effort to Reboot Manufacturing in California
SLIDESHOW: 3D Printing for Tailor-Made Cosplay
June 29, 2020
Lightning Cosplay in Germany uses Zortrax 3D printers to make characters come to life.
RIZE Debuts the RIZE 2XC Adaptive Workplace 3D Printer
June 29, 2020
Collaboratively developed using Sindoh's 3D printer with RIZE's RIZIUM composites, RIZE 2XC helps drive safe, sustainable, affordable 3D printing to create an adaptive workplace
Burloak, MDA Partner to 3D Print Satellite Components
June 29, 2020
The five-year agreement will involve additive manufacturing of antenna components.
Texas Turns to 3D Printing for PPE Production
June 26, 2020
Industrial 3D Printer Join Efforts to Produce PPE
MakerBot Joins Google for Education Integrated Solutions Initiative
June 26, 2020
MakerBot Cloud's integration with Google for education further streamlines 3D printing for teachers and students.
Redwire Acquires Made In Space
June 26, 2020
MIS products and technologies will enhance Redwire's existing technology portfolio which includes space sensors and payloads, flight hardware, and exploration spacecraft.
Senvol ML Utilized for U.S. Air Force Multi-laser AM Program
June 22, 2020
Focus is on qualifying the EOS M400-4, developing baseline mechanical properties and design allowables, and making builds of heat exchangers and hypersonics-relevant parts.
SmarTech Analysis Study on AM Software Reports $3.7 Billion Opportunity in 2027
June 22, 2020
This new report focuses on the future of additive manufacturing software functions, which are centered around process simulation, intelligent design optimization and additive manufacturing execution systems.
Editor's Pick: New Desktop 3D Printer Focuses on Rugged Reliability
June 17, 2020
The target market is for any user who needs 3D printing in a desktop form factor for high quality work, whether professional or hobbyist.
America Makes to Host 2nd Virtual Game Day Event with Wohlers Associates 
June 8, 2020
Panel representing wide array of industry experts to discuss how AM addresses supply chain gaps and distributed manufacturing.
HP Teams with BASF, Oechsler on Industrial 3D Printing
June 8, 2020
Expanded partnerships will expand use of new PP material for manufacturing applications.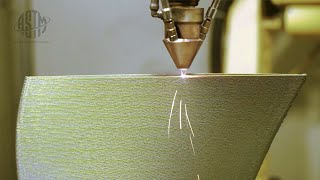 ASTM International Announces AM Data Strategic Guide with America Makes
June 8, 2020
ASTM also debuts Insight Video, new data subcommittee.
XAAR 1003 Printhead Designed for Industrial 3D Printing
June 8, 2020
The Xaar 1003 is proving useful for the industrialization of 3D printing with its speed, reliability and ability to jet a variety of fluids, over an increased viscosity range, company says.
Latest News
Pointwise Accelerates Surface Meshing
New release provides 5X faster surface meshing for CFD.
DeskProto Releases CAM Software for Mac
Projects will be interchangeable between Mac and Windows.
CoVent-19 Ventilator Challenge Winner Announced
Three finalists selected from more than 200 entries
Tools that Build Sustainable Products
Design solutions are emerging that can help integrate sustainability.
All posts