Top Story
How to Configure Your Workstation for Simulation
Simulation is a key technology in today's fast-paced product design and development environment, make sure your workstation is up to the task.
Supermicro Debuts Global SKU Program
July 20, 2021
Supermicro Global SKUs offer easy identification of systems, motherboards and chassis selected to build optimized server solutions.
Zuken USA Offers Cloud Storage for E3.series
June 14, 2021
There's an easy plug-in to manage, control and securely store projects.
BCN3D Smart Cabinet Debuts to Store 3D Printing Filaments at Optimum Humidity Levels
May 27, 2021
BCN3D aims to provide a reliable 3D printing solution, no matter the external factors like power stability or ambient humidity.
Server and Enterprise Storage Systems Markets to Decline in 2020 as Result of COVID-19 Pandemic
March 30, 2020
Impact on market to be felt worldwide.
Eurocom Sets Record for Storage in Lightweight Laptops
February 24, 2020
Eurocom uses fast Sabrent Rocket 4TB M.2 NVMe SSDs (sized 22x80 mm), that are small enough to fully meet the size and heat requirements of thin-and-light laptops, according to the company. 
Sponsored Content
Democratizing High Performance Computing
January 2, 2020
Reducing barriers to entry with cloud-based solutions. Cloud-based solutions are helping to break down barriers to entry for even the smallest teams.
Sponsored Content
Challenging the Barriers to High Performance Computing in the Cloud
January 2, 2020
Breaking down common misconceptions about cloud-based HPC solutions.
Data Avalanche: Growing Need for New Storage Strategies
December 5, 2019
Larger, more complex models and simulations mean data storage and management are more important than ever.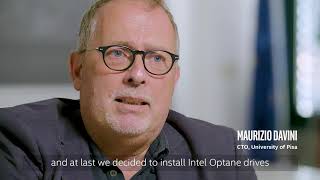 Sponsored Content
Faster Degenerative Brain Disease Research
November 9, 2018
The University of Pisa found that by installing Intel Optane drives, they could shrink exam procedure from 40 minutes to about two minutes.
Mitigating Disaster
November 1, 2018
Recovering data when the hard drive dies.
Custom Open-Hardware Platforms
August 8, 2018
Family of servers and storage solutions handle analytics, AI and virtualization.
Cray Adds Arm Processors with Software Stack to Supercomputer
February 22, 2018
Cray is creating a production-ready, Arm-based supercomputer with the addition of Cavium ThunderX2 processors; company also makes other announcements involving AI and storage solutions.
Dell EMC Infrastructure Simplifies Data Center Modernization
February 20, 2018
Dell EMC expands converged infrastructure portfolio with the new Dell EMC VxBlock System 1000; it is designed to further simplify data center operations.
A Power Source for Next-Generation Sensors
January 30, 2018
The rise of energy harvesting is driven by advances that make the technology more practical and desirable for mobile and IoT applications.
The Complex Trade
November 1, 2017
High-performance computing is a growing dimension of high-frequency and high-performance trading in financial markets.
Latest News
Interoperability Issues Fade as Cloud-Hosted Collaboration Shines
Formats and conversions become irrelevant in the new workflow.
Essentium Launches On-Demand AM Service Offering
Essentium Parts On Demand (EPOD) gives access to innovative additive manufacturing technologies to boost speed, scale and cost-efficiency for parts...
ARRIS Unveils Structural Flax Fiber Composites
Flax has
Redwire Wins NASA Contract to Advance In-Space Manufacturing Capability
Money designated for completion of the design of FabLab, a new in-space manufacturing system.
All posts