Top Story
Ruggedized Electronics Require Special Attention
February 1, 2019
Meet the challenge of designing sensitive electronics for harsh environments.
Averna Launches Tools for Real-time Asset Monitoring
February 8, 2019
Averna ConnexThing Toolkits accelerate the deployment of an IoT solution with ThingWorx.
Ruggedized Electronics Require Special Attention
February 1, 2019
Meet the challenge of designing sensitive electronics for harsh environments.
Ethertronics Offers New Portable Millimeter Wave Measurement System
January 23, 2019
The new ETH-MMW-1000 provides a compact, cost-effective, accurate, and adaptable solution for testing 5G antennas and other devices at millimeter wave frequencies spanning 18–75+GHz in a range of laboratory and production environments.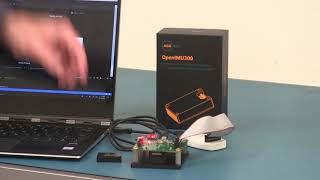 Learn How to Develop Sensor Solutions for Drones, Autonomous Vehicles and Robots
January 21, 2019
Short video addresses the New ACEINNA OpenIMU Sensor Package for Autonomous Vehicle Guidance and Navigation.
Konecranes Adopts IoT technology Using Siemens' Digital Innovation Platform
January 11, 2019
The company has increased collaboration between simulation, test and engineering organizations to reduce the use of physical prototypes by leveraging a digital twin through Siemens' IoT integrated with PLM technology.
Velodyne Lidar Presented new Technology for Autonomy and Driver Assistance at CES 2019
January 11, 2019
Velodyne introduces wide field of view short-range sensor and Advanced Driver Assistance Systems (ADAS).
Tektronix' Initial State Launches new Data Streaming and Visualization Service
January 3, 2019
Cloud-based data service offers real-time streaming from devices and applications. 
Sponsored Content
Simulation and Test Solutions for the Holistic Digital Twin
January 1, 2019
Engineer your innovations with SimcenterTM.
LK Metrology Announces Enhanced CAMIO 8.5 Multi-Sensor CMM Software Version
December 7, 2018
LK Metrology's new 8.5 version of their CAMIO CMM software has a range of new features.
Keysight Technologies Enables ON Semiconductor to Deliver a Design Solution for Power Devices
November 19, 2018
Keysight's Power Electronics Design Bundle is built for power electronics engineers, delivering a design workflow for power device design.
Dual-Channel Multimeter from Tektronix Combines Density with Performance
November 9, 2018
The DMM7512 is suited for a range of high-volume manufacturing test applications that require measurement capacity, performance and a compact footprint.
At the Crossroads: Mechanical, Software Engineering
November 1, 2018
Do mechanical engineers know enough about software to meet the demands of increasingly connected and 'smart' product design?
Salt, Sweat and Gears 
October 11, 2018
Exploring environmental challenges for military vehicles.
Keysight Boosts Driving Safety with Automotive Radar Solution
October 9, 2018
Ultra-wide band millimeter-wave technology offers precise verification of automotive radar systems, according to Keysight.
NCDMM Launches V4 Institute
October 5, 2018
The National Center for Defense Manufacturing and Machining 's V4 Institute provides advanced assurance in product design and manufacturing through virtual verification, validation and visualization.
Latest News
Exploring Digital Transformation as an Evolutionary Journey
SolidWorks World 2019 presentation advises to forget about specific products and work on themes that...
Dassault Systèmes to Acquire Trace Software's elecworks Product Line
Elecworks is at the core of SolidWorks Electrical applications used for smart product development...
UL Opens Catalog of Safety Standards
A library of more than 1,400 standards is now available to all.
AMD Radeon Pro Software for Enterprise 19.Q1 Features SolidWorks Performance Improvements
Radeon Pro Software for Enterprise 19.Q1 updates product design workflows with features aimed at...
All posts