TeamViewer and Siemens Offer Augmented and Mixed Reality solutions
July 28, 2022
This collaboration allows Siemens' global customers to improve their product development process based on immersive experiences, the company reports.
AR, MR or VR: Which Technology is Right for your Engineering Use Case?
July 26, 2022
Augmented, Mixed or Virtual Reality? This is a key question. You will need to understand the features and benefits of each technology type before looking to build and implement your XR strategy.
Bricsys Teams Up With VREX to Accelerate Virtual Reality Workflow
July 12, 2022
Companies on a mission to boost to VR workflow.
Varjo's Urho Konttori on Streaming VR
May 12, 2022
Varjo founder and CEO Urho Konttori explains the implications of streaming VR content delivered from the cloud
Cisco Elevates Design Collaboration with Webex Hologram Technology
April 4, 2022
Technology provides an easy way to bring non-engineers into design conversations.
Survey Shows How Manufacturers Plan to Leverage Metaverse
April 1, 2022
Majority of companies interested in learning how 'digital twins' can benefit their operations, survey finds.
A Tale of Two Laptops: HP ZBook Fury 15 G8 mobile workstation
March 31, 2022
DE looks at two configurations of HP's top-of-the-line 15-in. mobile workstation.
Autodesk Buys The Wild XR Platform
March 28, 2022
The Wild enables architecture, engineering and construction (AEC) professionals to present, collaborate and review projects together in immersive and interactive experiences.
Audi Dips Into Automotive VR
March 22, 2022
Beginning in the summer of 2022, Audi aims to become one of the first manufacturers to convert the automobile into an experience platform for virtual reality, company says.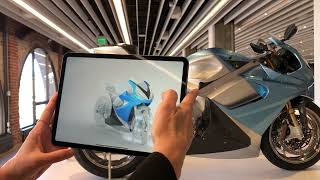 San Francisco-based Autodesk Gallery reopens
March 9, 2022
The newly reopenned San Francisco-based Autodesk Gallery exhibits highlight AR/VR apps for real-time CFD, generative design projects.
CareAR Acquires MagicLens
January 25, 2022
MagicLens, a 3D visualization and augmented reality platform, is bought by CareAR, a Xerox company.
3D Model Demand From Manufacturers Showcases CAD To Poly 3D/AR Technology
January 10, 2022
Signs multiple deals for its CAD-poly solutions
The Future of Design
December 31, 2021
DE readers provide a glimpse of their technology usage in our annual survey.
Proceed With Optimism
December 21, 2021
Our readers and the technology providers in the engineering market have continued building on the opportunities that emerged in the past year to explore new ways to collaborate.
Gravity Sketch Makes 3D Remote Collaboration Possible
December 1, 2021
Gravity Sketch launches LandingPad Collab, enabling designers and their teams to collaborate at scale in 3D from the start of the creative process, from anywhere in the world.
Latest News
Editor's Pick: Power and Portability
Origin PC NS-14 thin-and-light workstation includes the latest CPU and graphics processing unit (GPU) offerings from Intel and NVIDIA. 
Wilson Steps up to the Plate to Accelerate Bat Design
The combination of Nexa3D and Addifab freeform injection molding creates a prototype process that lets Wilson fail fast and...
Ellison Now Offers Dassault Software Solutions
This offering includes SOLIDWORKS and the 3DExperience Platform in the state of California.
Thangs Introduces Thangs Memberships for 3D Modeling
Company enables 3D content creators to offer premium designs with IP protection.
All posts