LIVE Roundtable: Adding a Sense of Touch in AR-VR
August 16, 2018
Panelists discuss professional AR/VR for enterprise training, market size and trends, and challenges in adopting haptic technologies
AMD Introduces New Radeon Graphics Card
August 14, 2018
The new graphics card from AMD reportedly offers workstation graphics performance for under $1,000.
ABI Research Ranks Smart Manufacturing Platforms
August 13, 2018
The "Smart Manufacturing Platform Ranking" competitive assessment ranked 11 major vendors in the sector: ABB Ability, Bosch IoT Suite, Emerson Plantweb, Fujitsu Colmina, GE Predix, Hitachi Lumada, PTC ThingWorx, SAP Leonardo, Schneider Electric EcoStruxure, Siemens Mindsphere and Telit deviceWISE, based on...
Prepare for Augmented, Virtualized Product Development
August 13, 2018
Laying the groundwork for professional augmented reality and virtual reality apps begins with generating realistic, interactive content.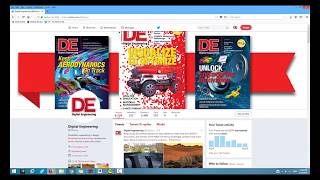 Watch This: Engineering News from 3Diligent, Autodesk, NASA and Fictiv
August 10, 2018
3Diligent takes a stand against 3D printed guns, Autodesk and NASA envision 3D-printed habitats for Mars, and a hardware business report from Fictiv.
Worldviz Launches Vizard 6
August 9, 2018
Worldviz launches Vizard 6 before Siggraph 2018, adds supports for glTF and new hardware.
Renderings that Fool the Eyes and Minds
August 1, 2018
Digital artists discuss their tools and tricks.
Experiencing Is Believing in Immersive Design
August 1, 2018
The power of an immersive, shared experience to promote collaboration and inform design should not be underestimated.
From Solid Geometry to Responsive AR-VR
August 1, 2018
The handshake between CAD and visualization engines proves critical to AR-VR development.
Live Panel Discussion: Simulating Reality with a Touch of AR-VR
July 13, 2018
For years designers and engineers have worked in 3D modeling and simulation applications with immersive, photorealistic visuals that can mimic reality. The affordable AR-VR gears and hardware that have recently emerged promise to bring the missing piece—a sense of...
EON Reality's AVR Platform Targets Enterprise and Academia
June 19, 2018
The AVR Platform is a scalable, cloud based, Software-as-a-Service augmented reality (AR) and virtual reality (VR) Platform.
Lenovo Unveils Its First 15-in. VR-Ready Mobile Workstation
June 13, 2018
The new ThinkPad P52 workstation features the NVIDIA Quadro P3200 GPU (graphics processing unit) and a new Intel Xeon hexa-core CPU in its compact chassis.
Meshroom VR Studio Software Bundled with @Xi Workstations
June 8, 2018
@Xi Computer and MESHROOM VR have partnered to provide cost-effective complete Professional VR solutions.
Live from CAASE: Collaboration Fuels Innovation
June 6, 2018
Companies should be open to the possibilities of working with other companies, and to extend their reach beyond the four walls of their enterprise.
Different Paths Toward Democratization
June 1, 2018
You can take your pick of revolutionary technologies changing the world today. In the field of design engineering, technologies like simulation, cloud computing, artificial intelligence, augmented reality, additive manufacturing and sensor-laden, connected products are just a few with society-altering promise.
Latest News
RAPID+TCT 2019 Drives Additive Manufacturing to Next Level in Motor City
Thousands of attendees delve into 3D printing, the future of manufacturing, digital twins, data management and so much more.
Jabil Inks Additive Manufacturing Agreement to Supply Parts to Renault F1 Team
On-demand delivery of racecar parts for Renault F1 Team driven by expansion at certified Jabil 3D printing facilities worldwide.
ExOne Announces Kennametal as Inaugural Beta Customer for New X1 25PRO Production Machine
ExOne also announced a new material partnership program, as well as more collaboration with Sandvik Additive Manufacturing.
Behind the Scenes at Materialise in the Midwest
Factory tour at Michigan-based 3D printing production facility provides a peek at the company's innovations in the medical sector.
All posts