Carbon and Arkema Partner to Advance the Adoption of Digital Manufacturing
June 27, 2019
Arkema has taken part, with an investment of US$ 20 million, in the Carbon Growth Funding Round to support the next generation of fully integrated digital manufacturing platforms via collaboration.
NXT Factory Designs 3D Printer in Fusion 360
June 27, 2019
The start-up leveraged the platform's low entry cost and collaboration tools to create its new printer in just four months
V-Shaped Plane Prototype Flight Planned by KLM and University Researchers
June 27, 2019
Proposed boomerang-shaped airplane design created with ParaPy, SU2, MATLAB, ANSYS Fluent and HPC could use 20% less fuel than the Airbus A350.
ExOne Initiatives Target Industrial 3D Printing
June 25, 2019
ExOne debuts industrial 3D sand printer; partners with Siemens; announces marketing initiative with new website.
European Space Agency Awards Contract to Siemens and Sonaca
June 25, 2019
Siemens and Sonaca will collaborate to enhance Siemens' end-to-end additive manufacturing solution with Sonaca's aerospace structure design and manufacturing expertise.
Wohlers Associates Identifies Design as Significant Factor in AM Economics and Adoption
June 25, 2019
Companies with metal and polymer AM services reported that more than 26% of a part's cost is from post-processing.
HP Makes its Case for Digital Manufacturing 
June 25, 2019
HP uses the grand opening of its new 3D Printing and Digital Manufacturing Center of Excellence in Barcelona to show off technologies and partnership.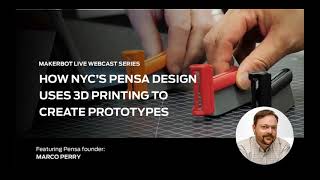 PENSA's Path to Prolific Prototypes Starts With the MakerBot METHOD
June 24, 2019
The industrial-grade desktop 3D printer is used by the design and engineering shop to test new ideas early and often and helps accelerate the design cycle.
Elizabeth Goode Receives President's Award from Additive Manufacturing Users Group
June 20, 2019
Goode, the eighth to receive this award, is an additive manufacturing veteran and owner of Goode Ink.
AMUG Gives Out DINO Awards
June 18, 2019
Award recognizes experience and service.
NCDMM Opens New Huntsville, Ala., Office to Support U.S. Army
June 17, 2019
NCDMM welcomes Mike Docherty as director of Manufacturing Technology to lead Huntsville office.
America Makes TRX+ @NIAR Technical Review and Exchange Event Headed to Kansas
June 14, 2019
Speakers at the two-day event include Cindy Ashforth of the Federal Aviation Administration, Chris Holshouser of NIAR, and Doug Hall of Battelle.
Materialise Receives FDA Clearance for Cardiovascular Planning Software Suite
June 14, 2019
Introductory Workflow, Mimics Enlight Mitral provides support for transcatheter mitral valve replacements
HP Opens New 150,000-Square-Foot 3D Printing and Digital Manufacturing Center of Excellence
June 12, 2019
The Center will be targeting R&D, engineering, co-development, and sustainable innovation for the Fourth Industrial Revolution.
Marshall Aerospace and Defence Works with Stratasys Technology to 3D Print Final Flight Parts for Aircraft Program
June 11, 2019
The company also builds ground-running equipment on the Stratasys Fortus 450mc 3D printer in tough Nylon 12 material at lower cost than aluminum production.
Latest News
Alienbrain 2019 Version Control Software Now Available
Introducing Unreal Engine integration and subscription pricing model.
Supermicro Debuts New Edge Systems
These new Edge platforms based on Supermicro servers with optional support for Intel Programmable Acceleration FPGA cards deliver local compute...
Editor's Picks: August 15-21, 2019
One of the picks will be chosen as DE's Editor's Pick of the Week.
Experienced Team Brings Fintech Security to Product Data Collaboration
Vertex introduces cloud-based 3D visualization collaboration platform.
All posts