VELO3D Introduces Enhancements to Its Flow Software
February 19, 2019
Flow is specifically designed for Sapphire, VELO3D's laser fusion metal additive manufacturing system.
Desktop Metal Launches 316L Stainless Steel for Various Environments
February 15, 2019
316L joins Desktop Metal's expanding metal 3D printing materials library for the Studio System.
FELIXprinters Launches Large Build Envelope Industrial Additive Manufacturing Solutions
February 14, 2019
FELIXprinters introduces the Pro L and XL Systems, expanding its industrial range of additive manufacturing machines.
Stratasys Software Aims to Remove Complexity From Design-to-3D Print Process
February 12, 2019
Advanced FDM Software designed to eliminate CAD-to-STL roadblock, streamlining workflow, production times and material usage.
EOS Acquires Vulcan Labs
February 12, 2019
With acquisition, EOS aims to enhance its additive manufacturing talent pool, to continue to deliver custom solutions, augment R&D and drive commercialization of EOS 3D printing platforms.
Rize Partners with Instadesign Group
February 11, 2019
With this announcement, RIZE has introduced its additive manufacturing solutions to the Quebec, Canada, market.
Orbex Builds 3D Printed Single-Piece Rocket Engine
February 11, 2019
The Orbex launcher uses 100% renewable fuel to cut carbon emissions by 90% and a zero-shock staging and payload separation resulting in zero orbital debris.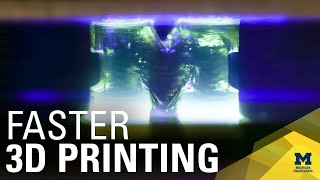 University of Michigan Researchers Tout High-Speed 3D Printing Approach
February 6, 2019
The process employs dual light sources in place of an oxygen membrane to print at 100 times the print speed of conventional offerings.
ActivArmor 3D Printed Casts Coated with Line-X to Offer Strength and Resistance to Water
February 5, 2019
LINE-X coating is applied to ActivArmor casts/braces during the manufacturing process for added durability and versatility for active lifestyles, company reports.
CorelCAD 2019 Speeds 2D Drawing, 3D Modeling, and Technical Design
February 4, 2019
CorelCAD 2019 has new 3D modeling commands and enhanced drafting tools designed to enable faster, precise designs and accurate output.
Riddell Partners with Carbon to Produce 3D Printed Football Helmet Liner
February 1, 2019
The Riddell SpeedFlex Precision Diamond Helmet delivers innovation with new digitally manufactured football helmet liner.
AMUG 2019 Preview
February 1, 2019
Additive Manufacturing User Group Conference set for March 31-April 4, 2019, Chicago.
KDT Leads $160 Million Investment in Desktop Metal
February 1, 2019
Combined funding rounds are now at $438 million, reportedly making Desktop Metal a highly funded private 3D printing outfit.
Solvay Expands Polymers Offering for 3D Printing Simulation
February 1, 2019
Solvay adds two new materials to e-Xstream engineering's latest release of additive manufacturing software. 
ADAPT Consortium Looks to the Future of Additive Manufacturing
January 28, 2019
MIT's new initiative brings together manufacturers, 3D printing companies, academics
Latest News
Editor's Pick: Next-Gen Design Visualization with Asset Management
Chaos Group V-Ray Next for Rhino 3D offers a new design visualization workflow.
Chaos Group Launches V-Ray Next for Rhino
Photoreal Renderer becomes project control center, bringing new abilities to visualization experts working in...
WAZER Offers Desktop Take on Traditional Water Jet
WAZER offers sophisticated cutting and material processing capabilities at a price point and with...
Creo Goes for Real-Time Simulation Feedback
Creo Simulation Live embeds ANSYS simulation capabilities directly into the CAD tool interface.
All posts