Top Story
Additive Manufacturing Users Gather to Address Challenges, Advance Industry
April 9, 2019
Materials, software and workflow challenges led the discussions at the Additive Manufacturing Users Group (AMUG) 2019 conference in Chicago last week.
The Cart Before the Autonomous Car
May 1, 2019
Adopting a new technology causes a ripple effect that can disrupt tried-and-true workflows and even entire industries.
Additive Manufacturing Users Gather to Address Challenges, Advance Industry
April 9, 2019
Materials, software and workflow challenges led the discussions at the Additive Manufacturing Users Group (AMUG) 2019 conference in Chicago last week.
Fast Radius Raises $48M to Expand Platform for Production-Grade Additive Manufacturing
April 3, 2019
Funds will accelerate expansion of Fast Radius software platform, identification and launch of additive applications and scale-up of production-grade additive manufacturing capacity.
Formlabs Launches of Form 3 and Form 3L 3D Printers
April 2, 2019
Formlabs scales its 3D printing hardware offering with two new products built on Low Force Stereolithography (LFS) technology.
Aleph Objects Announces LulzBot TAZ Pro 3D Printer
April 1, 2019
LulzBot TAZ Pro is intended for professional workloads.
3YOURMIND Launches Agile Manufacturing Execution System (MES) Software
April 1, 2019
Production software adds automation to additive manufacturing.
3D Systems Enhances Production Workflow Solutions with Nokia, rms Company and GF Precicast 
April 1, 2019
Through the integration of 3D Systems' Figure 4 or DMP platforms, these manufacturers are able to achieve design freedom, increase agility, scale production and improve overall total cost of operations, 3D Systems says.
Dyndrite Launches Developer Program; Establishes Inaugural Developer Council to Steer Future Development
April 1, 2019
Dyndrite to work with developers and OEMs including Aconity3D, EOS, HP, NVIDIA, Plural and Renishaw to promote applications based on its new "Computational Geometry Engine" to advance 3D printing experience.
Stratasys Releases New Configurable, Large-Scale Stereolithography 3D Printing System
April 1, 2019
Backed by strategic alliance with DSM, this stereolithography 3D printer combines a large-scale system with a configurable environment for fine-tuning across a broad range of resins.
Stratasys Enhances Its F123 Series
April 1, 2019
The industrial grade F120 3D printer delivers complex, functional parts.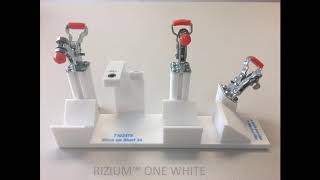 RIZE Brings Smart Spaces to the Desktop
March 31, 2019
Smart Spaces Solutions integrate 3D printing with other intelligent technologies, from augmented reality to blockchain.
HP Produces More Than 10 Million Parts in Last Year Via Multi Jet Fusion Technology
March 29, 2019
Also, HP's Metal Jet Production Service is now widely available, enabling customers to upload designs and produce production-grade metal parts in large quantities.
BigRep PRO Makes North American Premiere at AMUG
March 28, 2019
Powered by BigRep MXT and computer numerical control systems and drives by Bosch Rexroth, the PRO delivers full connectivity to integrate additive manufacturing with Industry 4.0, BigRep reports.
Renishaw to Showcase Multi-Laser AM Innovations at AMUG 2019
March 21, 2019
Advanced automotive technology on display will include LED heat sinks, a low-cost, high-volume headlight component with no post-processing required.
Dyndrite Accelerated Geometry Kernel Hits the Market
March 19, 2019
This geometry-agnostic hybrid kernel is capable of interacting with multiple representations of geometry simultaneously.
Latest News
Chaos Group previews Project Lavina, SimScale releases radiation simulator, Onshape recognized by World Economic Forum
In this episode of DE News Roundup, Chaos Group previews Project Lavina for real time ray tracing, SimScale releases radiation...
AMD Radeon Pro Software for Enterprise 19.Q3 Is Optimized for Professional Applications
The latest driver also continues to prove the value of updating professional drivers, with Day Zero certifications to help ensure...
Moldex3D Partners with Wittmann Battenfeld on LSR Injection Molding and Smart Manufacturing
The memorandum of understanding is aimed at bringing together both parties' extensive knowledge and technical expertise to advance the role...
Siemens Debuts More Tire Modeling Capabilities in Real-Time Environments
The Simcenter Tyre team releases MF-Tyre/MF-Swift 2019.1 with more possibilities to test with MSC ADAMS.
All posts