Top Story
Air Force Readies Rapid Parts Replacement for Takeoff
February 21, 2019
The USAF is exploring how to leverage DLP 3D printing technology as a lean alternative to producing and inventorying legacy parts.
America Makes Sets Up $500,000 Supply Chain-Related Project Call 
January 28, 2022
Leveraging Additive for High Velocity Applications (LAVA) will help advance additive's role in securing the domestic supply chain, America Makes reports.
America Makes Has New Directed Project Call Worth $1M
October 19, 2021
Project aims to advance domestic ability to make AM components for Aerospace and Defense High Mach Applications 
America Makes Announces Open Project Call Totaling $1.6M in Funding
June 2, 2021
Project call focuses on five technical topics to boost development and deployment of innovative, energy-efficient AM technologies.
America Makes Announces 3-month Extension of OASIS Challenge Submission Deadline
December 7, 2020
Deadline moved to March 1, 2021.
America Makes Awards $2.3M in Funding
November 19, 2020
Ten project teams selected to help accelerate the adoption of additive manufacturing and meet needs of the supply chain.
NCDMM and CST Given $9.4M for New Additive Manufacturing Program in Ohio 
October 14, 2020
MAAM program aims to commercialize large additive manufacturing machine for production of large parts for industrial and defense usage.
America Makes Launches New Challenge with the Air Force Research Laboratory and GE Research
August 25, 2020
The challenge is a direct call-to-action to the AM industry to solve critical IP issues with a prize pool of $68,000.
America Makes Announces Awardee of Project Call
July 24, 2020
Goal is to innovate optical components using additive manufacturing.
America Makes and Air Force Research Laboratory Name Awardees of Additive Manufacturing Challenge
July 21, 2020
The goal of the Challenge Series was to improve the accuracy of model predictions for metal AM, using INCONEL nickel-chromium alloy 625.
Deadline Extended for AFRL Additive Manufacturing Modeling Challenge Series
January 17, 2020
Submission deadline extended to January 31, 2020 .
America Makes and Air Force Research Laboratory Launch an AM Modeling Challenge Series
November 27, 2019
Goal of the AFRL AM Challenge Series is to predict the internal structure and resultant performance of metallic components produced by AM.
America Makes Leadership Attend Welcome Reception for UTEP's New President
September 6, 2019
UTEP, a long-standing member of America Makes since 2012, is also the home of America Makes' first Satellite Center.
Edwards Air Force Base 3D Prints Aircraft Parts
July 2, 2019
The base is using an industrial plastic printer to produce and fit parts to save time, costs
America Makes Announces Awardees of Project on Advanced Tools for Rapid Qualification
May 17, 2019
Awarded project teams to develop and deploy innovative, cost-effective, and energy-efficient AM technologies for defense and commercial needs.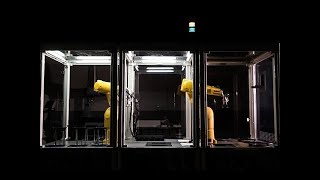 Air Force Readies Rapid Parts Replacement for Takeoff
February 21, 2019
The USAF is exploring how to leverage DLP 3D printing technology as a lean alternative to producing and inventorying legacy parts.
Latest News
Quick Snapshot of NAFEMS Americas Regional Conference
Event covered range of topics in the simulation space, including electrification, autonomous vehicles and diversity in simulation organizations.
Nuts and Bolts of NAFEMS' Acquisition of ASSESS
Two leaders of respective simulation organizations sit down to discuss details of NAFEMS acquisition.
TriMech and Solid Solutions Unite
The merger creates a strategic transatlantic technology and solutions partnership for the advanced design, engineering and manufacturing sectors.
3D Systems & EMS-GRILTECH Enter Strategic Partnership
Leveraged combined expertise to introduce DuraForm PAx Natural— a material available for all Selective Laser Sintering platforms.
All posts