Top Story
America Makes Announces New Leadership Appointments
February 5, 2020
Institute adds new operations director, communications/public affairs director.
America Makes Launches Next Phase in COVID-19 Response
April 2, 2020
Additive manufacturers can now upload 3D print designs to be reviewed and placed on the NIH 3D Print Exchange.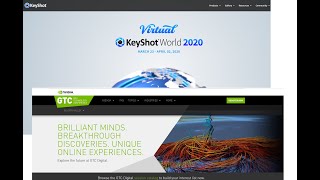 NVIDIA GTC and KeyShot World Go Virtual, 3D Printing Rushes to Produce PPE, More
March 26, 2020
Tech conferences switch to virtual events under lockdown, additive manufacturers spring into action to fight virusoutbreak
Update on COVID-19 Response from America Makes
March 24, 2020
The institute reports that it is actively working on creating a central repository of partners that are ready and willing to assist in this time of crisis.
America Makes Names New Executive Committee
February 21, 2020
The Institute and its membership community welcomes 11 additive manufacturing leaders to serve in advisory capacity.
America Makes Announces New Leadership Appointments
February 5, 2020
Institute adds new operations director, communications/public affairs director.
Deadline Extended for AFRL Additive Manufacturing Modeling Challenge Series
January 17, 2020
Submission deadline extended to January 31, 2020 .
America Makes and Air Force Research Laboratory Launch an AM Modeling Challenge Series
November 27, 2019
Goal of the AFRL AM Challenge Series is to predict the internal structure and resultant performance of metallic components produced by AM.
Pittsburgh Airport Plans 3D Printing Cluster
November 1, 2019
New Innovation Campus will include a 30-acre additive manufacturing center.
America Makes Honors Ralph Resnick and Rob Gorham as Distinguished Collaborator Awardees
October 28, 2019
Class of 2019 America Makes Ambassadors announced.
America Makes' MMX 2019 Convenes in Youngstown
October 21, 2019
Each year, America Makes hosts its MMX event to report on and review technical content as it relates to additive manufacturing (AM) research projects and provide an opportunity for members to network and collaborate.
Learn to Design for Additive Manufacturing
October 1, 2019
America Makes, Wohlers Associates provide design for AM training this fall.
Sponsored Content
Accelerating PBFAM Development and Use Through Open Source Systems
September 16, 2019
An Open Architecture Framework Enables the Use of PBFAM for Development Opportunities and Custom Applications.
Sponsored Content
Creating Physiologically Realistic Models for Medical Education and Ballistics Testing
September 16, 2019
Using novel materials and software strategies to develop realistic medical models from radiographic data.
Sponsored Content
Increasing Additive Manufacturing Capabilities & Reducing Costs
September 16, 2019
Pushing the boundaries of AM using a Multi3D system to manufacture complex geometric dielectric structures.
Sponsored Content
Educating Engineers to Design for AM
September 16, 2019
Develop an additive manufacturing design-to-print workflow using AM-aware tools for designers to take advantage of the unique capabilities of AM.
Latest News
Editor's Pick: NVIDIA-powered data center for high-performance applications
BOXX FLEXX rack-mounted data center platform is made for complex product development workflows.
Digital Metal's New Software Upgrade Delivers Triple its Print Speed
This allows for significantly larger production volume per time unit while keeping the component quality, company says.
Campbell Hall 3D Prints Masks and Face Shields for Medical Community
School hopes to inspire others in education to join the movement.
Razorleaf Corporation Launches Manufacturing Suite for Aras Innovator Platform
Company extends PLM capabilities to automate processes for manufacturers.
All posts