Top Story
Air Force Readies Rapid Parts Replacement for Takeoff
February 21, 2019
The USAF is exploring how to leverage DLP 3D printing technology as a lean alternative to producing and inventorying legacy parts.
America Makes Locates Third Satellite Center at Wichita State University
July 17, 2019
Specifically, the Center will be at the National Institute for Aviation Research on WSU's campus.
America Makes TRX+ @NIAR Technical Review and Exchange Event Headed to Kansas
June 14, 2019
Speakers at the two-day event include Cindy Ashforth of the Federal Aviation Administration, Chris Holshouser of NIAR, and Doug Hall of Battelle.
What Speed Needs
June 1, 2019
One way to change the culture is to connect different stakeholders in a collaborative environment.
America Makes Announces Awardees of Project on Advanced Tools for Rapid Qualification
May 17, 2019
Awarded project teams to develop and deploy innovative, cost-effective, and energy-efficient AM technologies for defense and commercial needs.
NCDMM Names Dean L. Bartles, Ph.D., as its Next President and CEO
May 1, 2019
NCDMM also announces additional organizational changes.
America Makes and Digital Engineering Collaborate to Advance Additive Manufacturing and 3D Printing
April 30, 2019
Peerless Media will work to promote National Center for Defense Manufacturing and Machining's additive manufacturing industry advancement efforts.
America Makes Announces Its Second Satellite Center to be Located at Texas A&M University
March 23, 2019
The objective of the America Makes Satellite Center model is to extend the reach of the existing America Makes mission by expanding its current regional, industrial, and technological footprint.
Sponsored Content
ONR Quality Made – Robotic Laser Wire Additive Manufacturing System
March 11, 2019
Recent advances in modeling and simulation tools based on an Integrated Computational Materials Engineering (ICME) approach provide an opportunity to relate process parameters to microstructure to properties to performance.
America Makes
March 11, 2019
As the national accelerator for additive manufacturing (AM) and 3D printing (3DP), America Makes is the nation's leading and collaborative partner in AM and 3DP technology research, discovery, creation, and innovation. Structured as a public-private partnership with member organizations...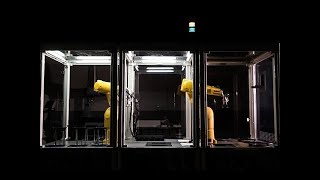 Air Force Readies Rapid Parts Replacement for Takeoff
February 21, 2019
The USAF is exploring how to leverage DLP 3D printing technology as a lean alternative to producing and inventorying legacy parts.
America Makes Announces Qualified Database of Material Properties for FDM Additive Manufacturing of Resin
February 8, 2019
Database released to the Institute and its members to enable use of ULTEM 9085 Resin for aerospace interiors.
America Makes Announces Awardees of Directed Project Opportunities on Acceleration of Large-Scale AM
December 19, 2018
Projects to develop an open source, multi-laser manufacturing research platform and more.
America Makes Accepts Certified Selective Laser Sintering Additive Manufactured Nylon 12 Database from Northrop Grumman
November 2, 2018
Database released to the Institute and Its membership community to enhance the additive material supply chain.
America Makes Announces Directed Project Opportunity on Advanced Tools for Rapid Qualification
October 26, 2018
NCDMM Honors MFG Day 2018 With Training for High School Students
September 27, 2018
Each of the participating high schools in the additive manufacturing training will also receive a 3D printer, laptop with software and a stipend for materials and supplies.
Latest News
Predicting Structural Instability Due to Plastic Hinge Collapse Mechanism
Designing structures based on conditions where loading results in full plastic yielding that creates structural instability where the structure collapses...
Volkswagen updates classic van with generative design, RoboCup flexes autonomous muscles, more
In this episode of DE Video News roundup, VW uses Autodesk Fusion to reshape Microbus, autonomous robots play soccer, Onshape...
Editor's Picks: July 11-17, 2019
One of the picks will be chosen as DE's Editor's Pick of the Week.
HP Unveils New Performance Options for Z6 Workstations
New configurable options for Z6 G4 workstations feature Intel Xeon W CPUs that are designed for creative workloads like 3D...
All posts