Top Story
America Makes Announces Four New Project Calls
July 30, 2020
New project calls total $2.1 million in awards for advancing additive manufacturing.
Registration Now Open for America Makes Virtual Mini TRX
November 24, 2020
Event to take place December 10, 2020 from 10 a.m. to 4:30 p.m. EST.
America Makes Awards $2.3M in Funding
November 19, 2020
Ten project teams selected to help accelerate the adoption of additive manufacturing and meet needs of the supply chain.
NCDMM and CST Given $9.4M for New Additive Manufacturing Program in Ohio 
October 14, 2020
MAAM program aims to commercialize large additive manufacturing machine for production of large parts for industrial and defense usage.
America Makes Announces the 2020 Class of America Makes Ambassadors 
October 13, 2020
The 2020 class represents a cross-section of the industry whose work helped further advance additive technology.
America Makes Launches New Challenge with the Air Force Research Laboratory and GE Research
August 25, 2020
The challenge is a direct call-to-action to the AM industry to solve critical IP issues with a prize pool of $68,000.
America Makes Announces Four New Project Calls
July 30, 2020
New project calls total $2.1 million in awards for advancing additive manufacturing.
America Makes TRX Virtual Event
July 27, 2020
America Makes partners with OSU for annual technical exchange event.
Sponsored Content
Additive Manufacturing/3DP Information Alignment
July 27, 2020
Growing the number of additive manufacturing information assets within the America Makes digital storefront.
America Makes Announces Awardee of Project Call
July 24, 2020
Goal is to innovate optical components using additive manufacturing.
America Makes and Air Force Research Laboratory Name Awardees of Additive Manufacturing Challenge
July 21, 2020
The goal of the Challenge Series was to improve the accuracy of model predictions for metal AM, using INCONEL nickel-chromium alloy 625.
America Makes Receives $1.4 Million NIST Grant
July 6, 2020
The grant is targeted at producing safe and effective 3D printed personal protective equipment.
America Makes to Host 2nd Virtual Game Day Event with Wohlers Associates 
June 8, 2020
Panel representing wide array of industry experts to discuss how AM addresses supply chain gaps and distributed manufacturing.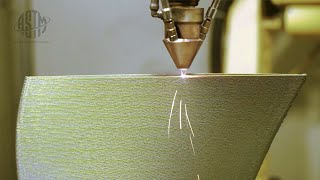 ASTM International Announces AM Data Strategic Guide with America Makes
June 8, 2020
ASTM also debuts Insight Video, new data subcommittee.
3D Printing Pumps Out Essential PPE
June 4, 2020
Private citizens and corporate enterprises are turning to 3D printing to buttress the limited stock piles of much-needed Personal Protective Equipment (PPE) during the COVID-19 pandemic.
America Makes Partners with Wohlers Associates to Launch Virtual Game Day Series
May 8, 2020
This is a new series of virtual panels and networking events that will cover the most important and trending topics facing the AM community.
Latest News
Materialise Sees Sustainability as the Future of 3D Printing
Company focuses on reduction in waste, improvement in material re-use.
Sponsored Content
HPC Helps JSP Perform Ansys Simulations up to 35% More Efficiently
HPC boosts simulation efficiency.
Safran Transmission Systems Picks MSC Software to Manage Simulation Data
Web-based simulation and test data management system addresses all phases from project initiation through product launch and beyond.
GrabCAD Print Integrates With KeyShot Rendering Software
KeyShot by Luxion is real-time 3D rendering software that allows for intuitive designs and renders.
All posts