Top Story
Cisco Elevates Design Collaboration with Webex Hologram Technology
April 4, 2022
Technology provides an easy way to bring non-engineers into design conversations.
Dassault Systèmes Acquires Diota
September 29, 2022
With acquisition, Dassault aims to bring augmented reality and field control technology to its manufacturing and operations customers.
Nextech AR Launches AI-Powered SaaS Software Platform
September 23, 2022
Toggle3D is a standalone web application enabling product designers and 3D artists to create, customize and publish 3D models and experiences, according to Nextech AR.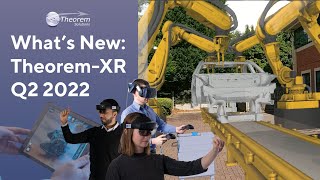 Augmented, Mixed or Virtual Reality
August 24, 2022
The adoption of extended reality (XR) technology in engineering and manufacturing is accelerating at a rapid pace. But what is XR and what are its benefits? Theorem Solutions explains.
TeamViewer and Siemens Offer Augmented and Mixed Reality solutions
July 28, 2022
This collaboration allows Siemens' global customers to improve their product development process based on immersive experiences, the company reports.
AR, MR or VR: Which Technology is Right for your Engineering Use Case?
July 26, 2022
Augmented, Mixed or Virtual Reality? This is a key question. You will need to understand the features and benefits of each technology type before looking to build and implement your XR strategy.
Cisco Elevates Design Collaboration with Webex Hologram Technology
April 4, 2022
Technology provides an easy way to bring non-engineers into design conversations.
Survey Shows How Manufacturers Plan to Leverage Metaverse
April 1, 2022
Majority of companies interested in learning how 'digital twins' can benefit their operations, survey finds.
Autodesk Buys The Wild XR Platform
March 28, 2022
The Wild enables architecture, engineering and construction (AEC) professionals to present, collaborate and review projects together in immersive and interactive experiences.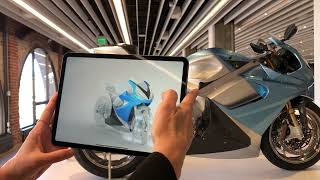 San Francisco-based Autodesk Gallery reopens
March 9, 2022
The newly reopenned San Francisco-based Autodesk Gallery exhibits highlight AR/VR apps for real-time CFD, generative design projects.
CareAR Acquires MagicLens
January 25, 2022
MagicLens, a 3D visualization and augmented reality platform, is bought by CareAR, a Xerox company.
3D Model Demand From Manufacturers Showcases CAD To Poly 3D/AR Technology
January 10, 2022
Signs multiple deals for its CAD-poly solutions
AWE 2021: Haptic Devices and Training Apps Hint at AR's Future
December 1, 2021
Augmented World Expo welcomes in-person attendees. Haptic devices and training applications offer clues to Augmented Reality's future in entertainment and enterprise use.
Enter the Holodeck: Designing in a Virtual World
November 15, 2021
The gaming industry has long been big business, but thanks to virtual reality technology, it is now taking us where no one has gone before. Are product design and manufacturing the next frontier?
Special Technology Focus: Designing with Augmented/Virtual Reality
October 29, 2021
Read about the latest developments in AR/VR-related design techniques and technologies.
Headset-Optional AR/VR
October 12, 2021
Mobile AR/VR apps tackle lighter workloads and offer social interaction.
Latest News
Epic Games Teams Up with Autodesk
Their joint goal is to accelerate real-time, immersive design capabilities across industries.
Tech Soft 3D Launches CAE-Based CEETRON Toolkits
The CEETRON solutions enables software engineers to accelerate CAE application development at every stage of the process.
Quickparts Acquires Xcentric Mold & Engineering
Acquisition expands Quickparts' digital manufacturing offerings.
Simulation's Answer to Connected Car Complexity
The path to adopting advanced multiphysics design practices is complicated and multifaceted.
All posts