Top Story
NXT Factory Designs 3D Printer in Fusion 360
June 27, 2019
The start-up leveraged the platform's low entry cost and collaboration tools to create its new printer in just four months
NXT Factory Designs 3D Printer in Fusion 360
June 27, 2019
The start-up leveraged the platform's low entry cost and collaboration tools to create its new printer in just four months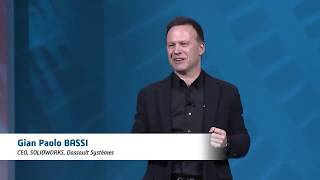 DE News Roundup: SolidWorks World 2019 Recap
February 15, 2019
Kenneth Wong narrates the top video news from this week at SolidWorks World 2019.
Technology Focus: Designing for Optimization & Simulation
December 18, 2018
Simulation is pervasive, with people from different departments and backgrounds discovering new ways to put it to use, in all of its varied forms.
Industry Focus: Designing for Industrial Machinery and Heavy Equipment
October 15, 2018
The articles compiled in this special digital issue focus on how vendors are reacting to the need to digitize the factory floor and connect it all the way back through the enterprise to front-end product design and development.
Latest News
3DEXPERIENCE World 2020 Highlights, Altium Launches Web-based PCB Viewer, AMD Releases Radeon Pro W5500
SolidWorks World returns under parent company Dassault Systemes' 3DEXPERIENCE Brand
Editor's Pick: Latest PolyJet 3D Printer Offers "Designed for Designers" Feature Set 
Stratasys J826 PolyJet 3D printer rounds out the company's line of line of full-color, multi-material photopolymer 3D printers as...
Designairspace Launches CAD in the Cloud Plan
P-4000 Bare Metal will be available to subscribers in North America and Europe via three data centers, giving them maximum...
Markforged Sets Up With Strategic Investment Agreement with In-Q-Tel
Partnership enables the U.S. government to leverage the Markforged industrial additive manufacturing platform for creating metal and continuous carbon...
All posts