Top Story
NXT Factory Designs 3D Printer in Fusion 360
June 27, 2019
The start-up leveraged the platform's low entry cost and collaboration tools to create its new printer in just four months
NXT Factory Designs 3D Printer in Fusion 360
June 27, 2019
The start-up leveraged the platform's low entry cost and collaboration tools to create its new printer in just four months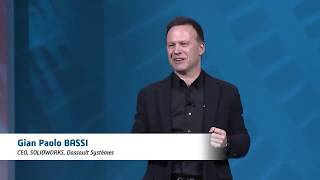 DE News Roundup: SolidWorks World 2019 Recap
February 15, 2019
Kenneth Wong narrates the top video news from this week at SolidWorks World 2019.
Technology Focus: Designing for Optimization & Simulation
December 18, 2018
Simulation is pervasive, with people from different departments and backgrounds discovering new ways to put it to use, in all of its varied forms.
Industry Focus: Designing for Industrial Machinery and Heavy Equipment
October 15, 2018
The articles compiled in this special digital issue focus on how vendors are reacting to the need to digitize the factory floor and connect it all the way back through the enterprise to front-end product design and development.
Latest News
Bringing a Comic Book Hero to Life
Effects artists used a combination of digital modeling, animation, CAD and 3D printing to build the massive S.T.R...
Fictiv, Jabil Set Up Agile 3D Printing Collaboration
Joint digital thread accelerates and de-risks product development in move from prototyping and low-volume production to large-scale global fulfillment.
Akselos Joins Revolution in Simulation's Global Alliance of Participants
Akselos adds its name to a steadily increasing list of contributors that include Ansys, Aras, BETA CAE, Beyond CAE, Dassault...
Aras Releases Application for Creating, Managing Digital Twins
Digital Twin Core app helps companies create digital twins for any product or system.
All posts