Top Story
Coming up ACES
January 1, 2019
Automated, connected, electric and shared (ACES) vehicles present new design challenges.
WINDnovation Adopts pSeven in Design of Wind Turbine Rotor Blades
January 17, 2019
pSeven is developed by DATADVANCE, an independent software developer of design space exploration, predictive modeling, automation and integration solutions.
AI-capable Supercomputer ZF ProAI Said to Feature Computing Power and Flexibility
January 7, 2019
ZF's modular and scalable ProAI product family accommodates various software stacks and processors for automated driving
Coming up ACES
January 1, 2019
Automated, connected, electric and shared (ACES) vehicles present new design challenges.
Renishaw Extends ParaMatters Collaboration
December 18, 2018
The partnership now extends to optimized lightweighting and automation of metal additive manufacturing.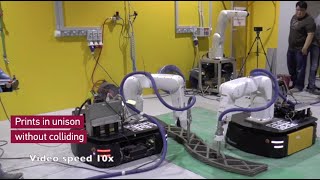 Swarm 3D Printing Concrete Structures
November 12, 2018
Autonomous robotic printers create large concrete forms.
JETCAM Announces Second v20 Release of Expert CAM/Nesting
November 12, 2018
V20.23.01 includes further enhancements to JETCAM's JET-Cut fly cutting and JET-Optimizer path optimizing, enhancements to common cutting and an all-new advanced reports designer and generator.
Siemens' Teamcenter Achieves AWS Industrial Software Competency
September 20, 2018
Teamcenter software from Siemens PLM Software receives AWS Industrial Software Competency status after rigorous AWS technical validation.
Sponsored Content
Engineering Optimization and Process Solutions Updated
May 9, 2018
New user interface, more collaboration and new optimization algorithm among enhancements.
Siemens Partners with American Center for Mobility
May 7, 2018
Siemens PLM Software and American Center for Mobility (ACM)'s new partnership brings Siemens' Simulation and Test solution for Automotive to ACM.
IPG Automotive Releases Version 7.0 of CarMaker Product Family
May 3, 2018
Simulation software from IPG offers new functionalities for virtual test driving.
Arduino Partners with Distrelec to Launch Automation and Robotics Contest
April 30, 2018
Users of the Arduino ecosystem challenged to design and build solutions for Industry 4.0 applications.
Fanless PC From Logic Supply Made for Industrial IoT Applications
February 22, 2018
The ML350 Fanless PC from Logic Supply features a low profile fanless enclosure and a motherboard developed to enable a range of customization options including expansion, connectivity and advanced consumer electronics control.
Siemens to Buy TASS International
August 30, 2017
With the acquisition of TASS International, Siemens adds automated driving solutions to portfolio.
Editor's Pick: CAD/CAM for Profile Cutting and Sheet Metal Updated
August 23, 2017
Improvements enable nesting engine to operate faster and more efficiently.
CENIT Presents FASTSUITE Edition 2 At Automate 2017
February 22, 2017
FASTSUITE Edition 2 is a stand-alone simulation platform designed to address the entire digital manufacturing process--from engineering to the virtual start of production.
Latest News
NVIDIA GTC 2019: Data Science Workstation, Purchase of an Interconnect Vendor, Safety Force Field in Autonomous Driving, and More
There are sufficient demos and talks of rayt racing, but the biggest announcements have...
Meeting Design and Regulatory Challenges of Autonomous Air Taxis
Frankfurt Airport manager Fraport is working with Volcopter to potentially use electric, vertical take-off...
Altium Launches "Altium Academic Programs"
Programs offer free and low-cost software and support to students and educators, empowering the...
AVL and MSC Software to Partner on Autonomous Vehicle Projects
AVL is developing a scenario-based open verification and validation toolchain to generate operational scenarios,...
All posts