Top Story
Engineering Automation: Going on Autopilot
May 1, 2019
From flying taxis to cargo drones, efforts are underway to automate in the air.
Dassault Systèmes Named Key Supplier by Groupe PSA for its Digital Transformation
July 3, 2019
Dassault Systèmes and Groupe PSA engage in long-term strategy with the intent to further deploy the 3DEXPERIENCE platform.
Digital Twin Market to Reach $20 Billion by 2025
July 2, 2019
The rising demand for reducing asset downtime, optimizing process time, reducing time to market, reducing asset downtime and improving operational efficiency is proliferating the growth of the digital twin market, according to Global Market Insights. 
RIGOL Technologies, GradientOne Announce Partnership Streamlining Test Automation
June 13, 2019
The integration of many of RIGOL's UltraVision and UltraVision II oscilloscopes with GradientOne's web-based platform allows engineers to simply and quickly set up tests, acquire/store the test data, analyze the results, and more.
Keysight Technologies Enhances Design Workflows with New PathWave Design 2020 Software Suite
June 4, 2019
The new software suite reduces setup time, automates routine tasks, provides faster simulation and analysis, according to Keysight Technologies.
Prepare for Reshoring
June 1, 2019
Learn how small- to medium-sized manufacturers can prepare for a manufacturing resurgence driven by reshoring and regulatory changes.
Omron Helps University of Houston Engineering Students Enhance Skills with New Design and Robotics Laboratory
May 30, 2019
Omron Foundation, the charitable arm of the U.S.-based operations of industrial automation solutions provider Omron, donated a new laboratory complete with workstations and equipment.
Engineering Automation: Going on Autopilot
May 1, 2019
From flying taxis to cargo drones, efforts are underway to automate in the air.
IPG Automotive Launches Version 8.0 of the CarMaker Product Family
April 26, 2019
Simulation software features new functionalities for virtual test driving.
Trust, Technology and Being Human
April 1, 2019
An engineering workflow needs to take human nature and the pros and cons of software recommendations into account.
3D Hubs Announces $18 Million in Funding to Boost Autonomous Manufacturing Platform
March 27, 2019
New funding to help the company further automate its manufacturing outsourcing solution expand platform's global network and U.S. presence with new office in the states, 3D Hubs reports.
WINDnovation Adopts pSeven in Design of Wind Turbine Rotor Blades
January 17, 2019
pSeven is developed by DATADVANCE, an independent software developer of design space exploration, predictive modeling, automation and integration solutions.
AI-capable Supercomputer ZF ProAI Said to Feature Computing Power and Flexibility
January 7, 2019
ZF's modular and scalable ProAI product family accommodates various software stacks and processors for automated driving
Coming up ACES
January 1, 2019
Automated, connected, electric and shared (ACES) vehicles present new design challenges.
Renishaw Extends ParaMatters Collaboration
December 18, 2018
The partnership now extends to optimized lightweighting and automation of metal additive manufacturing.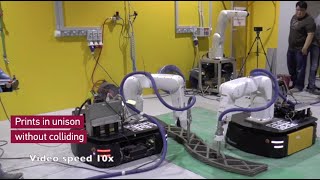 Swarm 3D Printing Concrete Structures
November 12, 2018
Autonomous robotic printers create large concrete forms.
Latest News
Foundry Names New CEO
Jody Madden, who joined Foundry in 2013, is named new CEO.
America Makes Locates Third Satellite Center at Wichita State University
Specifically, the Center will be at the National Institute for Aviation Research on WSU's campus.
Eurocom Releases Tornado F7 Server for On-the-Go Applications
The Tornado F7 Server Edition is an all-in-one, single-server, small form factor, laptop-based server.
The New Age of Engineering Animation
High-quality animations help engineers efficiently collaborate with colleagues.
All posts