Top Story
Big Plans for BigRep 3D Printing Systems
November 7, 2018
The German company known for large-scale extrusion printing will be unveiling its latest technology at FORMNEXT 2018, offering 5X speed-up with precision controls.
BigRep Introduces Large‐Format 3D Printer for Industrial Applications
May 20, 2019
The new and improved BigRep STUDIO G2 provides speed and quality in large‐format with engineering‐grade materials.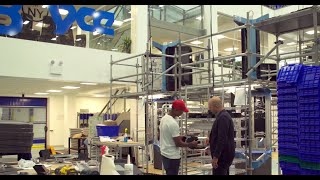 3D Printing for Public Safety
April 11, 2019
At Boyce Technologies, the company makes communications equipment mainly for New York City Transit and has found a way to add 3D printing to the production mix.
BigRep Showcases BigRep PRO 3D Printer at Hannover Messe 2019
April 2, 2019
New BigRep 3D printer is automated and 5G connected; showcase marks next step in development partnership between BigRep and Bosch Rexroth.
BigRep PRO Makes North American Premiere at AMUG
March 28, 2019
Powered by BigRep MXT and computer numerical control systems and drives by Bosch Rexroth, the PRO delivers full connectivity to integrate additive manufacturing with Industry 4.0, BigRep reports.
Editor's Picks: March 21-27, 2019
March 28, 2019
One of the picks will be chosen as DE's Editor's Pick of the Week.
Editor's Picks: Nov. 8-14 2018
November 16, 2018
One of the picks will be chosen as DE's Editor's Pick of the Week.
Big Plans for BigRep 3D Printing Systems
November 7, 2018
BigRep, Bosch Rexroth Team on Large-Format Printing
November 5, 2018
Large format printers will include CNC-grade control systems and drives.
3D Printing Enables Concrete Smart Wall
July 24, 2018
NOWLab, the innovation arm of large-scale 3D print specialist BigRep, has unveiled a smart concrete concept that combines 3D-printed concrete molds with printed lights and sensor technology.
BigRep 3D Prints Airless Bicycle Tire
May 18, 2018
The tire is the latest application from the Berlin-based large-scale 3D printer manufacturer, as part of the company's focus on crafting industrial-grade solutions for the mobility industry. 
Frank Marangell Appointed President of BigRep America
August 22, 2017
Marangell, former CEO of Rize and former President Objet USA, named new president of BigRep America Inc. and executive vice president of global sales at BigRep.
BigRep Launches High-Speed Pro HS Filament
June 21, 2017
BigRep Pro HS Filament is said to require no machine modification and works with large-format objects and prototypes, the company reports.
3D Printing Thinks Really Big
November 2, 2015
Additive manufacturing systems offer amazing build volumes.
Latest News
RAPID+TCT 2019 Drives Additive Manufacturing to Next Level in Motor City
Thousands of attendees delve into 3D printing, the future of manufacturing, digital twins, data management and so much more.
Jabil Inks Additive Manufacturing Agreement to Supply Parts to Renault F1 Team
On-demand delivery of racecar parts for Renault F1 Team driven by expansion at certified Jabil 3D printing facilities worldwide.
ExOne Announces Kennametal as Inaugural Beta Customer for New X1 25PRO Production Machine
ExOne also announced a new material partnership program, as well as more collaboration with Sandvik Additive Manufacturing.
Behind the Scenes at Materialise in the Midwest
Factory tour at Michigan-based 3D printing production facility provides a peek at the company's innovations in the medical sector.
All posts