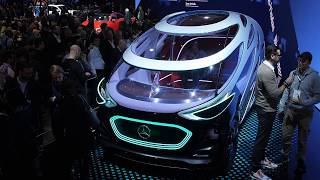 DE Video News Roundup, January 11, 2019
January 10, 2019
Video highlights news from CES on autonomous cars, SaaS simulation with GPU acceleration, and Autodesk's 3D printer and Chromebook giveaway.
User Interfaces: Experience is the Greatest Differentiator
February 1, 2018
The user interface is the most important differentiator for many consumers, and automakers know it just has to work.
The CES Time Machine
February 1, 2017
Panelists at CES show restraint in overhyping self-driving vehicles, but are bullish on 5G.
In Search of Engineering Tech at CES
January 16, 2017
Autonomous vehicles, 3D printing and new computing user experiences lead the CES tech news for engineers.
The Future of Mobility at CES 2016
January 14, 2016
See what automotive technology was on display at this year's Consumer Electronics Show.
CES 2015: Gadgets and Gizmos Abound
January 8, 2015
This year's conference fostered innovation for technology in the automotive, robotic, computing, wearable industries and more.
Latest News
3D Printing Factors Big in HP's Sustainability Game Plan
HP is promoting 3D printing technology as part of its broader sustainability charter to reduce overall environmental impact.
Editor's Picks: July 4-10, 2019
One of the picks will be chosen as DE's Editor's Pick of the Week.
The State of Product Development According to Onshape
New report shows engineers most interested in transforming early-stage design workflows in areas like collaboration, version control and improved visibility.
U.S. Army Research Lab Selects 3D Systems to Develop Metal Powder 3D Printer
U.S. government invests $15 million towards the development of new metal 3D printing technology.
All posts