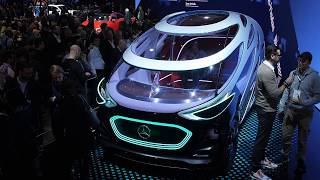 DE Video News Roundup, January 11, 2019
January 10, 2019
Video highlights news from CES on autonomous cars, SaaS simulation with GPU acceleration, and Autodesk's 3D printer and Chromebook giveaway.
User Interfaces: Experience is the Greatest Differentiator
February 1, 2018
The user interface is the most important differentiator for many consumers, and automakers know it just has to work.
The CES Time Machine
February 1, 2017
Panelists at CES show restraint in overhyping self-driving vehicles, but are bullish on 5G.
In Search of Engineering Tech at CES
January 16, 2017
Autonomous vehicles, 3D printing and new computing user experiences lead the CES tech news for engineers.
The Future of Mobility at CES 2016
January 14, 2016
See what automotive technology was on display at this year's Consumer Electronics Show.
CES 2015: Gadgets and Gizmos Abound
January 8, 2015
This year's conference fostered innovation for technology in the automotive, robotic, computing, wearable industries and more.
Latest News
Hexagon Releases Latest Update of EDGECAM
New release supports fast 5-axis machining tools; software features barrel cutter support and new gun drilling cycle.
Systems Engineering Software Update Advances Multidiscipline Simulation
Siemens PLM Software releases a full plate of new features in Simcenter Amesim 2019.1. 
Sponsored Content
Editor's Pick: Multi-domain Systems Analysis Just Got Easier
Siemens PLM Software updates Simcenter Amesim with new features in four broad categories.
Researchers Freeze-Print Graphene Battery Anodes
A team at Kansas State University used a freeze printing approach to create sodium ion batteries with hybrid graphene aerogels.
All posts