Top Story
DP Technology Enhances ESPRIT CAM System With AI Capabilities
September 22, 2020
The CAM system's AI uses a digital twin of the CNC machine, tooling and workholding to drive ESPRIT's most advanced features, according to the company.
DeskProto Releases Free CAM Software for Linux
September 28, 2020
The DeskProto CAM software now also is available as native Linux application, suited for various Linux distributions.
DP Technology Enhances ESPRIT CAM System With AI Capabilities
September 22, 2020
The CAM system's AI uses a digital twin of the CNC machine, tooling and workholding to drive ESPRIT's most advanced features, according to the company.
Sponsored Content
Check It Out: Apply Design Tips to Cut Part Production Costs
September 15, 2020
Protolabs has published a white paper, "Design Essentials for CNC Machining," that provides tips for designers to help reduce machining costs and more.
VERICUT Version 9.1 Released
June 29, 2020
VERICUT CNC machine simulation, verification, and optimization software simulates all types of CNC machining, additive and hybrid manufacturing processes.
FANUC's CNC Machining Solution Now Includes 5-Axis Simulation
June 12, 2020
The new training option addresses the manufacturing skills gap and the need for more advanced machine tool operators.
3Diligent Helping Coordinate Digital Manufacturing Response to COVID-19
March 27, 2020
Company is coordinating rapid manufacturing of PPE to ensure supply meets demand.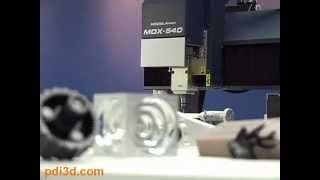 Sponsored Content
Rapid CNC Prototyping—On the Desktop
February 3, 2020
Product Development Inc. has put together an article and infographic explaining exactly how the line of Roland desktop prototyping CNC machines the company offers can eliminate many of the pain points involved in this process.
CAMWorks Version 2020 Provides CADCAM Tools for Smart Manufacturing
December 20, 2019
With Version 2020, the CAMWorks Additive Manufacturing module, powered by Materialise, has extended 3D printing functionality to SolidWorks Assemblies.
Additive Manufacturing: Finding the Solutions that Matter
November 1, 2019
3D printing pioneer and MFG CEO Dr. Ronald L. Hollis talks about the future of additive manufacturing.
Xometry and ProvenCut Announce Strategic Partnership 
October 7, 2019
Xometry and ProvenCut join forces to offer machining resources and supplies.
Fast Radius Puts Curtiss Motorcycles on a Manufacturing Fast Track
September 30, 2019
A hybrid manufacturing approach, including AM for complex parts, helped the firm meet an accelerated design and build cycle for its new Zeus 8 electric motorcycle.
Onshape Teams Up With Sandvik for Cloud CAD/CAM Integration
September 20, 2019
Companies' strategic partnership designed to reshape how manufacturers go from 3D product models to finished parts, according to companies.
Hurco Introduces the VMXDi Series of CNC Machines
August 6, 2019
With the new direct drive spindle, the VMXDi series has a better surface finish, quieter spindle and less head growth, the company adds.
Milltronics USA Introduces the VM8434XP Performance Vertical Machining Center
August 6, 2019
The Milltronics XP Series CNC machines are #50 taper vertical machining centers designed for applications that need extra cutting power.
CRP Technology Debuts Windform FR1 From Family of Composite Materials
July 8, 2019
Composite material is a carbon fiber filled flame-retardant LS material that is rated V-0.
Latest News
Materialise Sees Sustainability as the Future of 3D Printing
Company focuses on reduction in waste, improvement in material re-use.
Sponsored Content
HPC Helps JSP Perform Ansys Simulations up to 35% More Efficiently
HPC boosts simulation efficiency.
Safran Transmission Systems Picks MSC Software to Manage Simulation Data
Web-based simulation and test data management system addresses all phases from project initiation through product launch and beyond.
GrabCAD Print Integrates With KeyShot Rendering Software
KeyShot by Luxion is real-time 3D rendering software that allows for intuitive designs and renders.
All posts