Top Story
DP Technology Enhances ESPRIT CAM System With AI Capabilities
September 22, 2020
The CAM system's AI uses a digital twin of the CNC machine, tooling and workholding to drive ESPRIT's most advanced features, according to the company.
Manufacturing Tech Campus Opens on Chicago's Goose Island
January 14, 2022
Fast Radius expands cloud-based software and manufacturing platform.
Ellison Technologies Buys GSC
December 20, 2021
The acquisition of GSC fits into Ellison Technologies' growth strategy and mission to equip manufacturers to compete.
Intuitive Drawing Software Simplifies 2D Path Design for Users of CNC Cutting Machines
September 24, 2021
User interface mimics popular CAD packages.
Sandvik to Acquire CAM Software Company CNC Software
August 26, 2021
CNC Software will be reported in the Design & Planning Automation division within Sandvik Manufacturing and Machining Solutions.
ESPRIT CAM Improves Productivity for Long-Part Machining
April 20, 2021
Offset-aware programming of spindle transfers and bar pulls helps manufacturers drive multi-channel CNC machinery with confidence, company says.
SmartCAM v2021 Debuts
December 28, 2020
One major highlight is that Process Model Viewers are optional for all SmartCAM application product families.
Hybrid Program for CNC Machining Training
December 17, 2020
Goal is to foster development of next-gen high-tech machinists in the U.S.
DeskProto Releases Free CAM Software for Linux
September 28, 2020
The DeskProto CAM software now also is available as native Linux application, suited for various Linux distributions.
DP Technology Enhances ESPRIT CAM System With AI Capabilities
September 22, 2020
The CAM system's AI uses a digital twin of the CNC machine, tooling and workholding to drive ESPRIT's most advanced features, according to the company.
Sponsored Content
Check It Out: Apply Design Tips to Cut Part Production Costs
September 15, 2020
Protolabs has published a white paper, "Design Essentials for CNC Machining," that provides tips for designers to help reduce machining costs and more.
VERICUT Version 9.1 Released
June 29, 2020
VERICUT CNC machine simulation, verification, and optimization software simulates all types of CNC machining, additive and hybrid manufacturing processes.
FANUC's CNC Machining Solution Now Includes 5-Axis Simulation
June 12, 2020
The new training option addresses the manufacturing skills gap and the need for more advanced machine tool operators.
3Diligent Helping Coordinate Digital Manufacturing Response to COVID-19
March 27, 2020
Company is coordinating rapid manufacturing of PPE to ensure supply meets demand.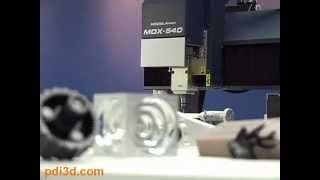 Sponsored Content
Rapid CNC Prototyping—On the Desktop
February 3, 2020
Product Development Inc. has put together an article and infographic explaining exactly how the line of Roland desktop prototyping CNC machines the company offers can eliminate many of the pain points involved in this process.
CAMWorks Version 2020 Provides CADCAM Tools for Smart Manufacturing
December 20, 2019
With Version 2020, the CAMWorks Additive Manufacturing module, powered by Materialise, has extended 3D printing functionality to SolidWorks Assemblies.