Top Story
Additive Manufacturing: Finding the Solutions that Matter
November 1, 2019
3D printing pioneer and MFG CEO Dr. Ronald L. Hollis talks about the future of additive manufacturing.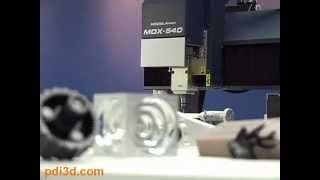 Sponsored Content
Rapid CNC Prototyping—On the Desktop
February 3, 2020
Product Development Inc. has put together an article and infographic explaining exactly how the line of Roland desktop prototyping CNC machines the company offers can eliminate many of the pain points involved in this process.
CAMWorks Version 2020 Provides CADCAM Tools for Smart Manufacturing
December 20, 2019
With Version 2020, the CAMWorks Additive Manufacturing module, powered by Materialise, has extended 3D printing functionality to SolidWorks Assemblies.
Additive Manufacturing: Finding the Solutions that Matter
November 1, 2019
3D printing pioneer and MFG CEO Dr. Ronald L. Hollis talks about the future of additive manufacturing.
Xometry and ProvenCut Announce Strategic Partnership 
October 7, 2019
Xometry and ProvenCut join forces to offer machining resources and supplies.
Fast Radius Puts Curtiss Motorcycles on a Manufacturing Fast Track
September 30, 2019
A hybrid manufacturing approach, including AM for complex parts, helped the firm meet an accelerated design and build cycle for its new Zeus 8 electric motorcycle.
Onshape Teams Up With Sandvik for Cloud CAD/CAM Integration
September 20, 2019
Companies' strategic partnership designed to reshape how manufacturers go from 3D product models to finished parts, according to companies.
Hurco Introduces the VMXDi Series of CNC Machines
August 6, 2019
With the new direct drive spindle, the VMXDi series has a better surface finish, quieter spindle and less head growth, the company adds.
Milltronics USA Introduces the VM8434XP Performance Vertical Machining Center
August 6, 2019
The Milltronics XP Series CNC machines are #50 taper vertical machining centers designed for applications that need extra cutting power.
CRP Technology Debuts Windform FR1 From Family of Composite Materials
July 8, 2019
Composite material is a carbon fiber filled flame-retardant LS material that is rated V-0.
Protolabs Celebrates 20 Years of Digital Manufacturing with Grand Opening of New Facility
May 17, 2019
New advanced manufacturing facility spotlights company's two decades of growth. .
Fabrisonic Launches SonicLayer 1200
May 16, 2019
The SonicLayer 1200 features ultrasonic additive manufacturing (UAM) technology.
SmartCAMcnc Announces Release of SmartCAM v2019
November 12, 2018
Also included are many customer-requested changes to the SmartCAM user interface and core functionality.
Envisioning New Markets with Roland MDX Technology
October 22, 2018
Tayyebi got the idea of creating his own line of premium eyeglass frames several years ago. To avoid competing with companies that mass-produce frames using injection molding, he decided to mill his frames from unusual substrates, including buffalo horn and...
AM vs. CNC Rules of Thumb
October 22, 2018
Everyone could use a little guidance about the best way to produce a part. Xometry shares words of wisdom about making a case for additive manufacturing.
CI Releases Carbon Fiber Material for AM Systems
September 19, 2018
New carbon fiber resin for Cincinnati Incorporated's SAAM (small area additive manufacturing) provides high strength-to-weight ratio, surface finishes for custom tooling and fixture applications.
Latest News
Editor's Picks: Feb. 13-19, 2020
One of the picks will be chosen as DE's Editor's Pick of the Week.
Award Honors Engineers' Innovation Using MSC Nastran
MSC Nastran is a simulation tool used across numerous industries—from aerospace to medical technology.
America Makes Names New Executive Committee
The Institute and its membership community welcomes 11 additive manufacturing leaders to serve in advisory capacity.
Finalists of Design for Additive Manufacturing 2020 Named
From a record number of 151 contestants, professionals and students, three finalists were selected per category.
All posts