Top Story
Licensed to See
January 31, 2019
Ophthalmology startup uses a parametric digital eye model to develop presbyopia treatments.
Sponsored Content
Designing for Medical Devices & Healthcare
April 18, 2019
In this Special Digital Issue, we compile some of DE's coverage of the many ways that design engineers are working with the medical sector and healthcare providers to integrate the two specialties in ways that benefit society as a...
Sponsored Content
Design & Simulation Software Review Round Up
April 17, 2019
We've compiled some of our most popular design and simulation software reviews in this issue to give you an over-view of new features and how the software works.
Sponsored Content
Re-evaluating Computer-aided Optimization
February 21, 2019
Traditionally design engineers take the lead in defining the shape of a product, but emerging generative design tools give software unprecedented autonomy.
Licensed to See
January 31, 2019
Ophthalmology startup uses a parametric digital eye model to develop presbyopia treatments.
Sponsored Content
Online Multiphysics Learning Center Opens
December 17, 2018
Multiphysics simulation resource provides everyone complimentary access to more than 30 tutorial videos and model studies.
Sponsored Content
Collaborate to Innovate with Simulation Applications and Digital Twins
December 1, 2018
Digital twins, deployed through a centralized resource or as compiled simulation applications, help design engineers shape tomorrow.
Sponsored Content
Engineering Technology Leaders
December 1, 2018
Thought leadership from the companies creating the technologies engineering teams are using to meet today's product design and development challenges.
Technology Focus: Designing for Optimization & Simulation
November 15, 2018
Simulation is pervasive, with people from different departments and backgrounds discovering new ways to put it to use, in all of its varied forms.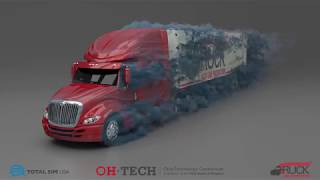 What Makes a Good Simulation App?
November 1, 2018
Simulation app makers weigh ease of use vs. functionality for specific uses cases.
Sponsored Content
Editor's Pick: Multiphysics Modeling and Simulation Get Big Boost
October 17, 2018
COMSOL's latest release offers dedicated tools for creating simulation applications and working with composite laminated structures.
COMSOL Multiphysics V5.4 Released
October 17, 2018
Highlights include a new compiler for creating executable files and a Composite Materials module.
Editor's Picks: Oct. 4-10, 2018
October 12, 2018
One of the picks will be chosen as DE's Editor's Pick of the Week.
Compiler, New Modeling Tools Headline Latest COMSOL Release
October 8, 2018
The COMSOL Compiler can be tapped to create standalone COMSOL multiphysics applications that don't require any additional licenses to run.
Partner Content
Multiphysics Informs Business & Engineering Solutions
September 5, 2018
From the initial concept to the final product, finding innovative, cost-effective, and environmentally friendly designs is an intense but extremely rewarding journey for managers and engineers alike.
COMSOL Multiphysics Overview
August 1, 2018
Get a look at the latest capabilities and functionalities.
Latest News
Hexagon Releases Latest Update of EDGECAM
New release supports fast 5-axis machining tools; software features barrel cutter support and new gun drilling cycle.
Systems Engineering Software Update Advances Multidiscipline Simulation
Siemens PLM Software releases a full plate of new features in Simcenter Amesim 2019.1. 
Sponsored Content
Editor's Pick: Multi-domain Systems Analysis Just Got Easier
Siemens PLM Software updates Simcenter Amesim with new features in four broad categories.
Researchers Freeze-Print Graphene Battery Anodes
A team at Kansas State University used a freeze printing approach to create sodium ion batteries with hybrid graphene aerogels.
All posts