Top Story
Licensed to See
January 31, 2019
Ophthalmology startup uses a parametric digital eye model to develop presbyopia treatments.
Sponsored Content
Re-evaluating Computer-aided Optimization
February 21, 2019
What do we lose or gain in the era of generative design?
Licensed to See
January 31, 2019
Ophthalmology startup uses a parametric digital eye model to develop presbyopia treatments.
Sponsored Content
Online Multiphysics Learning Center Opens
December 17, 2018
Multiphysics simulation resource provides everyone complimentary access to more than 30 tutorial videos and model studies.
Sponsored Content
Collaborate to Innovate with Simulation Applications and Digital Twins
December 1, 2018
Digital twins, deployed through a centralized resource or as compiled simulation applications, help design engineers shape tomorrow.
Sponsored Content
Engineering Technology Leaders
December 1, 2018
Thought leadership from the companies creating the technologies engineering teams are using to meet today's product design and development challenges.
Technology Focus: Designing for Optimization & Simulation
November 15, 2018
Simulation is pervasive, with people from different departments and backgrounds discovering new ways to put it to use, in all of its varied forms.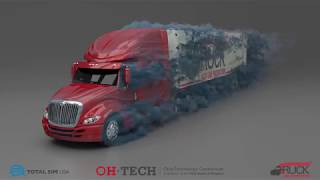 What Makes a Good Simulation App?
November 1, 2018
Simulation app makers weigh ease of use vs. functionality for specific uses cases.
Sponsored Content
Editor's Pick: Multiphysics Modeling and Simulation Get Big Boost
October 17, 2018
COMSOL's latest release offers dedicated tools for creating simulation applications and working with composite laminated structures.
COMSOL Multiphysics V5.4 Released
October 17, 2018
Highlights include a new compiler for creating executable files and a Composite Materials module.
Editor's Picks: Oct. 4-10, 2018
October 12, 2018
One of the picks will be chosen as DE's Editor's Pick of the Week.
Compiler, New Modeling Tools Headline Latest COMSOL Release
October 8, 2018
The COMSOL Compiler can be tapped to create standalone COMSOL multiphysics applications that don't require any additional licenses to run.
Partner Content
Multiphysics Informs Business & Engineering Solutions
September 5, 2018
From the initial concept to the final product, finding innovative, cost-effective, and environmentally friendly designs is an intense but extremely rewarding journey for managers and engineers alike.
COMSOL Multiphysics Overview
August 1, 2018
Get a look at the latest capabilities and functionalities.
Pushing Democratization Beyond a Buzzword at CAASE 18
June 29, 2018
Simulation industry experts discuss the challenges faced by organization who want to advance the democratization of simulation.
Ray Optics Simulation Devices Made for Aerospace and Defense Applications
June 14, 2018
COMSOL Multiphysics and its add-on product, the Ray Optics Module, allow for the simulation of optical phenomena in laser and fiber ring gyroscopes.
Latest News
Exploring Digital Transformation as an Evolutionary Journey
SolidWorks World 2019 presentation advises to forget about specific products and work on themes that...
Dassault Systèmes to Acquire Trace Software's elecworks Product Line
Elecworks is at the core of SolidWorks Electrical applications used for smart product development...
UL Opens Catalog of Safety Standards
A library of more than 1,400 standards is now available to all.
AMD Radeon Pro Software for Enterprise 19.Q1 Features SolidWorks Performance Improvements
Radeon Pro Software for Enterprise 19.Q1 updates product design workflows with features aimed at...
All posts