Intel Embree Wins Scientific and Technical Academy Award
February 8, 2021
Intel's open-source ray-traced rendering application Embree impressed the Academy of Motion Picture Arts and Sciences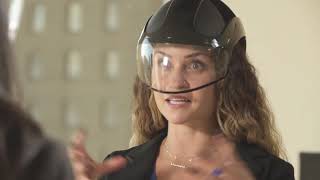 Cool Tech for the New Normal at CES 2021 Virtual
January 18, 2021
AMD delivers keynote touting new mobile processor, virtual CES highlight cool techs for the new normal
Sponsored Content
Editor's Pick: CPU Replete With 64 Cores
October 28, 2020
The company says this newest Threadripper is equipped with abundant storage and memory capacity, and vast expansion capabilities.
SIGGRAPH 2020: Intel Launches oneAPI Rendering Tool Kit
August 24, 2020
CPU leader Intel eases into the GPU-dominated rendering market with with new offering oneAPI Tool Kit
AMD, Lenovo Introduce 64-Core Workstation
July 14, 2020
Lenovo P620 is powered by Ryzen Threadripper PRO Processor
JPR: Discrete GPU Market Grows in 2019 Q4; 2020 Q1 Outlook Tempered by Virus Concerns
March 9, 2020
Add in boards shipment increased in 2019 Q4 but 2020 Q1 likely flat, per JPR
Editor's Pick: There's a New Standard for GPU Price, Performance and Size
August 7, 2019
AMD Radeon Pro WX 3200 GPU is designed specifically for compact-sized workstations.
Superworkstations!
June 1, 2019
Design engineering workstations have become extremely powerful—where does it make sense to invest your IT budget?
@Xi MTower PCIe Built for Speed
June 1, 2019
The latest edition of the MTower PCIe from @Xi is the fastest single-CPU workstation we have tested so far.
Pros and Cons of CAE in the Cloud
June 1, 2019
Using a flexible cloud lets us match capability to the needs of the user.
Keep It Simple, Keep Them Coming
June 1, 2019
An easy formula for estimating cost is part of some simulation software providers' strategy.
Eurocom Debuts the Eurocom Sky X7C Mobile Supercomputer
May 30, 2019
The Eurocom Sky X7C Mobile Supercomputer supports three different classes of GPUs.
@Xi PowerGo XT Laptop Debuts as its Latest CAD Workstation
September 17, 2018
@Xi PowerGo XT laptop features NVIDIA Quadro graphics and Intel Core i7-8086K processors. It is expandable to 64GB DDR4 RAM and up to a 2TB fast SSD M.2 PCIe.
The New Decentralized Innovation Stack
September 1, 2018
A technology stack is a set of IT products or services that independently are useful and important, but when integrated become a platform for greater innovation.
Speeding Up Simulation
August 1, 2018
Simulation software providers are embracing the potential of GPUs to provide faster results and visualization.
Latest News
Engineering Services Outsourcing Market Size Worth $8,126.49 Billion by 2029
Corporations are putting money into R&D and concentrating on offering personalized solutions to their clients, research company reports.
Lufthansa Technik Uses Ansys Technology
Partnership enables Lufthansa to develop and certify AeroSHARK technology for more sustainable aviation, companies report.
FARO Partners With Hologate
HGXR systems will integrate FARO digital scanning technology.
Is AI Ready to Make Autonomous Vehicles a Reality?
Automotive OEMs are bringing the power of artificial intelligence to the development of self-driving cars.
All posts