Top Story
University of Michigan Researchers Tout High-Speed 3D Printing Approach
February 6, 2019
The process employs dual light sources in place of an oxygen membrane to print at 100 times the print speed of conventional offerings.
Protolabs Adds Carbon Technology to Its 3D Printing Service
September 10, 2019
The digital manufacturing company expands its industrial 3D printing capabilities for production-grade parts with Carbon Digital Light Synthesis technology.
Carbon and Specialized Introduce the First Digitally Printed Lattice Bike Saddle
September 3, 2019
The S-Works Power Saddle with Mirror technology, crafted by Carbon, improves performance, protection and comfort for cyclists.
Carbon Raises $260 Million in New Funding
July 2, 2019
3D printer company plans to increase R&D, fund international expansion
Carbon and Arkema Partner to Advance the Adoption of Digital Manufacturing
June 27, 2019
Arkema has taken part, with an investment of US$ 20 million, in the Carbon Growth Funding Round to support the next generation of fully integrated digital manufacturing platforms via collaboration.
ZVerse and Carbon Set up Partnership Focused on Design for Digital Manufacturing 
March 18, 2019
The nuts and bolts: ZVerse will offer enhanced design support to Carbon production partners and customers.
Editor's Picks: March 7-13, 2019
March 14, 2019
One of the picks will be chosen as DE's Editor's Pick of the Week.
Diversified Plastics, Inc. Earns Carbon Production Network Certification
February 26, 2019
As one of the first plastic injection molding companies to become a certified Carbon Production Partner, DPI is one of only 14 certified partners in the United States and one of 20 worldwide.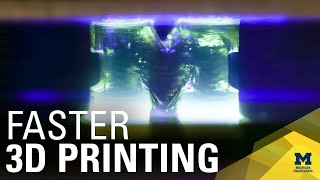 University of Michigan Researchers Tout High-Speed 3D Printing Approach
February 6, 2019
The process employs dual light sources in place of an oxygen membrane to print at 100 times the print speed of conventional offerings.
Riddell Partners with Carbon to Produce 3D Printed Football Helmet Liner
February 1, 2019
The Riddell SpeedFlex Precision Diamond Helmet delivers innovation with new digitally manufactured football helmet liner.
Carbon and Ford Boost Collaboration to Digitally Manufacture Durable, End-Use Parts
January 21, 2019
To 3D Print, or Not to 3D Print?
January 1, 2019
Consider the application, volume requirements and operational efficiencies.
Is Large-Scale 3D Printing Sustainable?
December 1, 2018
Additive manufacturing transitions from prototyping to a means of mass production, raising the stakes for sustainability.
Carbon and Fast Radius Partner to Reimagine Design of Chair with AM
September 14, 2018
The companies worked with Steelcase to design, engineer and print a custom arm cap, using additive manufacturing processes to align the design of the chair with human physiology.
Sponsored Content
What to Know About Making Industrial-Grade 3D Parts
July 12, 2018
You got it. 3D printing is great for prototypes, but here's what you need to know about 3D printed industrial-grade parts.
Generating Collaboration at GM and Adidas with Generative Design
July 1, 2018
A look at two generative design partnerships between manufacturers and technology vendors show the value of collaboration.
Latest News
America Makes Launches Next Phase in COVID-19 Response
Additive manufacturers can now upload 3D print designs to be reviewed and placed on the NIH 3D Print Exchange.
TAKE OUR POLL: How Has COVID-19 Affected Engineering Productivity?
Take our short poll and share your own experiences.
Massivit 3D Contributes to Battling the COVID-19 Pandemic
3D printed PPE face shields now available from Massivit 3D and the company's global network of customers and distributors.
CoVent-19 Calls on Engineers to Design Ventilators
GrabCAD, StrataSys, Ximedica launch design challenge to address ventilator shortage
All posts