Top Story
University of Michigan Researchers Tout High-Speed 3D Printing Approach
February 6, 2019
The process employs dual light sources in place of an oxygen membrane to print at 100 times the print speed of conventional offerings.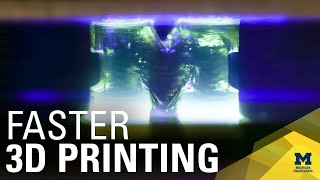 University of Michigan Researchers Tout High-Speed 3D Printing Approach
February 6, 2019
The process employs dual light sources in place of an oxygen membrane to print at 100 times the print speed of conventional offerings.
Riddell Partners with Carbon to Produce 3D Printed Football Helmet Liner
February 1, 2019
The Riddell SpeedFlex Precision Diamond Helmet delivers innovation with new digitally manufactured football helmet liner.
Carbon and Ford Boost Collaboration to Digitally Manufacture Durable, End-Use Parts
January 21, 2019
To 3D Print, or Not to 3D Print?
January 1, 2019
Consider the application, volume requirements and operational efficiencies.
Is Large-Scale 3D Printing Sustainable?
December 1, 2018
Additive manufacturing transitions from prototyping to a means of mass production, raising the stakes for sustainability.
Carbon and Fast Radius Partner to Reimagine Design of Chair with AM
September 14, 2018
The companies worked with Steelcase to design, engineer and print a custom arm cap, using additive manufacturing processes to align the design of the chair with human physiology.
Sponsored Content
What to Know About Making Industrial-Grade 3D Parts
July 12, 2018
You got it. 3D printing is great for prototypes, but here's what you need to know about 3D printed industrial-grade parts.
Generating Collaboration at GM and Adidas with Generative Design
July 1, 2018
A look at two generative design partnerships between manufacturers and technology vendors show the value of collaboration.
An April Additive Manufacturing Odyssey: AMUG 2018
May 4, 2018
A recap of the Additive Manufacturing Users Group (AMUG) conference 2018.
A Conversation with Carbon Founder and CEO Joseph DeSimone
May 4, 2018
Joseph De Simone, founder and CEO of Carbon, talks 3D printing at scale, 3D printing design software, mass customization and more.
Vitamix Juices AM to Mix Up New 3D Printed Nozzle Design from Carbon
April 6, 2018
Adidas Launches Printed Shoes
February 15, 2018
The midsole is printed using Carbon's Digital Light Synthesis technology and includes 20,000 struts that can be individually tuned to address different types of running needs.
MINI Drivers Can Print Custom Parts
January 26, 2018
BMW is leveraging 3D printing to allow vehicle owners to customize a BMW MINI using printed inlays to augment their side scuttles, interior trim, LED door sills and LED door projectors.
Carbon's Cloud-Based 3D Printing Simulation Tools
January 24, 2018
The FEA simulation uses a moving domain analysis to model Carbon's Digital Light Synthesis (DLS) technology down to the micron level throughout the build process, then predicts potential warping and/or cracking.
Editor's Pick: Carbon 3D Print Software Updated
January 10, 2018
Cloud-based FEA simulates 3D print forces.
Latest News
SolidWorks World 2019: Debut of 3D EXPERIENCE.Works, Launch of xShape, Event Name Change, and More
SOLIDWORKS World to be rebranded 3DEXPERIENCE World, event marks the launch of 3DEXPERIENCE.Works,...
Applied Automation Technologies and DMG MORI USA Announce Partnership
Partnership of two companies will focus on management of on-machine measuring software.
Siemens Updates NX Software with Artificial Intelligence and Machine Learning
Latest release of NX software enhanced with new capabilities that leverage machine learning and...
ZWCAD 2019 SP2 Just Released
Compared with ZWCAD 2019 SP1, the efficiency of SP2 has been further enhanced.
All posts