Top Story
Engineering Automation: Going on Autopilot
May 1, 2019
From flying taxis to cargo drones, efforts are underway to automate in the air.
Industrial Internet Consortium Publishes the Data Protection Best Practices White Paper
July 22, 2019
Guidance designed to help ensure data security, privacy and trustworthiness.
Engineering Automation: Going on Autopilot
May 1, 2019
From flying taxis to cargo drones, efforts are underway to automate in the air.
Arena Solutions Offers Arena PLM for AWS GovCloud
April 26, 2019
New software release extends PLM and quality assurance.
Keysight Technologies' V2X Test Solution Earns OmniAir Certification
April 18, 2019
Certification ensures vehicular communication devices and associated software pass global industry requirements for interoperability and compliance.
CONTACT Software's Elements for IoT Earns Software Award
April 2, 2019
The Research and Application Center Industry 4.0 named Elements for IoT the winner 2019 in the category "Internet of Things."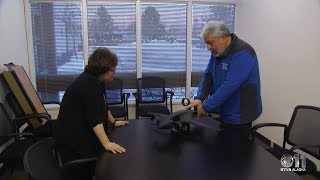 Autonomous Cargo Drone Does Heavy Lifting
March 27, 2019
Sabrewing has designed two hybrid-electric aircraft that can autonomously deliver hundreds of pounds of cargo to remote locations.
Meeting Design and Regulatory Challenges of Autonomous Air Taxis
March 25, 2019
Frankfurt Airport manager Fraport is working with Volcopter to potentially use electric, vertical take-off multicopter (eVTOLs) to carry passengers through an urban transport network.
3Degrees Launches TRACE for Best Practices in 3D Printing
March 15, 2019
Software offers an intuitive, flexible tool to tackle requirements in quality management, company says.
UL Opens Catalog of Safety Standards
February 22, 2019
A library of more than 1,400 standards is now available to all.
NAFEMS World Congress 2019 Preview
February 20, 2019
The international association for the engineering modeling, analysis and simulation community, hosts the NAFEMS World Congress June 17-20 in Quebec, Canada.
Greenlight Guru Announces New Integration with Jira Software
November 2, 2018
Quality management software platform for medical device companies now integrates with issue and project tracking tool.
ITAR Compliance in the Age of On-Demand HPC
October 1, 2018
How to stay within ITAR's rigid boundaries while straddling the cloud's blurred borders.
CAASE Keynotes to Cover Engineering's Most Pressing Issues
December 18, 2017
The Conference on Advancing Analysis & Simulation in Engineering (CAASE) will kickoff June 5, 2018 in Cleveland. Early bird registration ends Dec. 31, 2017!
Aiming HPC at the Moving Target of Compliance
November 1, 2017
Complex, time-sensitive financial regulations require high-performance computing.
Model-Based Systems Engineering Tackles Product Complexity
June 16, 2017
Helping engineers model, explore and optimize tradeoffs between competing design goals such as high performance versus long life is a key ability provided by systems modeling and model-based systems engineering (MBSE).
Latest News
Chaos Group previews Project Lavina, SimScale releases radiation simulator, Onshape recognized by World Economic Forum
In this episode of DE News Roundup, Chaos Group previews Project Lavina for real time ray tracing, SimScale releases radiation...
AMD Radeon Pro Software for Enterprise 19.Q3 Is Optimized for Professional Applications
The latest driver also continues to prove the value of updating professional drivers, with Day Zero certifications to help ensure...
Moldex3D Partners with Wittmann Battenfeld on LSR Injection Molding and Smart Manufacturing
The memorandum of understanding is aimed at bringing together both parties' extensive knowledge and technical expertise to advance the role...
Siemens Debuts More Tire Modeling Capabilities in Real-Time Environments
The Simcenter Tyre team releases MF-Tyre/MF-Swift 2019.1 with more possibilities to test with MSC ADAMS.
All posts