Top Story
Crafting a Sustainable Engineering Culture 
July 26, 2022
Organizations are embracing new tools and seeding new design practices to promote sustainability objectives and build greener products.
Crafting a Sustainable Engineering Culture 
July 26, 2022
Organizations are embracing new tools and seeding new design practices to promote sustainability objectives and build greener products.
A Look Ahead
December 15, 2020
DE readers provide an update on their use of engineering technologies.
Industrial Internet Consortium Publishes the Data Protection Best Practices White Paper
July 22, 2019
Guidance designed to help ensure data security, privacy and trustworthiness.
Engineering Automation: Going on Autopilot
May 1, 2019
From flying taxis to cargo drones, efforts are underway to automate in the air.
Arena Solutions Offers Arena PLM for AWS GovCloud
April 26, 2019
New software release extends PLM and quality assurance.
Keysight Technologies' V2X Test Solution Earns OmniAir Certification
April 18, 2019
Certification ensures vehicular communication devices and associated software pass global industry requirements for interoperability and compliance.
CONTACT Software's Elements for IoT Earns Software Award
April 2, 2019
The Research and Application Center Industry 4.0 named Elements for IoT the winner 2019 in the category "Internet of Things."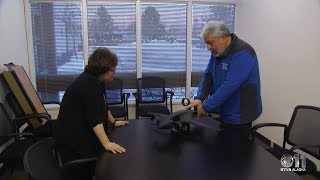 Autonomous Cargo Drone Does Heavy Lifting
March 27, 2019
Sabrewing has designed two hybrid-electric aircraft that can autonomously deliver hundreds of pounds of cargo to remote locations.
Meeting Design and Regulatory Challenges of Autonomous Air Taxis
March 25, 2019
Frankfurt Airport manager Fraport is working with Volcopter to potentially use electric, vertical take-off multicopter (eVTOLs) to carry passengers through an urban transport network.
3Degrees Launches TRACE for Best Practices in 3D Printing
March 15, 2019
Software offers an intuitive, flexible tool to tackle requirements in quality management, company says.
UL Opens Catalog of Safety Standards
February 22, 2019
A library of more than 1,400 standards is now available to all.
NAFEMS World Congress 2019 Preview
February 20, 2019
The international association for the engineering modeling, analysis and simulation community, hosts the NAFEMS World Congress June 17-20 in Quebec, Canada.
Greenlight Guru Announces New Integration with Jira Software
November 2, 2018
Quality management software platform for medical device companies now integrates with issue and project tracking tool.
ITAR Compliance in the Age of On-Demand HPC
October 1, 2018
How to stay within ITAR's rigid boundaries while straddling the cloud's blurred borders.
CAASE Keynotes to Cover Engineering's Most Pressing Issues
December 18, 2017
The Conference on Advancing Analysis & Simulation in Engineering (CAASE) will kickoff June 5, 2018 in Cleveland. Early bird registration ends Dec. 31, 2017!
Latest News
New NVIDIA GPUs Accelerate Design, Visualization Performance
The company has announced six new NVIDIA RTX Ada Lovelace architecture GPUs for laptops and desktops.
NVIDIA Teams with Microsoft, Google on Cloud AI and Metaverse
At the GTC conference this week, NVIDIA partnered with industry leaders to expand AI capabilities and Omniverse functionality.
Editor's Picks: March 16-22, 2023
One of the picks will be chosen as DE's Editor's Pick of the Week.
Update: Stratasys Rejects Nano Dimension's Acquisition Offer
Stratasys Board rejects Nano Dimension's acquisition offer, citing the desire to remain independent
All posts