Top Story
NAFEMS World Congress 2019 Preview
February 20, 2019
The international association for the engineering modeling, analysis and simulation community, hosts the NAFEMS World Congress June 17-20 in Quebec, Canada.
GE Leverages Surrogate Modeling to Slash Design Times
April 23, 2019
AI-driven approach could cut design times by half, evaluate millions of design variations in minutes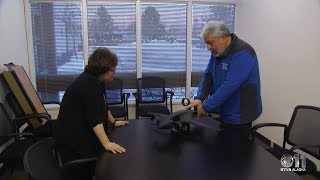 Autonomous Cargo Drone Does Heavy Lifting
March 27, 2019
Sabrewing has designed two hybrid-electric aircraft that can autonomously deliver hundreds of pounds of cargo to remote locations.
FLOW-3D v12.0 Release Features Modern Graphical User Interface (GUI)
March 25, 2019
The latest version of Flow Science's flagship CFD software features a modernized interface and streamlined workflows.
Pointwise Adds Native Interface to Design Software ESP
March 11, 2019
Although it's mostly a maintenance release, it includes new geometry model importa and user interface updates.
Use of CF-MESH+ and OpenFOAM Helps Solve Turbulent Flow Simulation Around DrivAer Vehicle
March 1, 2019
CF-MESH+ is a fully automated CFD meshing software solution that features capabilities for mesh generation in arbitrary complex geometries.
Boom Supersonic Partners with NUMECA
February 26, 2019
Boom adopts NUMECA's CFD solutions to advance development of the Overture supersonic passenger aircraft.
NAFEMS World Congress 2019 Preview
February 20, 2019
The international association for the engineering modeling, analysis and simulation community, hosts the NAFEMS World Congress June 17-20 in Quebec, Canada.
Creative Fields Releases CF-MESH+ 2.2
January 29, 2019
CFD meshing reportedly made simple with new release.
Partner Content
Open-Source CFD Software Packages: Good Enough and Free
January 22, 2019
A review of the OpenFOAM open-source computational fluid dynamics (CFD) packages.
Laird Thermal Systems Launches Advanced Engineering Tools with New Website
January 21, 2019
New site offers access to thermal management product selection and design support tools for engineers.
Partner Content
CAD Embedded CFD: Overhyped, but a Good Value for Some
December 14, 2018
One particularly beneficial aspect of CAD-embedded or CAD-linked CFD is its potential for enabling and streamlining parametric studies.
FEATool Multiphysics 1.9 Unveiled
December 7, 2018
Introduced with FEATool 1.8, the OpenFOAM CFD solver interface has been significantly enhanced and improved.
Partner Content
Optimize Bioreactors Quickly with Cloud-based HPC
October 22, 2018
Combining UberCloud with Fluent and DesignXplorer streamlines the process of characterizing a bioreactor, which is at the heart of every pharmaceutical manufacturing process.
Sponsored Content
ANSYS Fluent Sees Major Update
October 11, 2018
The latest ANSYS Fluent release introduces new technologies aimed at making CFD analyses easier, more accurate and faster.
Pointwise Offers CFD Mesh Generation Software
October 9, 2018
Pointwise Version 18.2 also accelerates the generation of surface meshes (named spacing constraints, a mesh spacing synchronization command, and a quick way to split curves into pieces of equal arclength), enhances the generation of hybrid meshes with the T-Rex technique, and...
Latest News
Hexagon Releases Latest Update of EDGECAM
New release supports fast 5-axis machining tools; software features barrel cutter support and new gun drilling cycle.
Systems Engineering Software Update Advances Multidiscipline Simulation
Siemens PLM Software releases a full plate of new features in Simcenter Amesim 2019.1. 
Sponsored Content
Editor's Pick: Multi-domain Systems Analysis Just Got Easier
Siemens PLM Software updates Simcenter Amesim with new features in four broad categories.
Researchers Freeze-Print Graphene Battery Anodes
A team at Kansas State University used a freeze printing approach to create sodium ion batteries with hybrid graphene aerogels.
All posts