Top Story
Researchers in Denmark Apply AI to Autonomous Drones
June 6, 2019
The AiR Lab designs and prints its own drone prototypes while developing hybrid controllers.
Find out What's New in Simcenter STAR-CCM+ 2019.2
July 2, 2019
New software release gives the ability to instantly communicate the results of your simulations with information-rich videos.
Future Facilities Celebrates 10 Years of Thermal Simulation
July 1, 2019
6SigmaET has evolved over the last 10 years and now incorporates advanced unstructured gridding technology, cloud-based solving and VR integration for the Oculus Rift.
Nextflow Software Introduces Nextflow Studio
June 18, 2019
This fluid simulation software lets engineers easily manage their simulation projects and provides a graphical user interface (GUI) based on the latest software technologies. 
PSRE Co. Announces the PASS Software Academic License Program 
June 10, 2019
Smart stress and fluid flow simulation of the PASS Software now available to educational institutions.
ENGYS Releases ELEMENTS v3.0.0 Software Suite
June 6, 2019
ELEMENTS v3.0.0 is an open-source based CFD software suite for vehicle design applications.
Researchers in Denmark Apply AI to Autonomous Drones
June 6, 2019
The AiR Lab designs and prints its own drone prototypes while developing hybrid controllers.
Keep It Simple, Keep Them Coming
June 1, 2019
An easy formula for estimating cost is part of some simulation software providers' strategy.
FEATool Multiphysics MATLAB FEA Toolbox 1.10 Available
May 14, 2019
New update features an updated and fully integrated graphical user interface with built-in and interactive step-by-step multiphysics simulation examples.
COMSOL Debuts COMSOL Client for Android
April 26, 2019
New release enables engineers and students to run simulation applications from an Android device.
GE Leverages Surrogate Modeling to Slash Design Times
April 23, 2019
AI-driven approach could cut design times by half, evaluate millions of design variations in minutes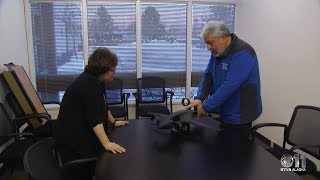 Autonomous Cargo Drone Does Heavy Lifting
March 27, 2019
Sabrewing has designed two hybrid-electric aircraft that can autonomously deliver hundreds of pounds of cargo to remote locations.
FLOW-3D v12.0 Release Features Modern Graphical User Interface (GUI)
March 25, 2019
The latest version of Flow Science's flagship CFD software features a modernized interface and streamlined workflows.
Pointwise Adds Native Interface to Design Software ESP
March 11, 2019
Although it's mostly a maintenance release, it includes new geometry model importa and user interface updates.
Use of CF-MESH+ and OpenFOAM Helps Solve Turbulent Flow Simulation Around DrivAer Vehicle
March 1, 2019
CF-MESH+ is a fully automated CFD meshing software solution that features capabilities for mesh generation in arbitrary complex geometries.
Boom Supersonic Partners with NUMECA
February 26, 2019
Boom adopts NUMECA's CFD solutions to advance development of the Overture supersonic passenger aircraft.
Latest News
WIN Enterprises Announces the MB-65040 Mini-ITX with Intel Scalable Skylake Processor
MB-65040 supports the Intel Skylake-S CPU and Intel H110 chipset.
Auburn University Deploys $1.5 Million Digital X-Ray CT System for Additive Manufacturing Purposes
Customized system enables layer-by-layer quality assessment in real time.
CONTACT Software Issues CONTACT Elements Release with Software Modules
Users can benefit from comprehensive functional enhancements and the integration of agile processes.
Mobile Analysis 3D and 2D CAD Viewer "to Go" Now on Market
The CoreTechnologie 3D_Analyzer Viewer is now available through a mobile license-lending feature.
All posts